In crazy, unpredictable times such as this pantry meals are becoming more of a necessity! In this post, I've gathered 15 of my favorite Easy Vegan Pantry Recipes to help you navigate through in the kitchen. I realize that you may not have all the necessary ingredients on hand, so I've also included some substitutes you can make in each of the descriptions below. Check these recipes out and give them a try!
Chickpea Curry
I've said this a million times, but this Chickpea Curry is one of my FAVORITE meals! I'm looking forward to making it in the coming weeks. It's so easy to throw together and packed with flavor. The recipe includes frozen spinach, but judging from store availability, it appears most folks are stocking up on frozen goods too. If you don't have frozen spinach, you could try adding in another veggie you think would work well here, or simply remove it all together!
Chickpea Curry
A creamy and flavorful vegan chickpea curry recipe made with fire roasted tomatoes, coconut milk, and spinach. The perfect meal-prep or weeknight dinner!
Check out this recipe

---
Spinach Lasagna Rolls with Almond Ricotta
Whenever I'm in the mood for a tasty pasta recipe, I love making these easy Spinach Lasagna Rolls! This recipe also includes frozen spinach, but you could omit the spinach if you don't have any on hand. The almond ricotta is also a lot easier to make than you might think! Check this recipe out if you're interested in some Italian feels.
Easy Vegan Spinach Lasagna Rolls with Almond Ricotta [+ VIDEO]
These Easy Vegan Spinach Lasagna Rolls are everything you love about traditional lasagna, all rolled up into an easy to serve meal with made from scratch almond ricotta that's even better than the real thing!
Check out this recipe

---
Jackfruit Curry
Is there anything jackfruit CAN'T do?! I love jackfruit because it's so versatile! I've used it in so many different ways. This recipe reminds me of chicken curry I used to eat growing up. It's delicious and extra filling when paired with rice.
---
Cranberry Lemon Energy Bites
Are you a snacker? I definitely am! I love these cranberry lemon energy bites because they're perfect for taking on the go. Not that I'll be going anywhere any time soon (#Quarantine)… I enjoy eating them around the house too! Especially when I want something sweet and I'm trying not to reach for ice cream! These are the perfect little sweet treats! They freeze well and are perfect for batching!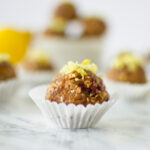 ---
Quinoa Breakfast Bowl
Though I love oatmeal, quinoa is a great way to switch things up a little! I know, I know… it sounds a little strange, but trust me on this one. It's delish! Especially if you have fresh fruit or nuts hanging around. This recipe includes plant-milk, but you could also sub for water if you don't have any on hand. Of course, you can also eat this plain if you don't have toppings. As an alternative, you could try mixing in a dollop of jam!

---
Easy Potato Curry
Can you tell I'm obsessed with curry? There are so many different ways to make it! This Potato Curry is definitely a favorite of mine. In fact, I have some waiting for me in the freezer from a batch I made a few weeks ago! My husband a picky eater also really enjoys this recipe (#PickyAssHusbandApproved). This recipe includes frozen peas, but you could also sub for canned peas, replace them with something else you have, or omit them all together. As for the carrots, if you don't have fresh ones on hand you can use frozen or omit.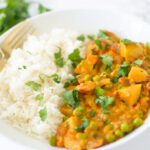 ---
Sriracha Jackfruit Bowl
More jackfruit! This Sriracha Jackfruit Bowl is calling my name! It's easy to make, plus includes a unique way of preparing the jackfruit to give it an extra "meaty" flavor. What I love most about this bowl is that it's so easy to customize. If you have bell peppers on hand, those would work great here too. Don't have one of the add-ins? Swap it for something else instead. Customize this bowl however you'd like!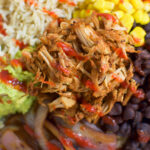 ---
Chickpea Peanut Stew
I love putting together these roundups for you all because it always reminds me of delicious recipes I've forgotten about like this Chickpea Peanut Stew! I will definitely be making this soon! The recipe includes fresh spinach, but you can use frozen or omit. I know you'll love this stew. It's so creamy and flavorful!

---
Slow Cooker 3 Bean Chili
Who doesn't love a good slow-cooker recipe? I know I do! And if by chance you're in the minority and prefer to cook it on the stove, you can do that too! Simply add all of the ingredients to a large pot, bring it to a boil, then let it simmer on a medium-low heat for 45 minutes to 1 hour. Easy peasy!
Slow Cooker 3 Bean Chili
A simple, flavorful 3 Bean Chili that's sure to win you over! Comfort food at its finest! Perfect for weeknight dinners or meal-prep.
Check out this recipe

---
Parmesan Herb Popcorn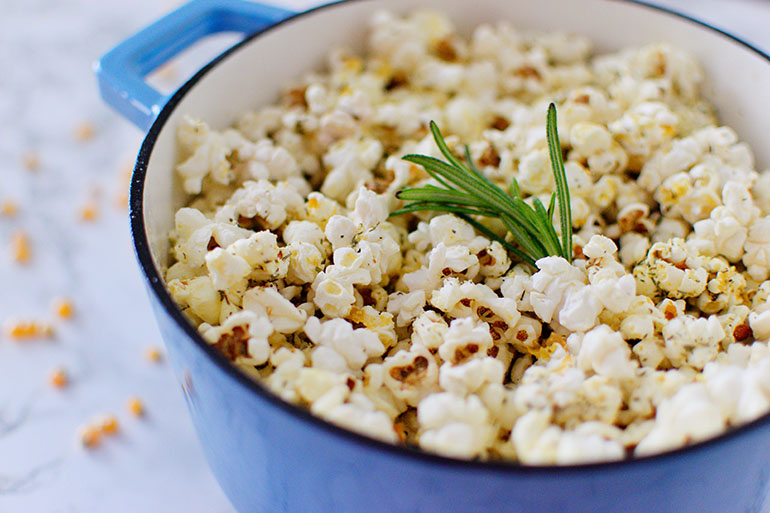 Lately I've been OBSESSED with popcorn. It's become one of my favorite snacks to make! I love that it's so easy to customize and this Parmesan+Herb popcorn is one of my favorite combinations to put together. I could probably eat an entire batch in a day!

---
Curried Red Beans + Turmeric Rice
These Curried Red Beans are one of my frequent go-to meals. For one, it's #PickyAssHusbandApproved and it's so easy to make! I typically have all of the ingredients on hand and it pairs well with turmeric rice (plain works too) and whatever green veggie I have on hand. Give it a try, I know you'll love it too!
Curried Red Beans + Turmeric Rice
A creamy and delicious stove top curried red beans with turmeric rice meal made with coconut milk and a few simple ingredients.
Check out this recipe

---
Fancy Mexican Rice
Omg y'all! This is one of my FAVORITE rice recipes! It's so colorful and has all of my favorites! The recipe calls for cilantro, but if you don't have any it's not a big deal. The flavors from the seasoning will keep your tastebuds dancing 🙂

---
Chocolate Chip Peanut Butter Hummus
This Chocolate Chip Peanut Butter Hummus makes for a great snack or dessert! Chickpeas are super versatile and that really shows with this recipe. I made this hummus for my coworkers a few years ago and they couldn't believe it was made of beans! If you have kiddos at home, this would be great for them too!

---
Spicy Chili Garlic Noodles
This is easily one of the EASIEST recipes on my blog. The sauce is just 6 simple ingredients. I used soba noodles to make this dish because they cook so quickly (just 4 minutes!) and the veggies were frozen. If you don't have any frozen veggies, don't worry. They're optional. I try to get my veggies in wherever I can! No soba noodles? Don't worry, you could also use spaghetti noodles if you're in a pinch!
Easy Spicy Chili Garlic Noodles
This easy Spicy Chili Garlic Noodles recipe is the perfect quick and easy dinner! Delicious soba noodles tossed in an easy homemade sauce.
Check out this recipe

---
Sweet Potato & Black Bean Burger
Y'all, I could eat this Sweet Potato+Black Bean Burger any day of the week! They're so good! These are perfect for pairing with sweet potato fries or even a side of veggies if you're trying to keep it cute!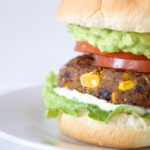 ---
Welp, that concludes this round-up! I hope you find it helpful even in these difficult times where we're all #Quarantined. What are some of your favorite pantry-recipes?
Hungry for more? Follow me on Pinterest, Instagram, Twitter, and Facebook!