The great Aaliyah Haughton once said, "and if at first you don't succeed, then dust yourself off and try again…" I sure am glad I decided to try again with these Fried Oyster Mushrooms! I tested them out a while back and didn't have the best of luck. The mushrooms were sliding right out of the breading and they just didn't taste quite right.
Well, the super bowl is coming up and I couldn't leave y'all hanging without a new appetizer to serve up for the big day! I've finally perfected the recipe and if you're looking for a crispy vegan fried chicken substitute, this one's it! The perfect comfort food you've been craving!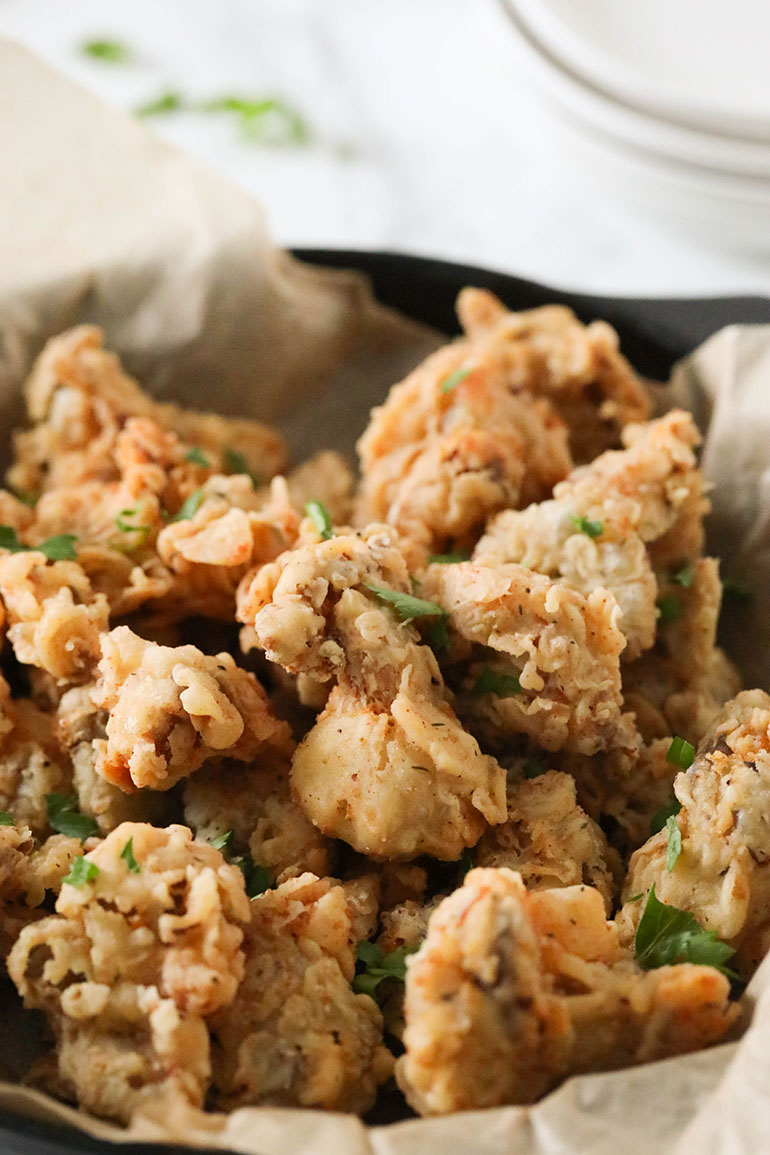 Ingredients You'll Need to Make Easy Vegan Fried Oyster Mushrooms
Fresh Oyster Mushrooms
Unsweetened Plant Milk
Neutral Frying Oil
Apple Cider Vinegar
All-Purpose Flour
Cornstarch
Cajun Seasoning
Garlic Powder
Onion Powder
Black Pepper
Brown Sugar
Thyme
How to Make Vegan Fried Oyster Mushrooms
If you've ever fried foods, you're in luck because frying these oyster mushrooms isn't a whole lot different. The first thing you'll want to do is gather all of your ingredients. There's nothing worse than staring a recipe only to realize that you're missing an ingredient or two. Once all of your ingredients are gathered, be sure to make sure that you wash your oyster mushrooms. There are a lot of different ways to clean your produce, but I like to clean mine by letting them sit for a while in a clean sink filled with water and a few splashes of apple cider vinegar.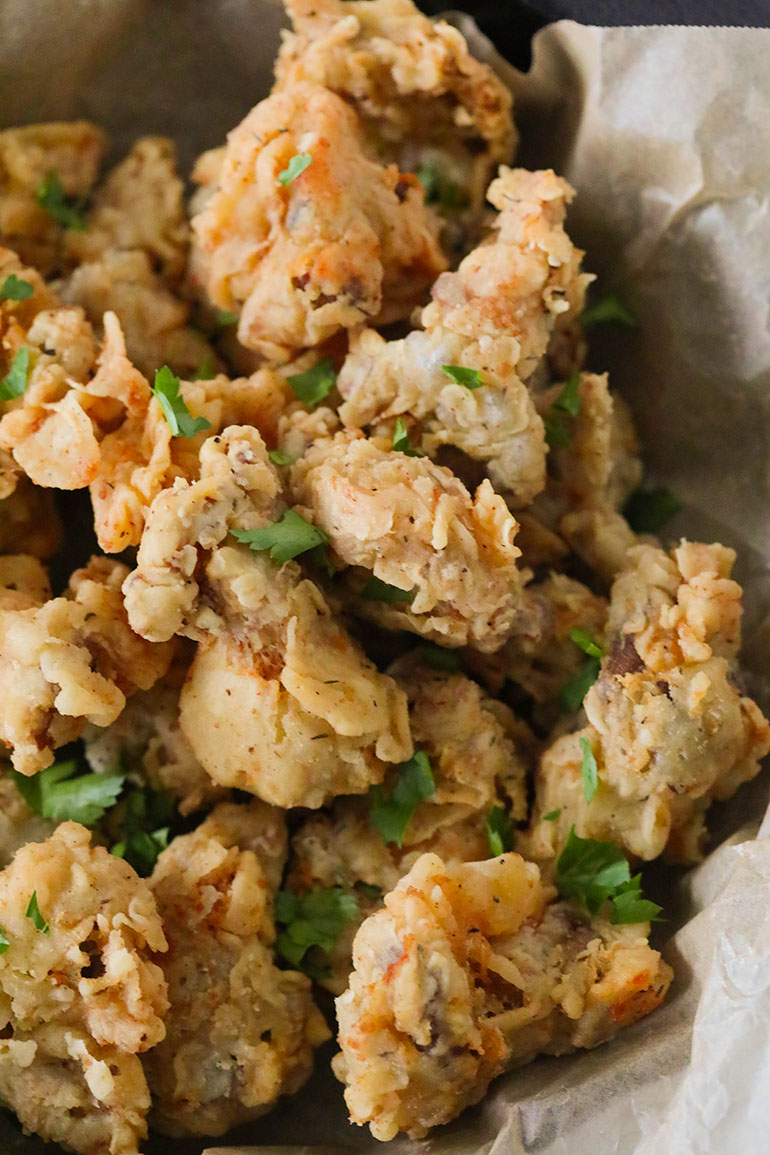 Once your mushrooms are clean, it's important to pat them dry with a clean dish towel or paper towels. This will help the breading adhere to the mushrooms. Once your mushrooms are clean, use your hands to break them into bite sized pieces (about 1½ – 2 inches each). Do you have to do this? Not necessarily, but I'm serious about my crunch to mushroom ratio, so smaller pieces work best for me. Now would also be a good time to start heating your oil so it's ready to go once you're finished breading everything.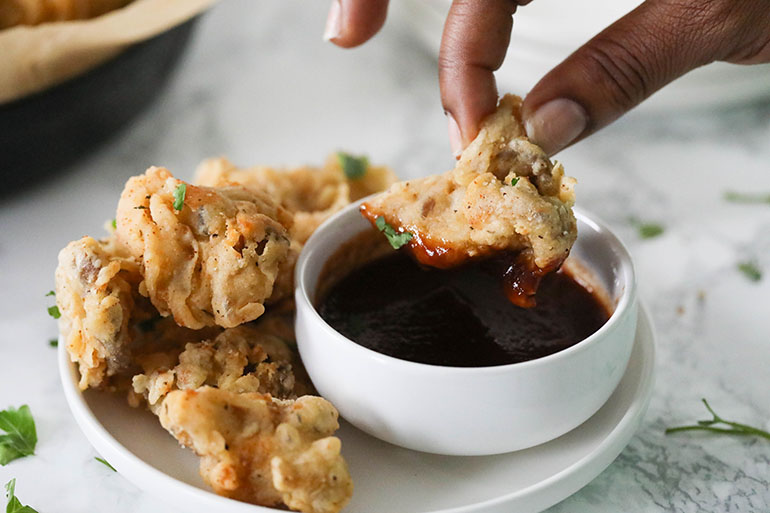 One thing that I did a little different with this recipe was the order in which I breaded the mushrooms. Generally I start by dipping in the wet batter, the dry batter, then dipped once again in each bowl. However, for this recipe I decided to try something different. As I mentioned before, my first time making fried oyster mushrooms, the mushrooms slipped right out of the breading. So for this recipe, you'll want to start by dipping the dry mushrooms into the dry mixture first. Then proceed to dip each piece in the wet batter, then again in the dry.
Because I broke the oyster mushrooms into small pieces, dipping each of them one by one would have been really tedious. So to save time you can bread the mushrooms in batches. The batch amount will depend how large your bowls are.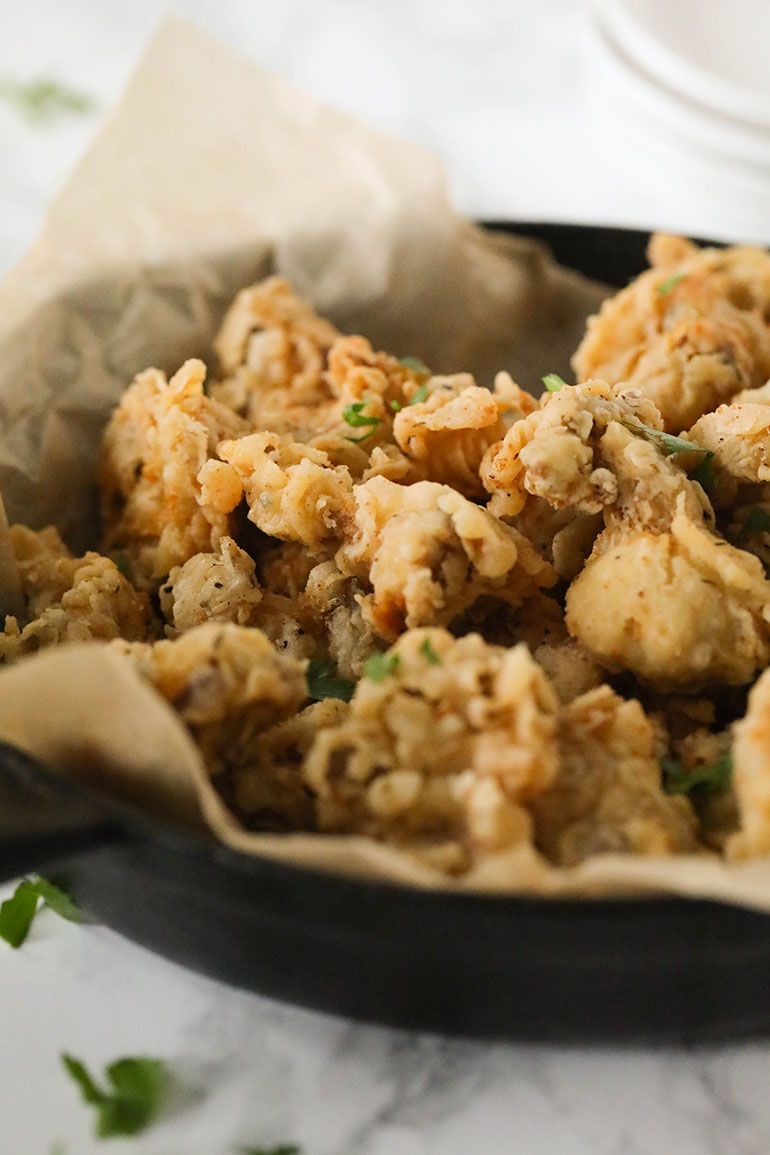 Once your first group of oyster mushrooms have been breaded, use a pair of tongs to carefully transfer each of them to the hot oil. Be sure to give them plenty of space so that the pan is not over-crowded. Allow the fried oyster mushrooms to cook on each side for 2-3 minutes or until crispy and golden brown. A good way to tell if they're crispy or not is to simply touch them with your tongs. By doing this you'll be able to tell if the breading has hardened.
Once the fried oyster mushrooms have finished cooking, transfer them to a cooling rack or a plate lined with paper towels to absorb the oil. Serve these fried little bits of heaven with your favorite dipping sauce and enjoy!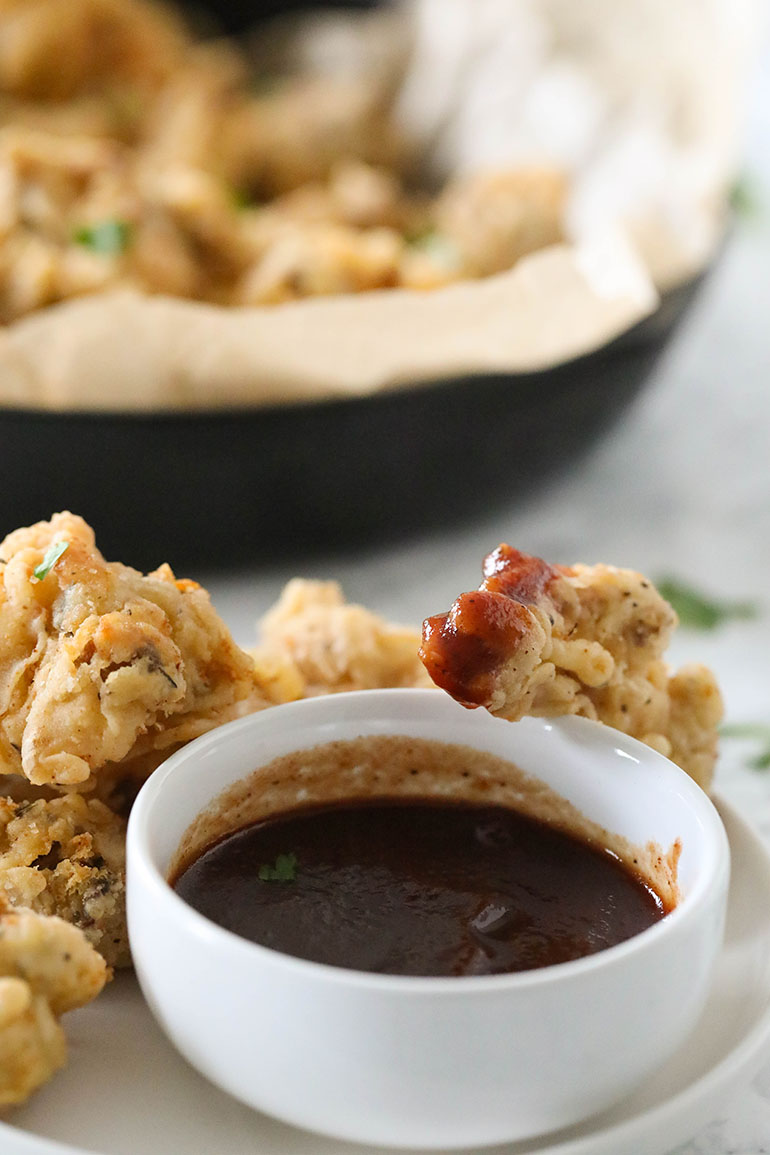 Tips for Perfect Fried Oyster Mushrooms:
Avoid wet, rubbery mushrooms by DRYING them beforehand! Be sure to wash and pat the oyster mushrooms dry with a clean dish towel or paper towel before breading. Or better yet, wash them the day before and allow them to dry overnight.
Avoid dipping the mushrooms in the wet batter first. Start with the dry batter, move to the wet, and finish by dipping them in the dry batter once again as directed in the recipe card below.
Break your oyster mushrooms into smaller pieces. For the perfect crunch-to-mushroom ratio, break the oyster mushrooms up into 1½ – 2 inch pieces.
Bread your fried oyster mushrooms evenly. There's nothing worse than pulling a fried oyster mushroom out of the grease and noticing that it's only partially breaded. Just little bits of breading here and there. I've seen it a million times. To avoid this, be sure to evenly dip and coat each mushroom piece in the wet and dry mixtures.
Use a cooling rack. To maintain crispiness, try using a cooling rack to set your fried oyster mushrooms on after retrieving them from the oil instead of a plate lined with paper towels. The paper towel method will still work, but the cooling rack is said to keep your food crispy longer.
Pair them with your favorite dipping sauce. The seasoning for this recipe isn't the most bold or excessively flavorful. Why? I want you to pair it with your favorite sauces! Some great ones you could use are bbq sauce (homemade version in this recipe), buffalo sauce, or vegan honey mustard.
How to Reheat Fried Oyster Mushrooms
You can store these fried oyster mushrooms in the fridge for 4-5 days. To reheat these fried oyster mushrooms, you can toss them in your air fryer for 8-10 minutes on 400°. You can also try reheating them in the oven, but it may take a bit longer. The microwave should be used as a last resort, as they won't crisp up again.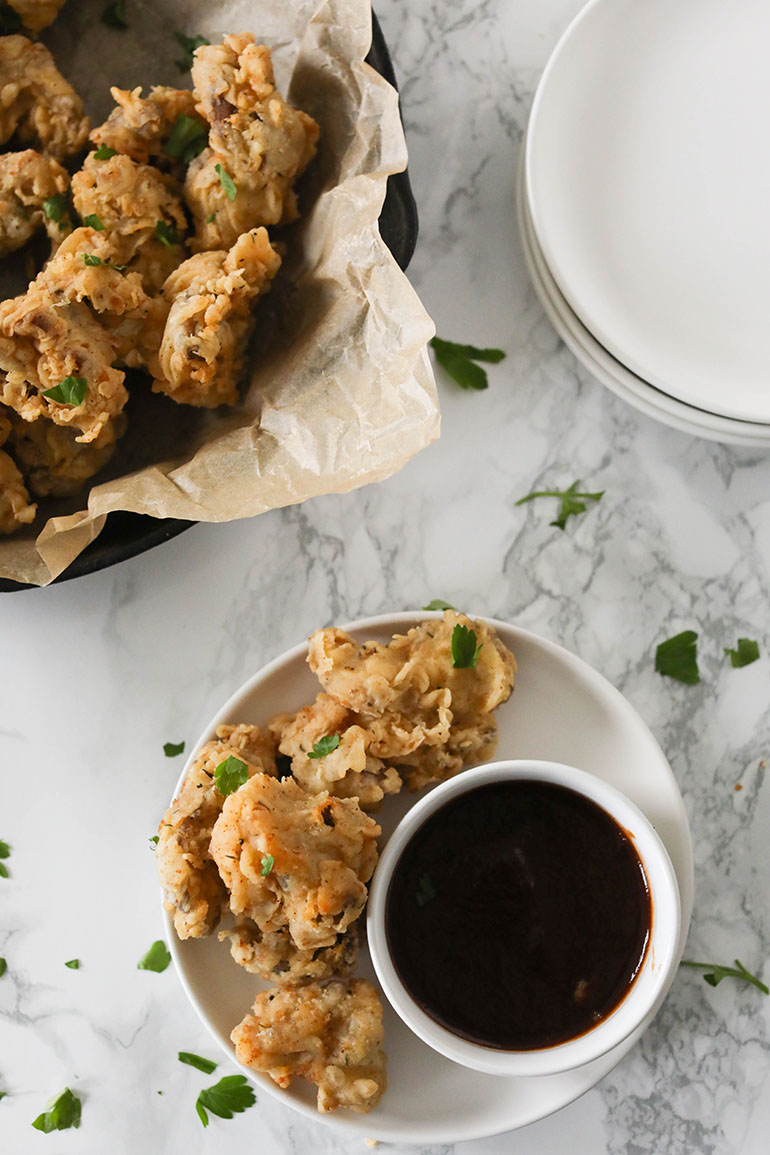 Can These Be Made in the Air Fryer?
Yes! I get this question a lot and I'm so glad the answer is "yes!" The texture will look slightly different but the crunch you're looking for will still be there.
To air fry these, coat them as instructed in the recipe card below, then thoroughly spray both sides of each breaded oyster mushroom with a neutral oil. Cook for 10 minutes at 400°.
How Else Can I Enjoy Fried Oyster Mushrooms?
I love this recipe because it can be really versatile! These fried oyster mushrooms can be used as the filling for a po'boy, you can keep the mushroom pieces large and use it to make a fried "chicken" sandwich, a substitute for chicken nuggets or simply enjoy them alone as an appetizer. Pair them with your favorite dipping sauces and you're all set. PREPARE TO BE ADDICTED!!
Where Can I Find Oyster Mushrooms?
As popular as oyster mushrooms seem to be, they can be a little hard to find sometimes. Especially for a decent price! You know what place never fails? The Asian market! If you're local to the Durham, NC area, I always go to Li Ming's Global Mart. I bought a ½ pound of fresh oyster mushrooms for about $5.
Can This Be Made Gluten Free?
If you're looking for a gluten-free fried oyster mushroom recipe, you can simply swap the all-purpose flour for chickpea flour in the recipe card below.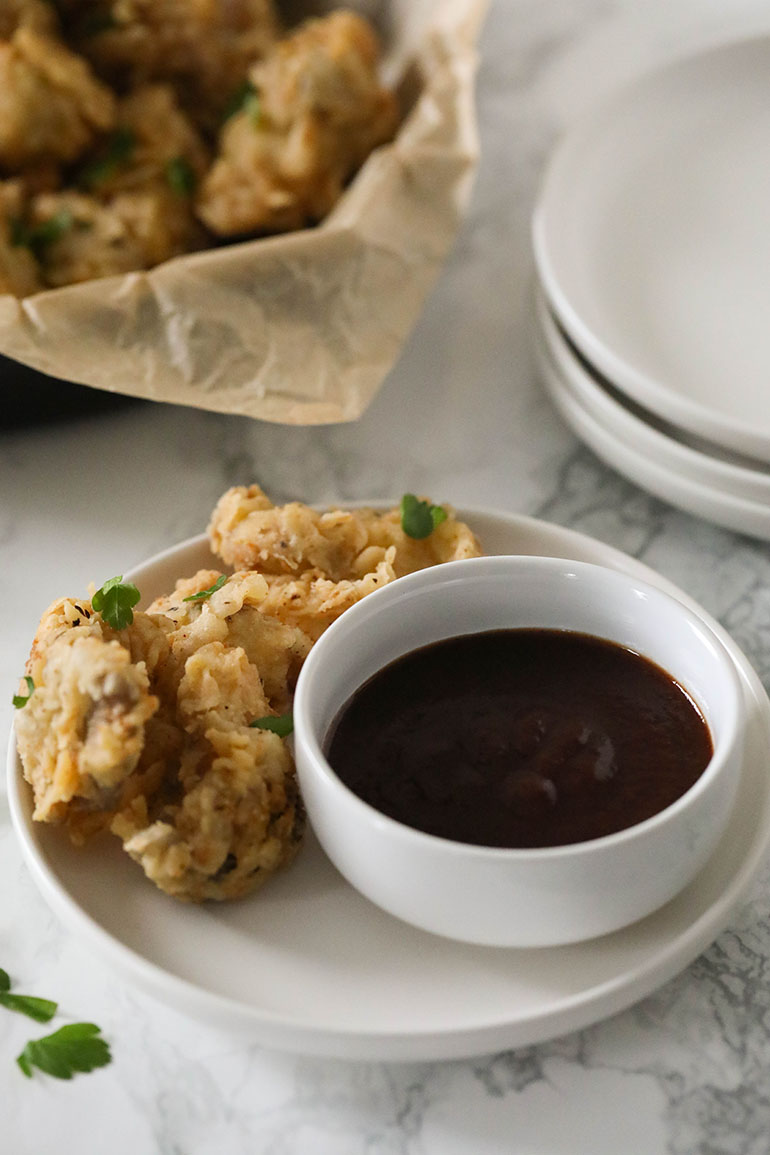 What Do Fried Oyster Mushrooms Taste Like?
These fried oyster mushrooms really make for a great meat substitute, but don't expect for them to taste like chicken! The overall texture is a bit softer and less chewy in my opinion. However, they're delicious with this fried, crispy coating!
Do I Need to Soak Oyster Mushrooms Before Cooking?
The only reason you'll want to soak your oyster mushrooms before cooking is to wash them. As mentioned above, I like to wash my produce in a clean sink filled with water and a few splashes of apple cider vinegar. It's important to pat them dry before you begin cooking. This will keep the mushrooms from being slimy on the inside after frying.
What to Pair with Fried Oyster Mushrooms
If you're making this recipe to go along with a meal and serving it as the main dish, it would go great with these recipes:
If you're serving this as an appetizer, here are a few others you should add to the lineup:
Hungry for more? Follow me on Youtube, Pinterest, Instagram, Twitter, and Facebook!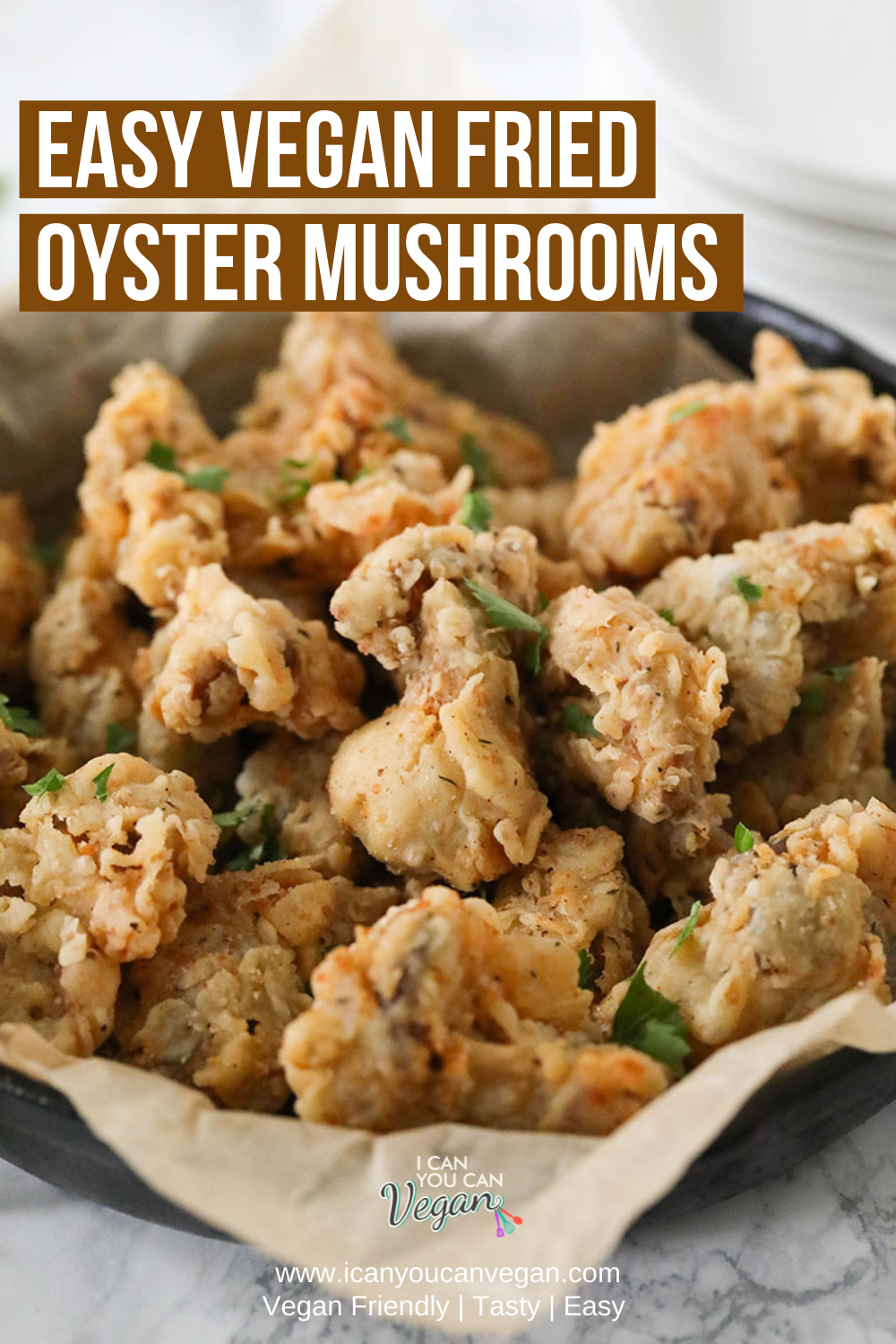 Easy Vegan Fried Oyster Mushrooms
THE BEST Fried Oyster Mushrooms!! Bite sized pieces of oyster mushrooms battered in a perfectly crispy coating that are perfect for dipping!
Ingredients
½

lb

fresh oyster mushrooms

seperated into bite size pieces, washed and pat dry

enough oil for frying

about ½ – 1 inch in desired pan
Instructions
Begin heating the oil in a large frying pan over medium heat.

In a large bowl, combine the ingredients for the liquid batter.

Combine all of the ingredients for the dry mixture in a separate large bowl.

Coat each of the oyster mushroom pieces into the dry mixture (coating thoroughly), then into the wet batter and into the dry mixture once again.

Carefully transfer each breaded oyster mushroom piece to the hot oil and cook on each side for 2-3 minutes or until golden brown.

Transfer the cooked fried oyster mushrooms to a cooling rack.

Pair with your favorite dipping sauce and enjoy!