Y'ALL! I done hit the jackpot! When I tell you this Spicy Chicken Chicken Fried Cauliflower is LIKE THAT, I mean it! I am officially a cauliflower fan. Apparently I just hadn't had it cooked right in the past. If you're skeptical of cauliflower, try this recipe. I'm a true believer now!
How to Make Chicken Fried Cauliflower
Making this Spicy Chicken Fried Cauliflower was super easy! First, you'll want to chop up your cauliflower into florets. I prefer smedium (small/medium-ish) sized pieces for a good cauli-crunch ratio.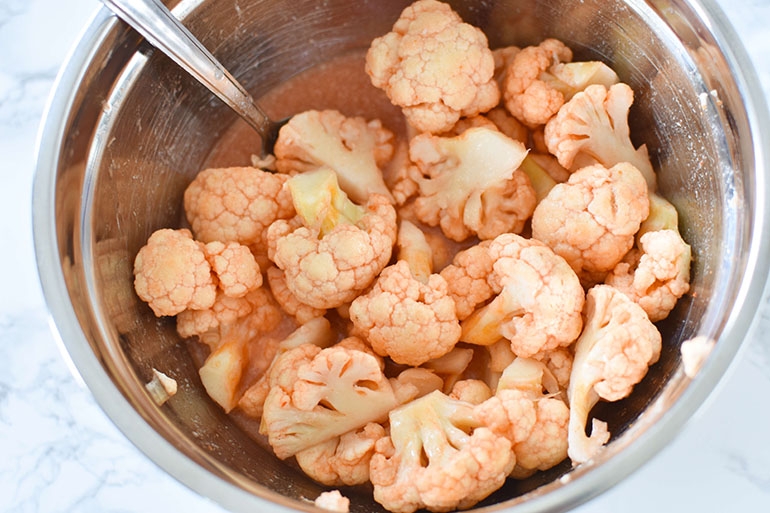 Once that's done, round up your ingredients for the buttermilk marinade. This will help to give the cauliflower a little flavor so you don't bite into bland cauliflower. Toss them around in the cauliflower so that all pieces have been covered and appear pinkish/redish like the mixture. Set them aside and let them marinate for 20 minutes or so.
While the cauliflower is marinating, you can go ahead and start putting together the flour mixture in a large bowl. Next, whisk everything together then set aside until you need it. Now would be a good time to heat your oil on the stove. Once the cauliflower is done marinating, spoon each piece out and transfer them to a clean bowl.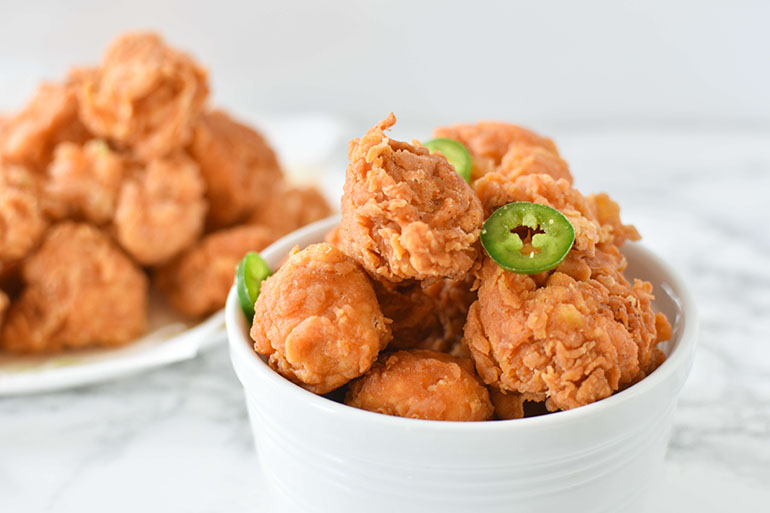 There will still be some marinade leftover which is exactly what we want. We'll now use this mixture to create the liquid batter by adding additional almond milk and whisking in the all-purpose flour. At this point you should have three bowls: one with the cauliflower florets, another with the flour mixture, and the liquid batter. Now you're ready to start cookin'!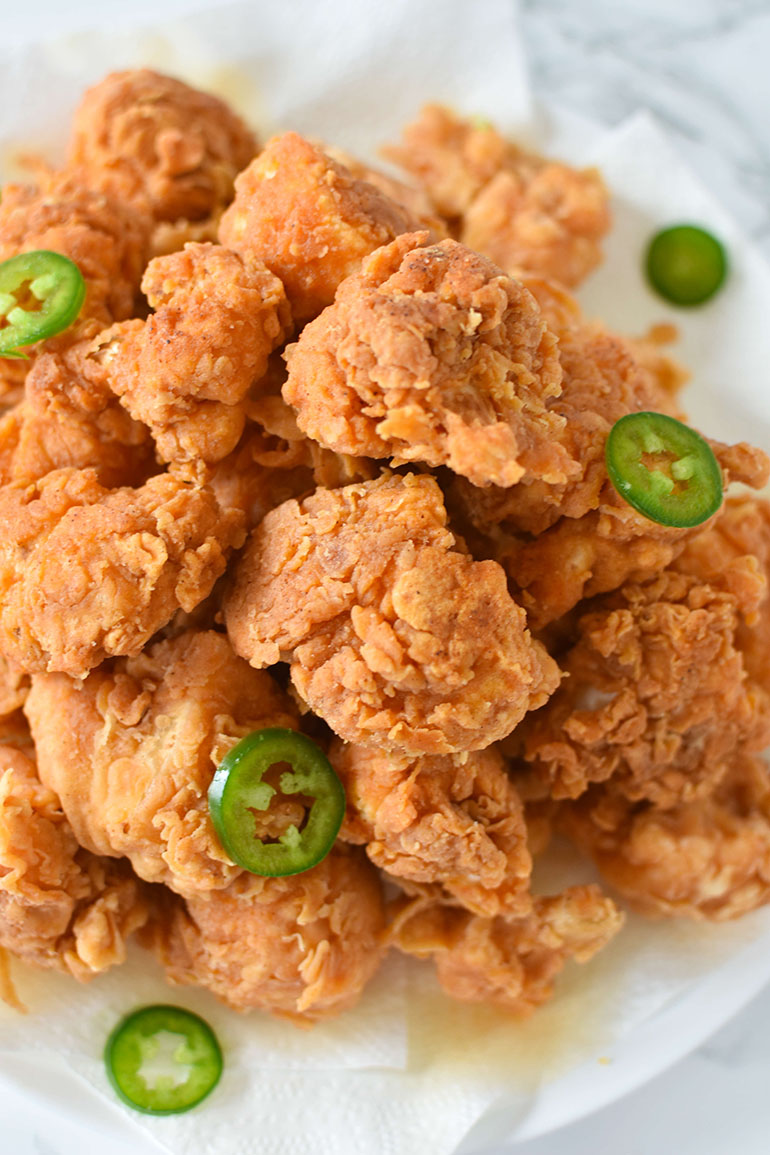 The Dipping Process:
Take each piece of cauliflower and dip it in the liquid batter, then in the flour, back again in the liquid, in the flour once more and finally into the hot oil. You'll do this for each piece of cauliflower until all of them have been fried for about 3 minutes on each side. Be sure to flip them over to ensure both sides are cooked.
If you're not sure if the underside has been cooked, grasp the piece with a pair of tongs, leaving them in the oil. Just by gripping them with the tongs you'll be able to feel if the breading has hardened. If it has, continue to flip it over. If not, continue to let it cook a bit longer. Whatever you do, don't leave the kitchen! It's important to keep an eye on these while they cook to avoid any accidents.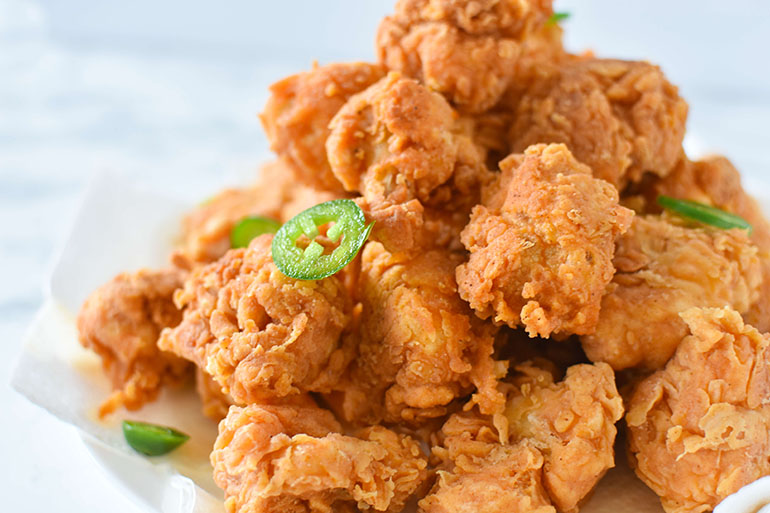 How to Reheat Fried Foods
The best way that I've found to reheat fried foods is to use an air fryer! Seems like a no-brainer, but I only recently started doing this. Simply place them in the air fryer at 400° for 15 minutes, flipping halfway through.
The best part is, you don't even have to spray them with additional oil. Just toss them in for 15 minutes and BOOM! As a result, they're ready to eat. There's nothing more satisfying than turning some sad, soggy fried cauliflower into crispy goodness!
What to Eat with Spicy Chicken Fried Cauliflower
Other Cauliflower Recipes You'll Enjoy:
Enjoy!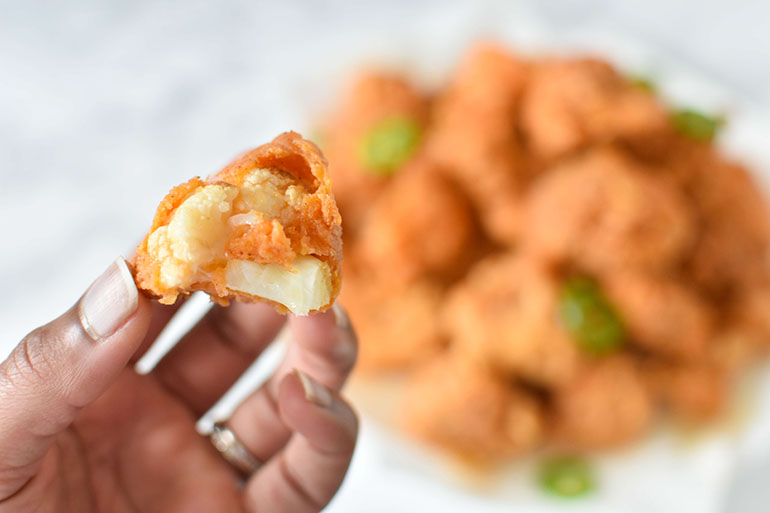 To sum it up, I know you'll love this Spicy Chicken Fried Cauliflower recipe! It's crispy (soooooo crispy), delicious and did I mention they were crispy?! Give this recipe a try and let me know what you think in the comments below!
Hungry for more? Follow me on Pinterest, Instagram, Twitter, and Facebook!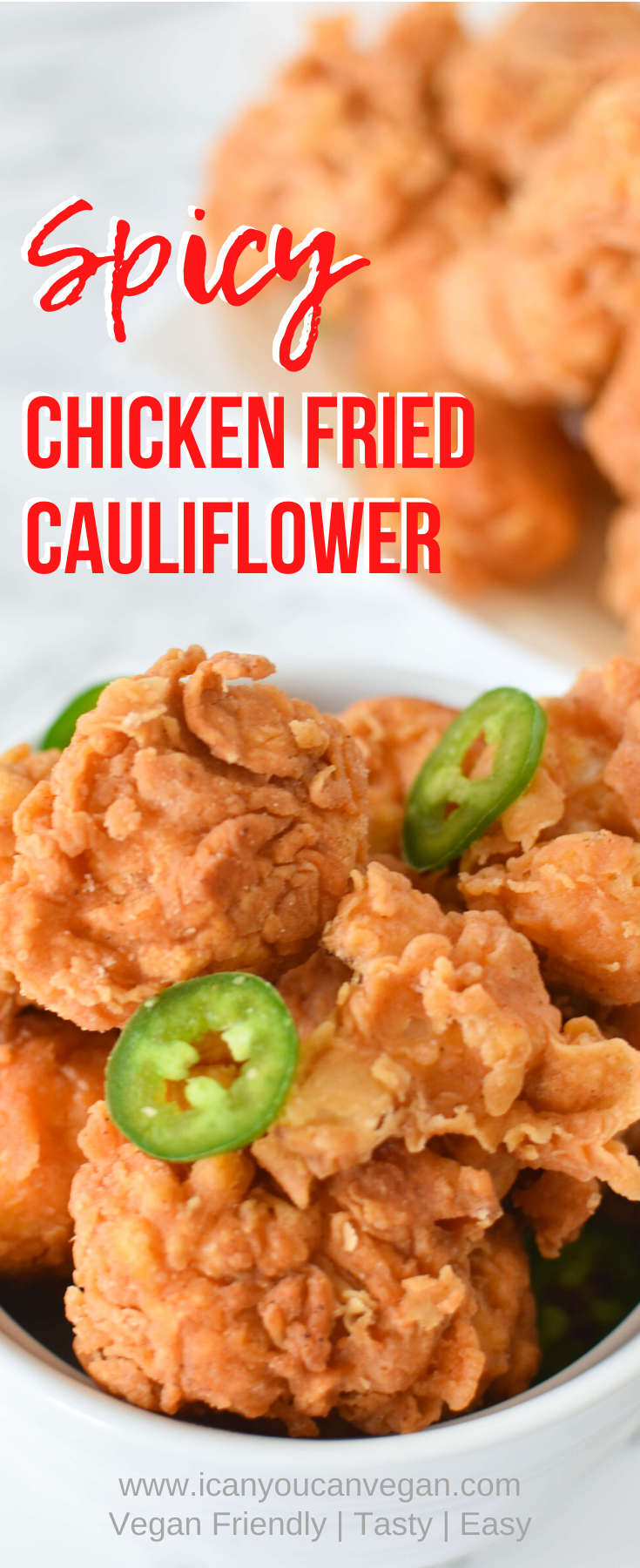 Spicy Chicken Fried Cauliflower
Ingredients
1

medium head of cauliflower cut into medium florets

enough oil for frying

about ½-1 inch in desired pan
Flour Mixture
2

tbsp

cornstarch

2

cups

all-purpose flour

1

tbsp

brown sugar

1

tsp

black pepper

1

tsp

paprika

3

tsp

cayenne pepper

1

tsp

garlic powder

1

tsp

onion powder

½

tsp

sea salt
Additional Ingredients to Add to the Marinade to Make Liquid Batter
1

cup

unsweetened almond milk

¾

cups

all-purpose flour
Instructions
In a large bowl, combine the ingredients for the buttermilk marinade.

Transfer the cauliflower florets to the marinade and let sit for 20 minutes, stir to cover all pieces.

While the cauliflower is marinating begin combining all ingredients for the flour mixture in a separate large bowl.

Begin heating the oil in a large frying pan over medium heat.

Once the cauliflower is done marinating, transfer the florets to a separate medium sized bowl, reserving the leftover liquid.

In the same bowl that now has the leftover marinade liquid, add in 1 cup of unsweetened almond milk and ¾ cups of all-purpose flour. Whisk to combine.

By now, your oil should be hot enough to begin frying. To test, flick a bit of water in the pan. If it sizzles and pops, it's ready. If not, wait a few more minutes before beginning. It's important that the oil is hot enough before beginning.

Arrange your three bowls in the following order: cauliflower florets (furthest from the stove), liquid batter, flour mixture (closest to the stove).

Use a spoon or tongs to dip the cauliflower pieces into the liquid batter, then into the flour mixture, back into the liquid batter, and into the flour mixture again, then into the hot oil in the frying pan.

Repeat this process for each piece of cauliflower, for as many as you can fit in the pan at once. Rotate the pieces as necessary, browning on each side. Once the fried pieces feel hardened after touching with tongs, it's okay to flip.

Transfer the fried cauliflower from the grease to a plate lined with paper towels to absorb the excess oil.

Let cool for about 5 minutes. Pair with your favorite hot sauce (like Texas Pete). Enjoy!
Notes
This dish can be reheated in an air fryer at 400° for about 15 minutes, flipping over halfway.