Folks, mashed potatoes have just gotten EVEN BETTER! It's possible that I've been living under a rock lately, but I just recently discovered the magic of adding sour cream to mashed potatoes. I've never really been crazy about sour cream until now. My husband on the other hand can't (won't) eat certain meals without it. Well now I won't be making mashed potatoes without sour cream.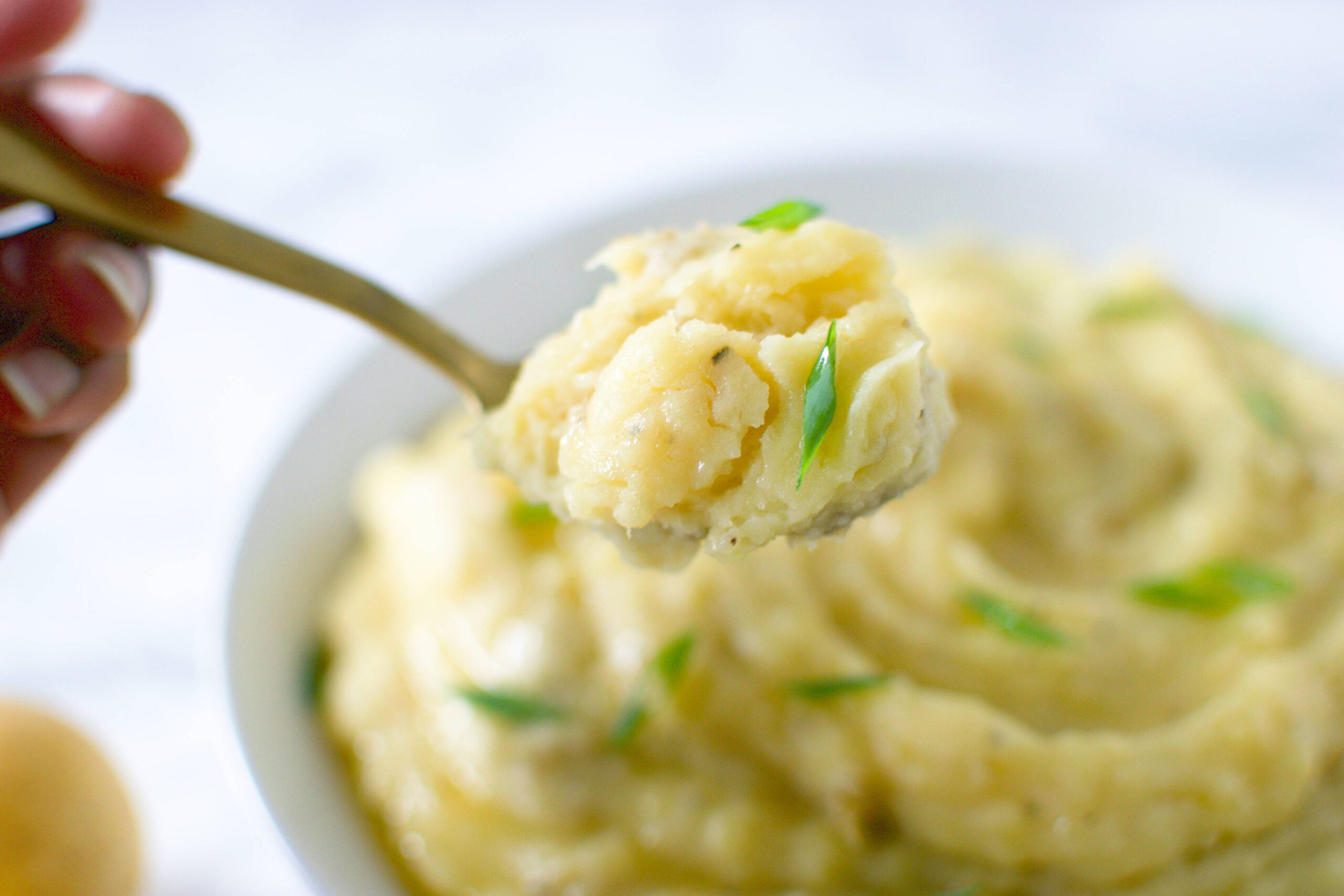 Adding sour cream to mashed potatoes definitely helps add to the creamy texture you see in the photos. In addition, I've added salt, pepper, garlic and vegan butter. When making these mashed potatoes, it's important to use the right type of potatoes. For this recipe I used Yukon gold potatoes. I found them at Trader Joe's, but I'm sure you can find them at your local grocery store. Yukon gold potatoes have a really creamy texture that most other potatoes don't. Their texture plus the rest of the ingredients makes for the perfect side dish.

When I've made mashed potatoes in the past, I've boiled them on the stove. This time I wanted to speed up the process a bit, so I decided to use my instant pot. I simply placed them in the pressure cooker along with about 1/2 cup of water and set them on high. They were ready in just 22 minutes! This was definitely way faster than cooking them on the stove. They probably would have taken an hour (or more) to cook through had I opted for the stove method! Cooking them thoroughly is important to achieving the best texture.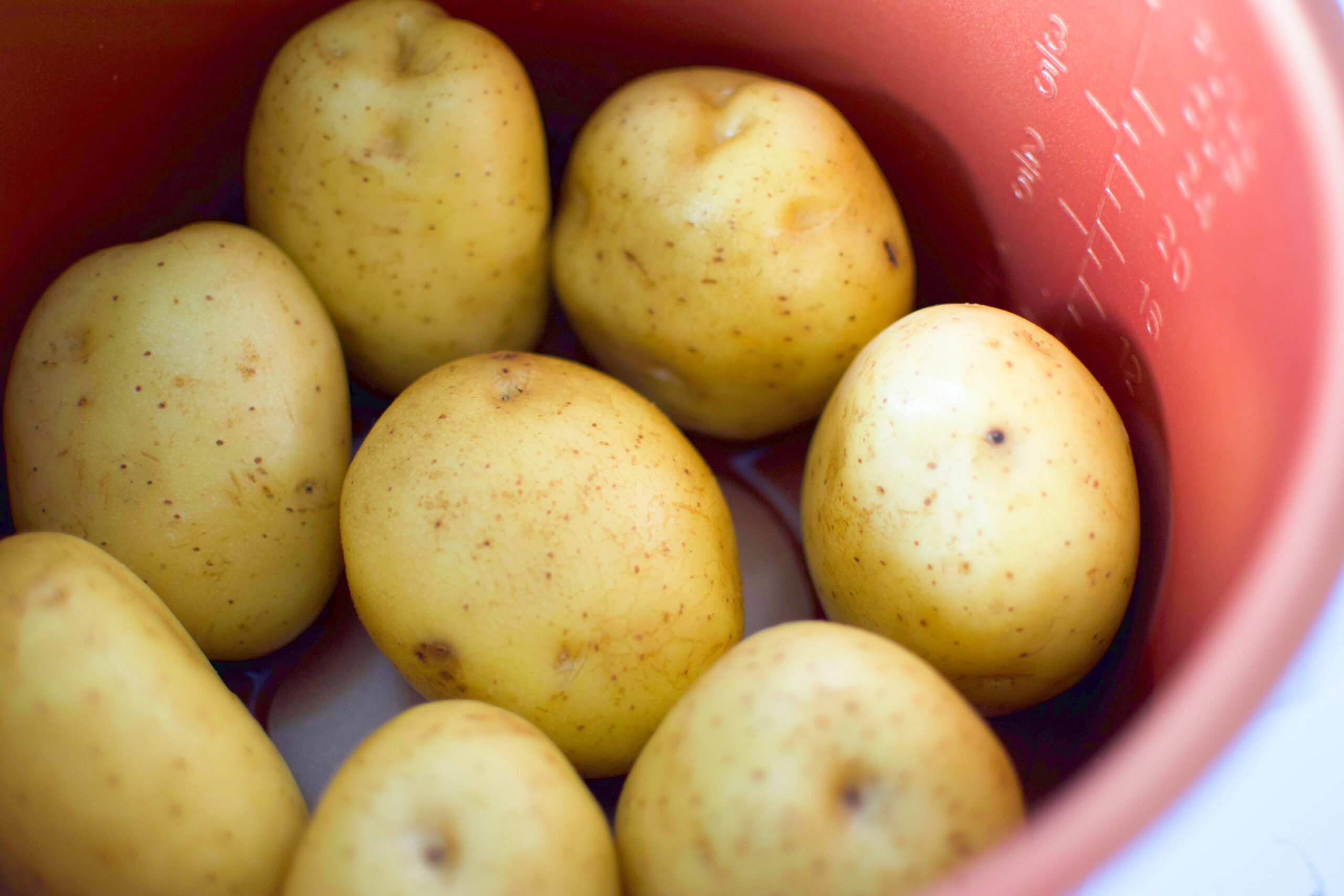 Stove Top Cooking Directions
Don't have an instant pot? NO PROBLEM! You can still make these tasty mashed potatoes on the stove.
Place the 8 Yukon Gold potatoes in a large pot and fill it with water so that they are covered
Reduce the heat down to a medium temperature to reduce the water to a low boil. Cover with a lid, but leave it slightly uncovered so that it doesn't boil over
While the potatoes are boiling, on another eye in a small sauce pan begin sauteing 2½ tsp minced garlic using one of the following: 2-3 tsp of olive oil, 2-3 tsp vegan butter, or water. Cook until lightly browned and fragrant. Remove from heat and set aside.
When the potatoes are fork tender (easily fall off when pierced with a fork), remove them from heat and drain water. Transfer to a large mixing bowl along with the sauteed garlic, ½ cup vegan sour cream, 2 tsp sea salt, ½ tsp black pepper, and 5 tbsp vegan butter.
Use a hand mixer to blend together until texture is smooth (could also use a potato masher and spoon to stir).
Plate and garnish with chopped chives or green onions. Enjoy!
Tools You Might Need: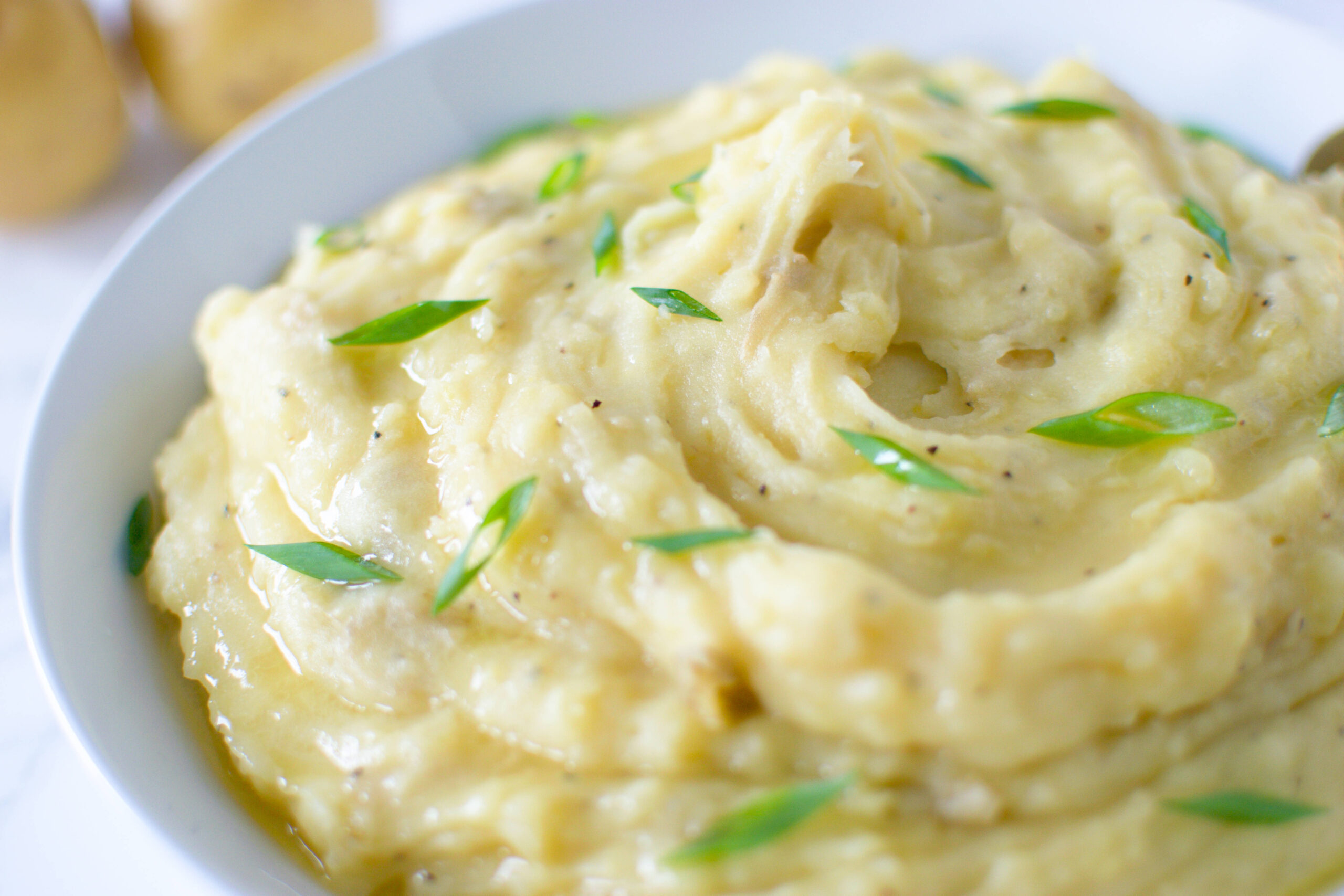 Pair These Mashed Potatoes With:
I know you'll love these mashed potatoes! They're so creamy, buttery and tasty! Give them a try and let me know what you think in the comments below!
Hungry for more? Follow me on Pinterest, Instagram, Twitter, and Facebook!
This post contains affiliate links.
Instant Pot Mashed Potatoes
Ingredients
8

medium sized Yukon Gold potatoes

cleaned

½

cup

water

to cook the potatoes with in instant pressure cooker

2½

tsp

minced garlic

2-3

tsp

olive oil or vegan butter to saute garlic

(could also sub for water)

½

cup

vegan sour cream

(I used Good Karma's brand)

2

tsp

sea salt

½

tsp

black pepper

5

tbsp

vegan butter

chives or green onions for garnish

optional
Instructions
Place the potatoes in your instant pot along with ½ cup of water. Cook the potatoes on high for 22 minutes. Release pressure manually (or naturally if desired).

Drain any excess water from the pot and transfer the potatoes to an appropriately sized bowl.

Use the instant pot's saute setting to saute the minced garlic along with water, oil or additional butter until lightly browned.

Option 1: Transfer the potatoes, minced garlic and all other ingredients to a large mixing bowl and use a hand mixer to combine (I used this option in fear of the hand mixer scratching the instant pot's lining).Option 2: Add the potatoes and all other ingredients to the instant pot and use a hand mixer to combine.Option 3: Use a potato masher to mash potatoes and stir with a spoon.

Mix until texture is smooth.

Plate and garnish with chopped chives or green onions. Enjoy!