FINALLY! Vegan Cutout Christmas Cookies have hit the blog! I'm so excited for these cookies y'all. Though there are a number of Christmas cookies on my blog, there's nothing that says Christmas quite like these rolled cookies.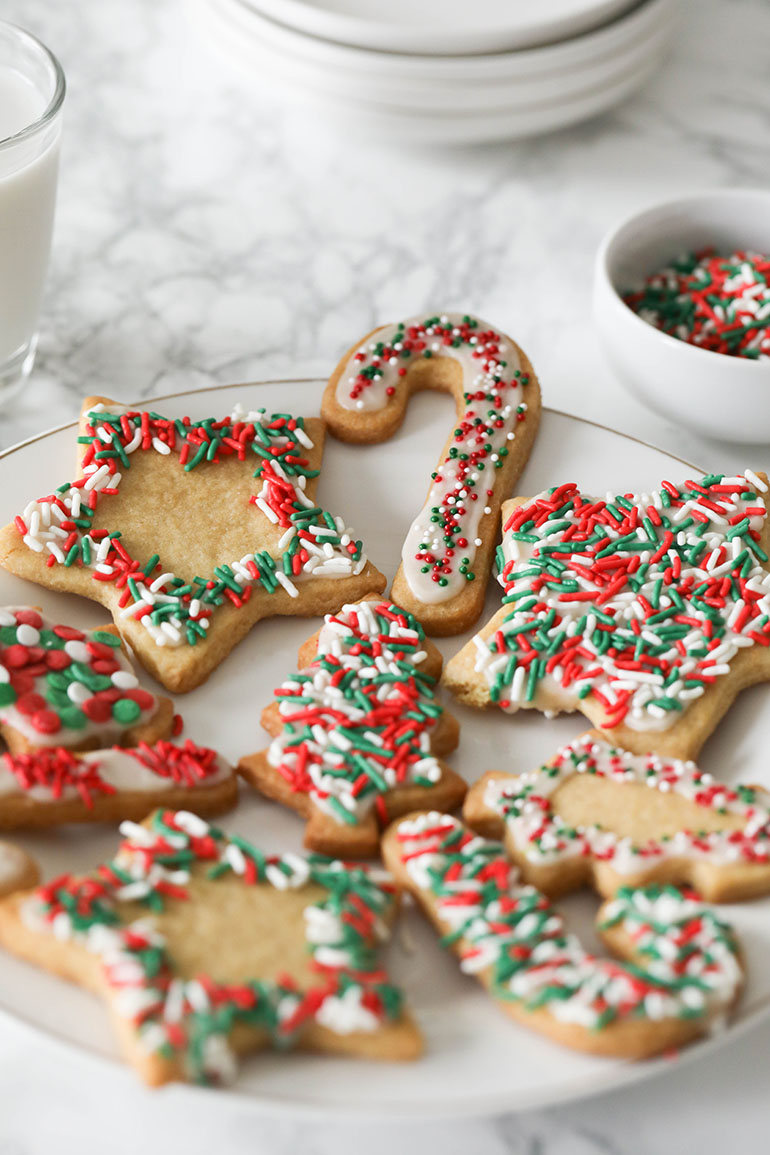 Ingredients You'll Need to Make Vegan Cutout Cookies:
To make these Vegan Cutout Christmas Cookies, you'll need just a few simple ingredients:
Vegan Butter
Organic Cane Sugar
Vanilla Extract
All-Purpose Flour
Baking Soda
Unsweetened Applesauce
Organic Powdered Sugar
Plant Milk
Gel Food Coloring (optional)
Vegan Sprinkles (optional)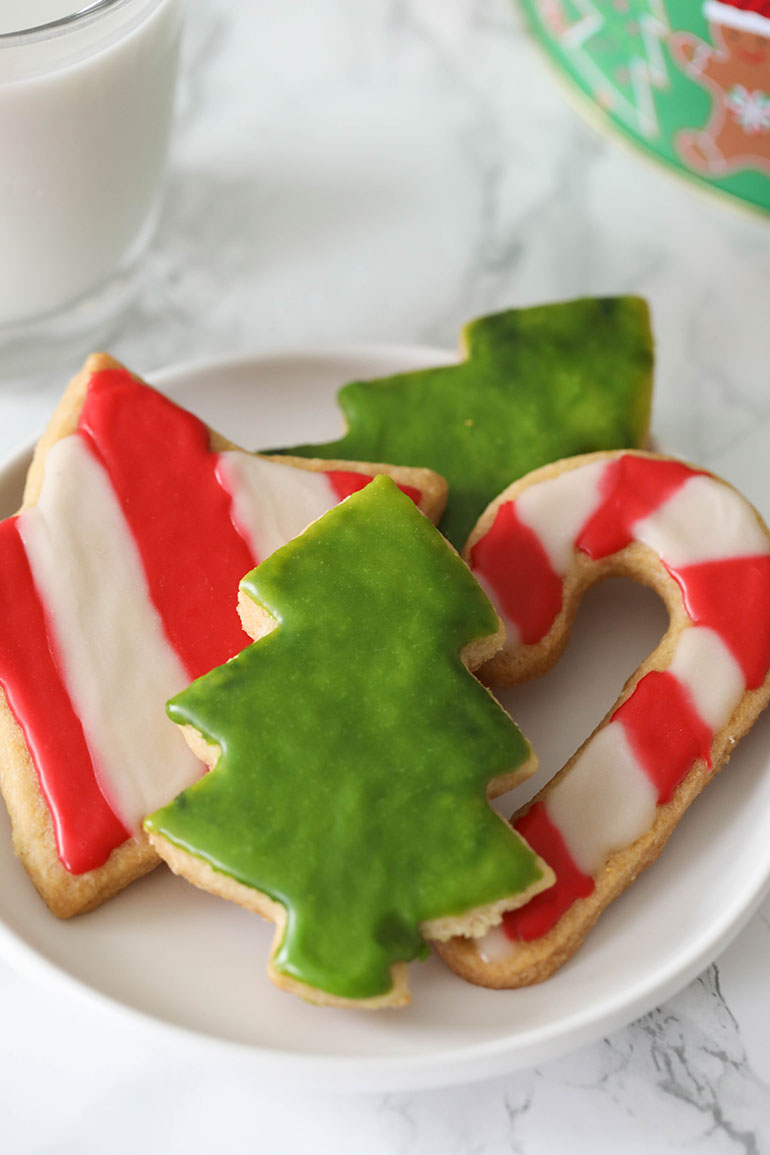 How to Make Vegan Cutout Christmas Cookies:
The process to make these Vegan Cutout Christmas Cookies is much like how you'd make any other cookies. You'll begin by mixing together your softened vegan butter and organic cane sugar. Use an electric hand mixer or standing mixer and beat the ingredients together until the mixture appears whipped.
Once the vegan butter and organic cane sugar are mixed, add in your vanilla extract, flour, baking soda, unsweetened applesauce and water. Combine these ingredients on a medium speed until a firm dough has formed.
How to Roll the Cookie Dough:
I've found that the best way to roll these Vegan Cutout Christmas Cookies is to mold the dough into a ball, then place it between two large pieces of parchment paper- one piece on the top and the other on the bottom. Using both hands, mash down the cookie dough to flatten it out.
Using a rolling pin, roll overtop the parchment paper to continue to flatten the cookie dough. This can be a little tricky, so to make things easier you can tape the bottom piece of parchment paper to the counter so that it stays in place. It might also be helpful to use one hand to hold the top piece in place, while you use the other hand to roll the pin.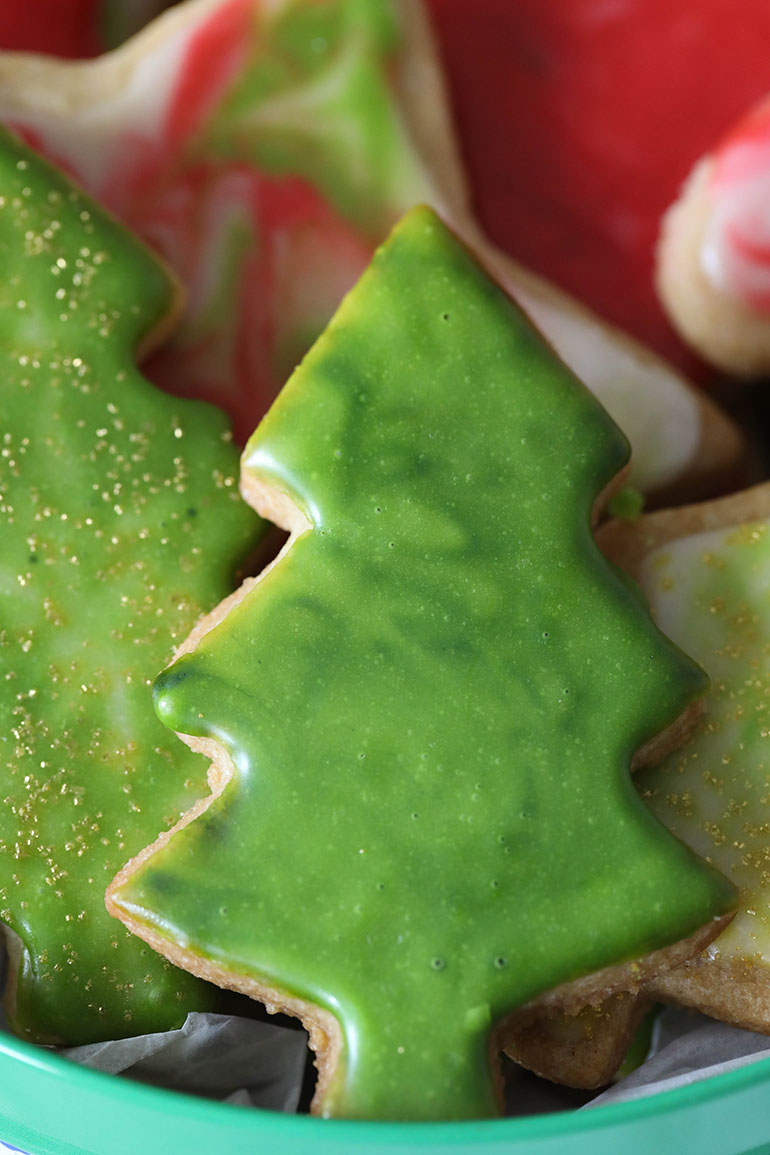 You'll want to roll the cookie dough so that it's about ¼- ¾ inches thick. I prefer thicker cookies, but if you prefer them on the thinner side, be sure to keep an eye on them while they're in the oven because the baking time listed in the recipe card below may be too long.
Once you've rolled the dough out to your desired thickness, grab your cookie cutters and begin cutting your shapes out. Transfer each of the cut cookies to a baking sheet lined with parchment paper for easy removal. Once the pan is full, transfer them to the oven and bake for 8 minutes.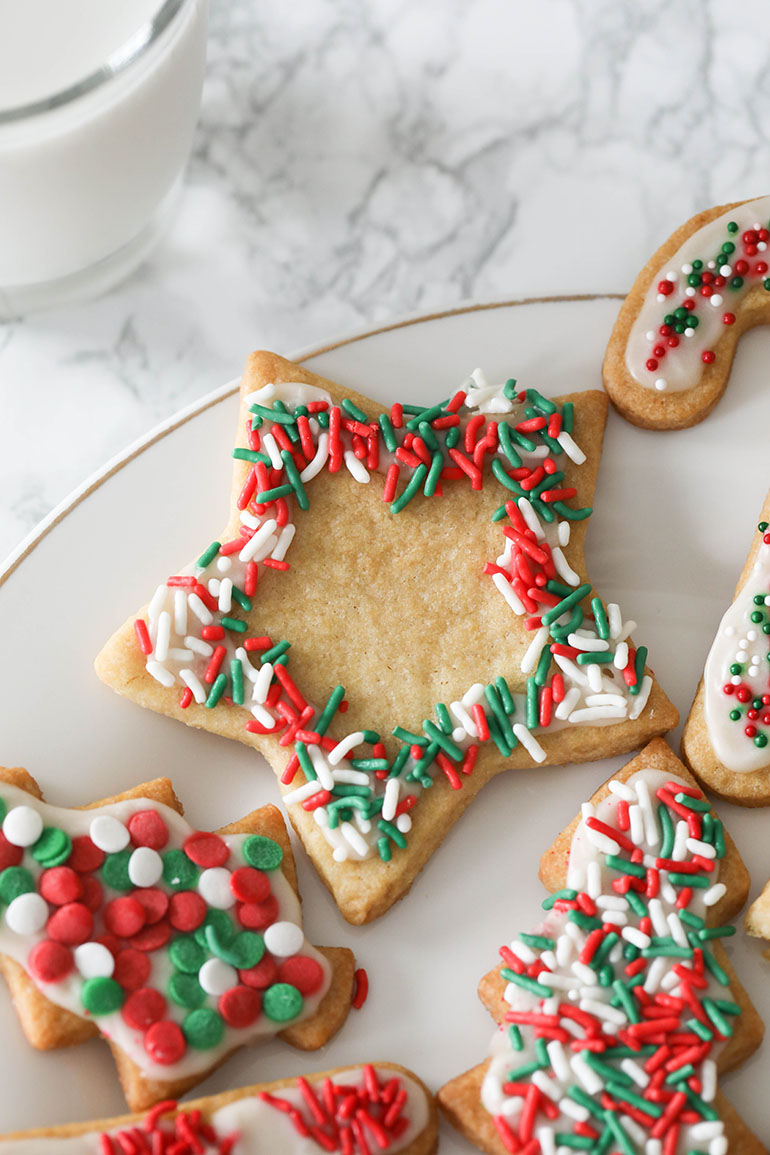 Re-roll your cookie dough and repeat the process of placing it between the sheets of parchment paper, rolling it out and cutting out the cookie shapes. Repeat this process until all of your cookie dough has been used, resulting in about 36 cookies total.
Icing Your Vegan Cutout Christmas Cookies:
It's important to wait until your Vegan Cutout Christmas Cookies are completely cooled before you start icing them. If not, the icing will melt and run all over the place! Trust me, you'll have a mess on your hands for sure.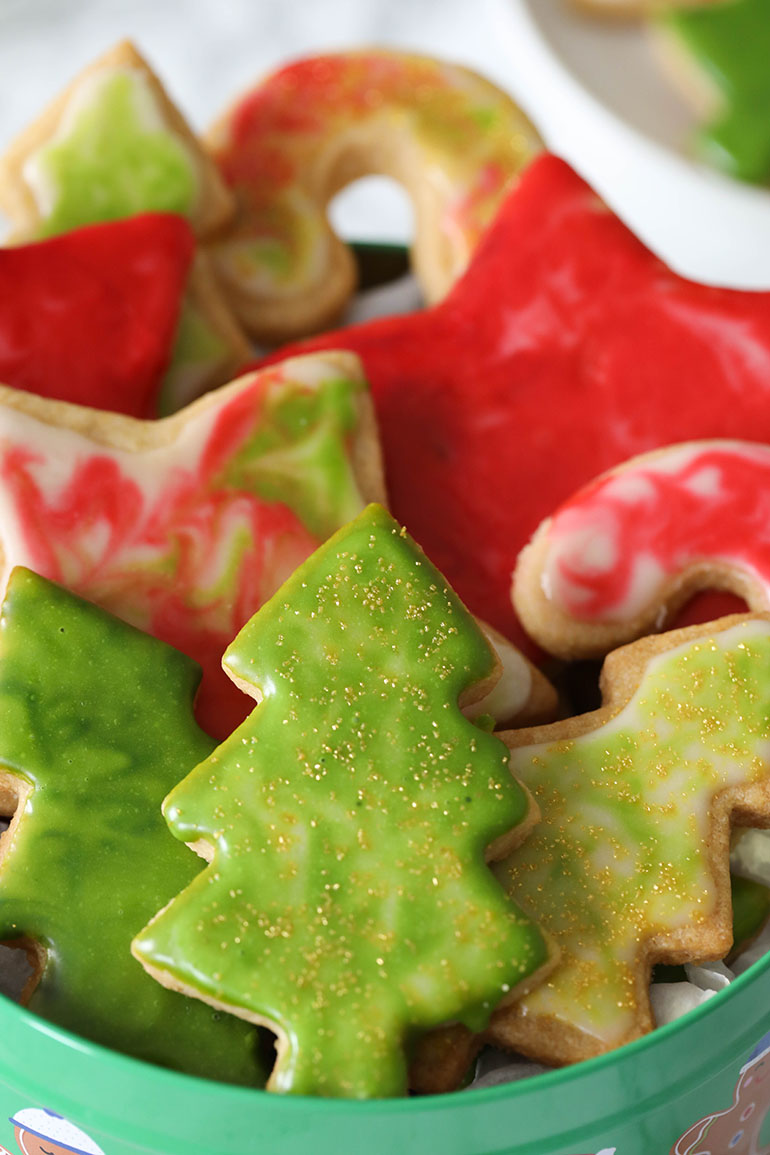 If you plan to use food coloring, you may find it easiest to make the icing, then separate portions of it into smaller bowls for each color you'd like to use. I found it easiest to use a squeeze bottle. I also tried using a bag and tip, but found it to be a bit messy– when I sat it down to switch colors the icing would continue to ooze out of the tip. The squeeze bottle on the other hand was just the opposite. Really easy to manage and didn't leak!
The great thing about making Vegan Cutout Christmas Cookies is that you can decorate them however you choose. If you're not that great at icing cookies (like me), you might find it easiest to let sprinkles do the heavy lifting for you in terms of making your cookies appear more attractive.
For the sprinkled version I simply used plain icing to act as the glue, covered those areas with a generous amount of sprinkles, let it dry, then shook off the excess. The same concept you probably used in first grade whenever you were trying to apply glitter to your artwork!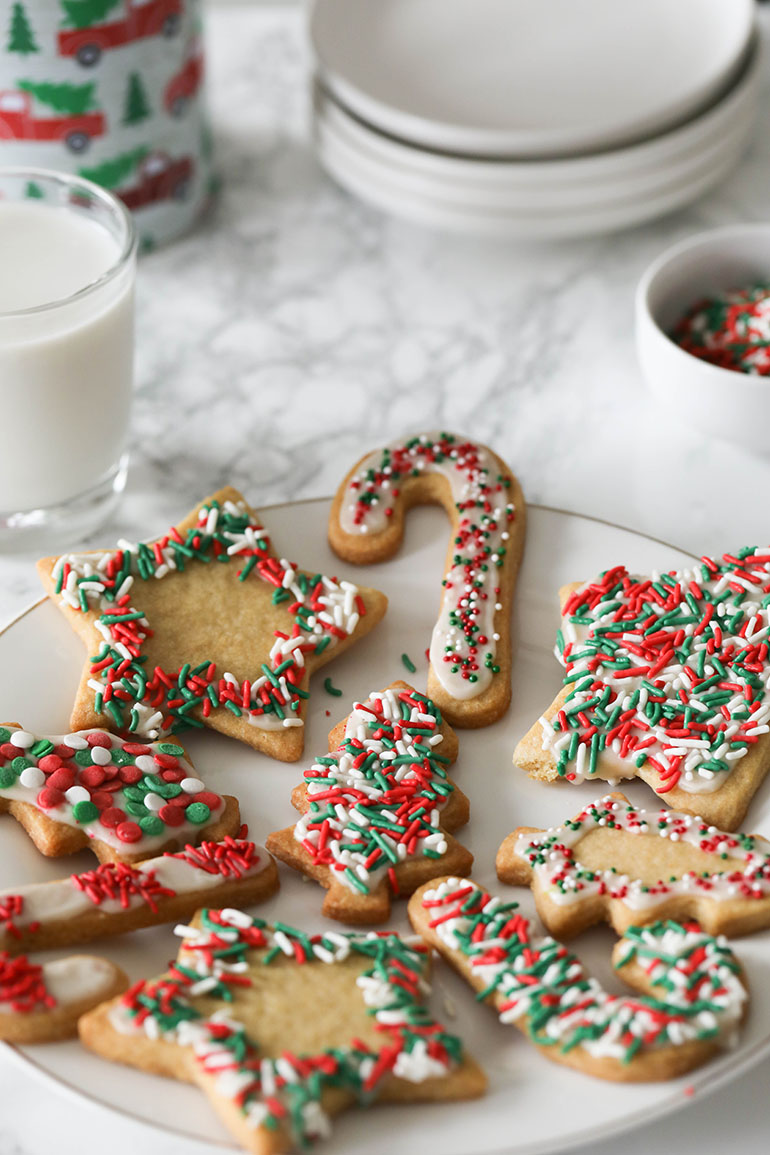 As for the marbled cookies, I created a swirl design in the colored icing dish by adding a few drops of additional food coloring and swirling it a little with a toothpick. Then I dipped my cookie into the bowl face down, allowed for the excess icing to drip off and placed it right side up so that it could dry. You could also continue to make "edits" to the swirl design after placing it down to dry using a toothpick.
How Long Do these Vegan Cutout Christmas Cookies Last?
These cookies will last 3-4 days on the counter at room temperature or up to one week if stored in the fridge. Either way, be sure to place them in an airtight container so that they can remain fresh.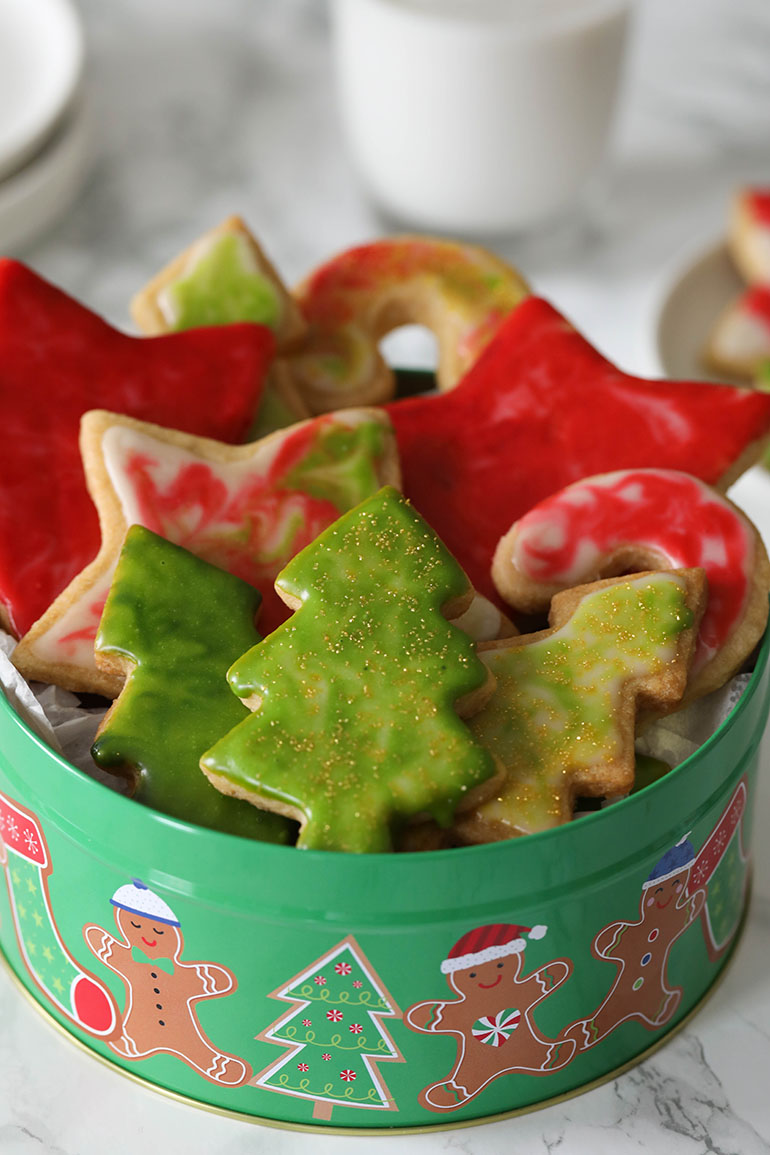 Can These Cookies Be Frozen?
They can, but I would recommend freezing these Vegan Cutout Christmas Cookies before icing them. The excess moisture from the cookies being frozen could smudge or negatively alter your design.
I know you'll love these Vegan Cutout Christmas Cookies! They're simple to make and only require a few ingredients. In addition,
More Christmas Cookies You'll Love:
Tools You Might Need:
Hungry for more? Follow me on Youtube, Pinterest, Instagram, Twitter, and Facebook!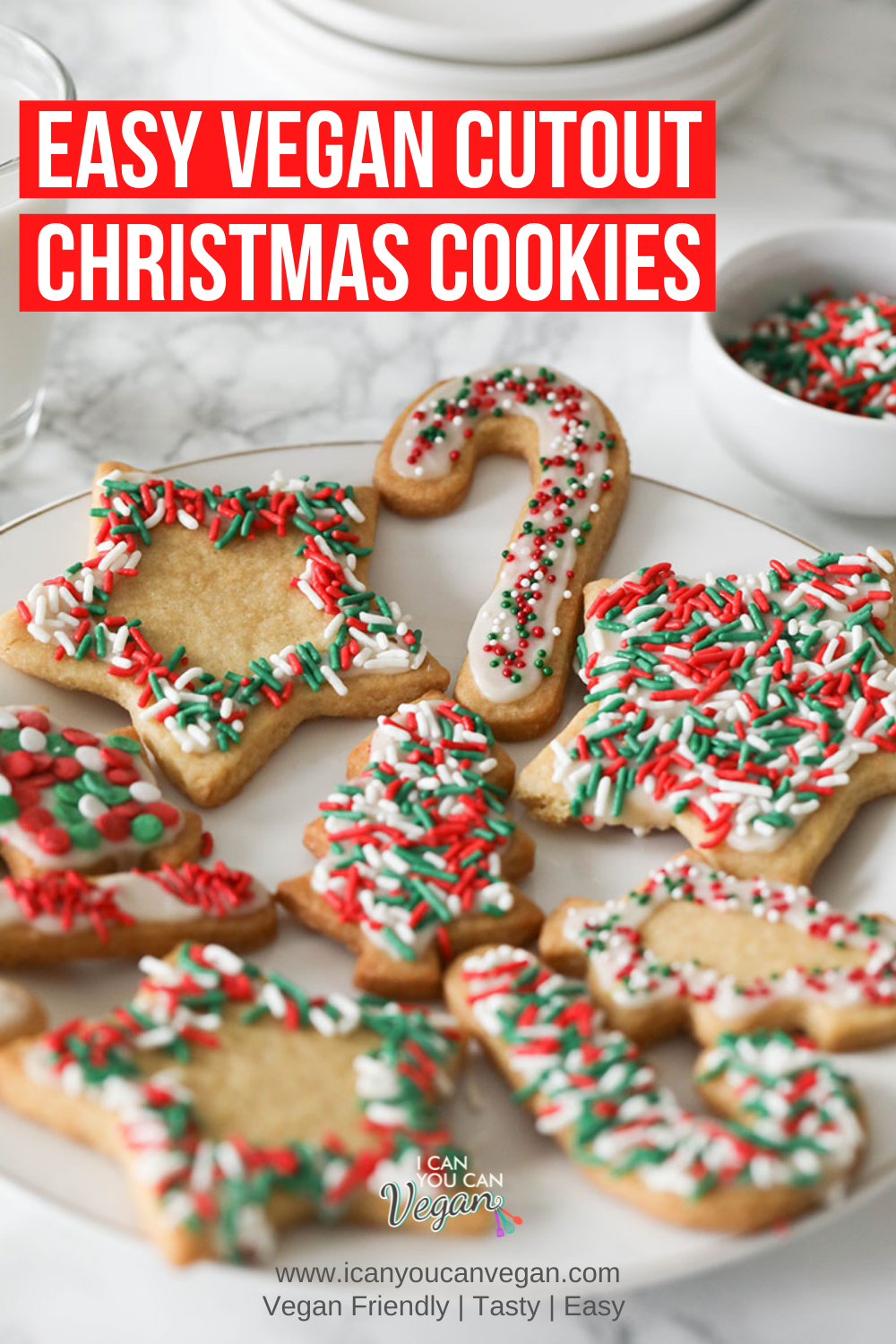 Easy Vegan Cutout Christmas Cookies
Classic rolled cutout cookies that can be decorated however you'd like using sprinkles or colored icing!
Instructions
In a large mixing bowl, beat the softened vegan butter and sugar on a high speed until it appears whipped (about 1½ minutes). I used a standing mixer, but you can also use a hand mixer as well.

Add in the vanilla extract, flour, salt, baking soda, applesauce and water. Continue mixing until a dough is formed.

Take the ball of dough and place it between two large sheets of parchment paper to avoid sticking. Push down on the dough with your hands to flatten, then roll the dough out with a rolling pin until it's about ¼- ¾ inches thick.

Use cookie cutters to cut out each cookie and transfer to a baking sheet.

Once all of the cookies have been cut, form the dough back into a ball, flatten, then roll out between the sheets of parchment paper again. Cut out the cookies and transfer to the baking sheet. Repeat process until finished.

Remove from oven and let cool completely before icing.

Mix together the ingredients for the icing (if using multiple food colorings, separate plane icing into different bowls, then add food coloring of choice to each).

Once the cookies have cooled and they are ready to ice, use a squeeze bottle or icing bag and tip to design your cookies as you wish.