Get excited! This is one of my absolute favorite recipes! If I wasn't always exploring new creations to share with you all, I would certainly make this more often. I've made this One Pot Mexican Quinoa dish in the past, but I've since added to it to enhance the flavor and make it even better (easier too)! As you can see from the title, this dish can easily be made in one pot and is so tasty, you'll wish you had discovered this recipe ages ago. Oh, and it's #PickyAssHusbandApproved! 🙂
How to Make Mexican Quinoa
Folks, this will probably be one of the EASIEST meals you'll ever make. You sauté a little, add a little, boil a little then voila! To get started, you'll want to go ahead and prep as much as you can so that this process goes as smooth as possible.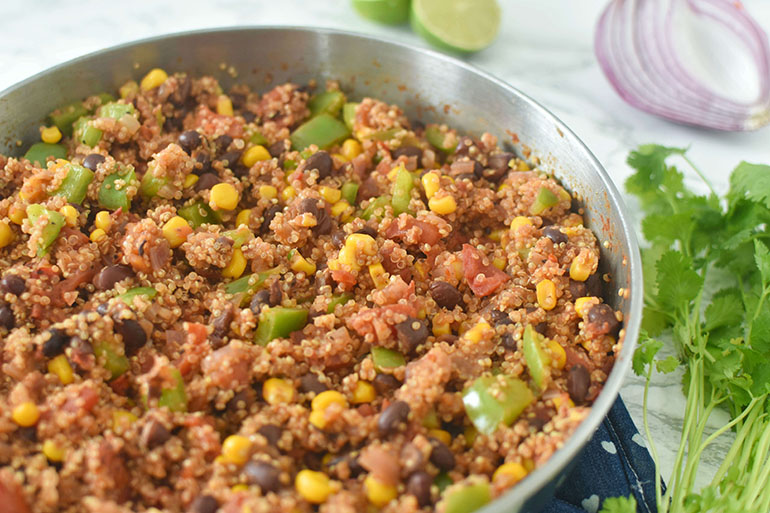 If you're using fresh garlic, go ahead and start chopping that up in addition to your green bell pepper, red onion and fresh cilantro. Once all of your fresh vegetables are chopped, you can begin measuring out your seasonings and placing them into a small dish so that when it's time to add them, you can do so all at once. This will save lots of time!
Last but not least, go ahead and start measuring out all the other ingredients such as your quinoa and frozen corn. Then crack open those cans and you're ready to start cooking!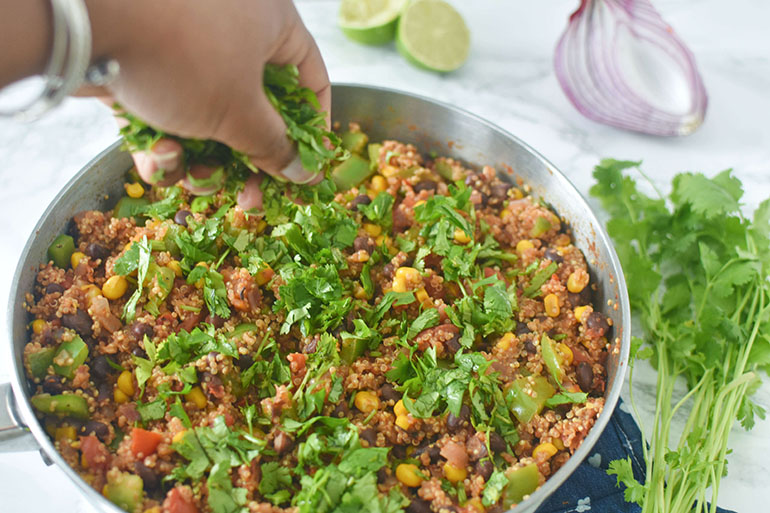 You'll start by sautéing your onions and garlic together over medium heat just until they're fragrant. Next, you're ready to add in your canned goods (fire roasted tomatoes and black beans), quinoa, vegetable broth, and seasonings. Mix them together, increase the temperature to reach a boil, and cover the pot with a lid.
Once boiling, reduce the heat so that the ingredients are simmering. You'll simmer until most of the liquid is gone. During this time, be sure to stir frequently so that you can avoid the contents sticking to the bottom of the pan. No one wants that! In addition, near the end of the simmer it may look like there is more liquid than there really is. Stirring it will help you to know for sure.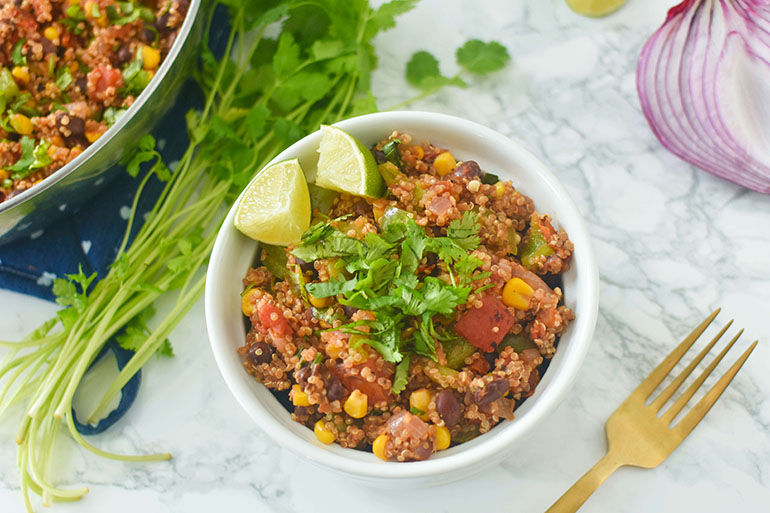 Once nearly all of the liquid has disappeared, it's time to add in the last few ingredients: diced green bell pepper, frozen corn, lime juice and cilantro. I like to add these in last for a few reasons. I like my green peppers in this dish to be slightly crunchy, not mushy and overcooked. Had I added them in towards the beginning they would be. The frozen corn only takes a few minutes to warm through, so I felt it was okay to add these in towards the end as well. As for the lime juice, I didn't want it to cook down into the mixture too much. By adding it in at the end it gives it a fresh taste. Same goes for the cilantro.
Different Ways to Enjoy this One Pot Mexican Quinoa Recipe
Want to know something funny? Prior to this meal, my husband didn't like quinoa (weird, I know). I'm not sure what made him want to try it this way, but I'm glad he did because we're both huge fans of this recipe and I never have to worry about the leftovers going to waste!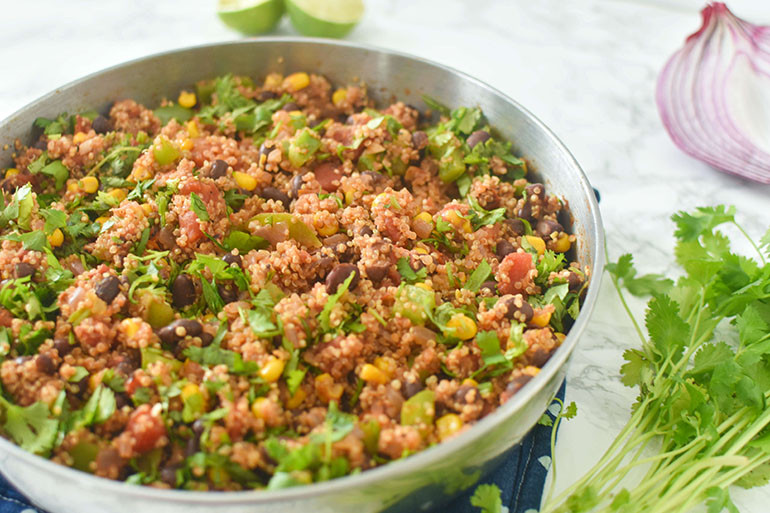 This One Pot Mexican Quinoa can be eaten alone, on a tortilla, or even scooped up with tortilla chips (personal favorite). If I'm using this as taco filling, I like to top it with my favorite vegan cheese, cilantro, avocado and salsa. Trust me, you can't go wrong with this recipe. I don't have kids, but I think they'd like it too!
What to Serve with Mexican Quinoa:
I know you'll love this recipe! It's super easy to make, has amazing flavor and works really well for meal-prep! Give this recipe a try and let me know what you think in the comments below!
Hungry for more? Follow me on Pinterest, Instagram, Twitter, and Facebook!
Original post date: 4/23/2018. This recipe was updated on 7/13/2020.
Easy One Pot Mexican Quinoa
A flavorful One Pot Mexican Quinoa dish that's made with black beans, corn, bell peppers and more! Use it as a taco filling, scoop it up with tortilla chips, or enjoy it alone!
Ingredients
2

tsp

minced garlic

1/2

medium diced red onion

1

can

fire roasted tomatoes

no need to drain

1

cup

veggie broth

1

can

black beans

rinsed and drained

1

cup

quinoa

1/2

tsp

black pepper

1

tsp

salt

1/2

tsp

chili powder

1/2

tsp

cumin

1

diced green pepper

(about 1 cup)

1

cup

fire roasted corn

frozen

1/4

cup

chopped cilantro

plus more for garnish

juice of 1/2 lime

1

diced avocado

optional
Instructions
In a large sauté pan over medium heat, add enough oil (or water) for sautéing. Add in the onion and minced garlic. Stir frequently until fragrant. 

Next, add the veggie broth, quinoa, seasonings, black beans, and fire roasted tomatoes and mix.

Cover with a lid and bring to a boil, then reduce heat to a low-medium temperature and let simmer. Stir frequently so that ingredients do not stick to the bottom.

Once nearly all of the liquid has been absorbed, add in the green peppers and corn. Stir to combine. Allow to warm through for about 5-6 minutes. When done, all liquid should gone.

Lastly, stir in the lime juice and chopped cilantro.

Garnish with additional chopped cilantro and avocado (optional). Enjoy!