Grilling season is upon us my friends! If you're hopping on the grill this summer most likely you're going to be grilling some corn on the cob. I love classic corn on the cob, but this year I wanted to try a little something different. Y'all, this Vegan Spicy Mayo Grilled Corn is EVERYYYTHINGGG! It's even #PickyAssHusbandApproved! 🙂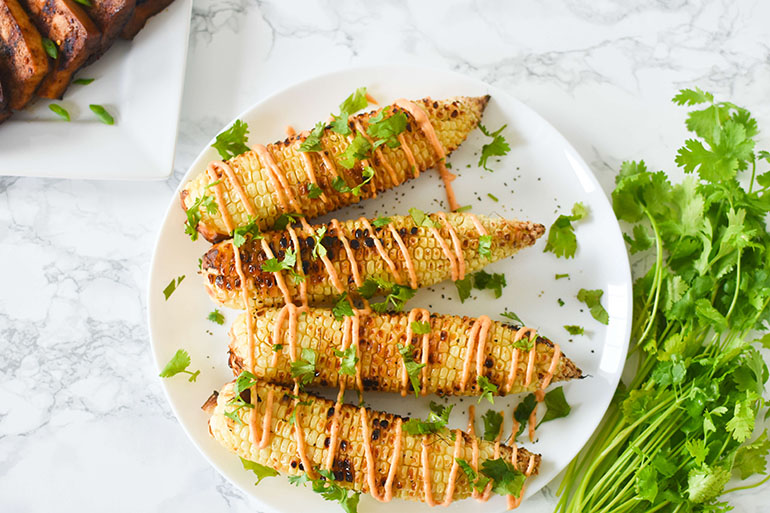 How to Make a Vegan Spicy Mayo
Making this vegan spicy mayo for your grilled corn is super easy. You just need five ingredients (six if you include the salt)! To make this mayo, you'll simply combine all of the ingredients together in a small bowl and set it aside until you're ready to use it. If you want, you can even transfer it to a squeeze bottle like I did if you want to get cute and make a design.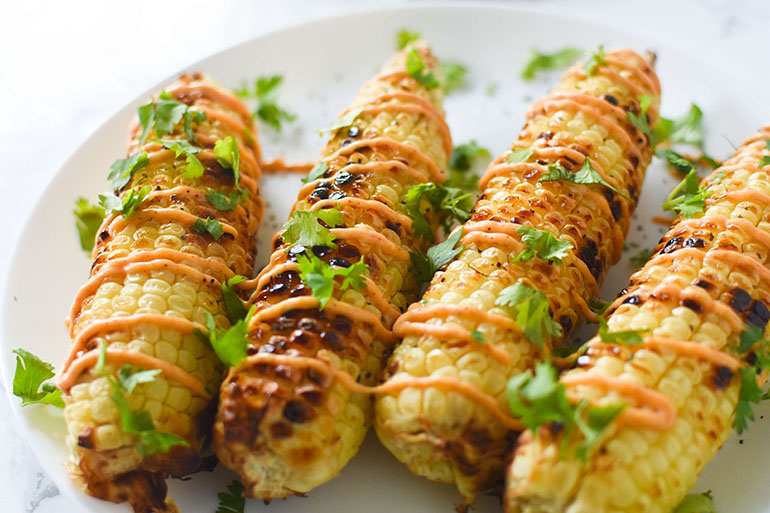 While I'm in the prepping stage, I like to also chop up my cilantro for a little garnish. It adds a nice fresh touch to the dish. Prepping all of the ingredients ahead of time will help ensure that the cooking process goes smoothly, which means you'll be able to enjoy your Vegan Spicy Mayo Grilled Corn while it's hot!
How to Make Grilled Corn on the Cob
Making grilled corn is pretty easy. If you've never done it, now is the perfect time to give it a try! You'll start by preheating your grill so that it's ready for you once you've prepped your corn. Next, you'll remove the husk from the corn and dispose of it. Now that your corn is prepped and ready you'll want to brush it with a generous spread of melted vegan butter. Now it's time to put these babies on the grill!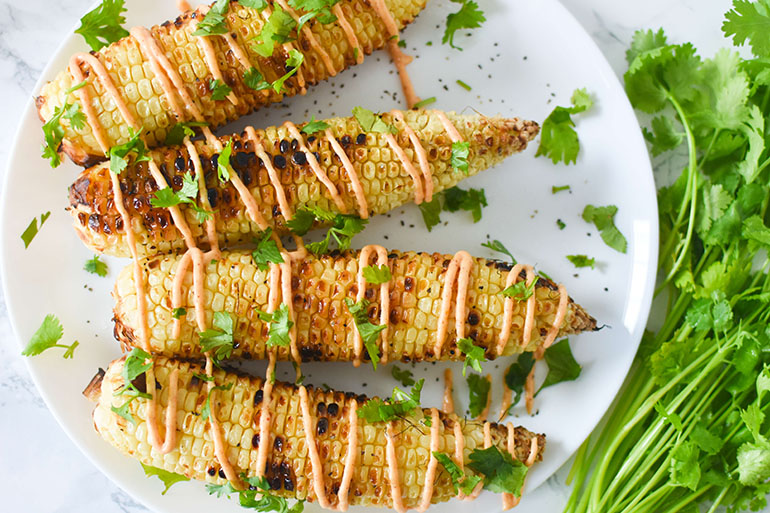 In my experience, grilling corn usually takes about 20-25 minutes before it's ready. As you can see, I like mine extra charred, so cook at your discretion if that's not your thing. It's also helpful to keep the lid closed when grilling so that the temperature is able to properly elevate. Mine usually reaches around 350 degrees. I like to rotate the corn every 10 minutes or so or until the corn is visibly charred. Once all sides are cooked, it's time for the toppings!
Different ways to Enjoy Spicy Mayo
This spicy mayo is great for much more than grilled corn! You'll have some left over, so you might be wondering what else you can use it for. Here are a few of my favorite ways to enjoy it:
Burgers
Potato wedges or fries
Other grilled veggies
Sandwiches
Anything else you can think of!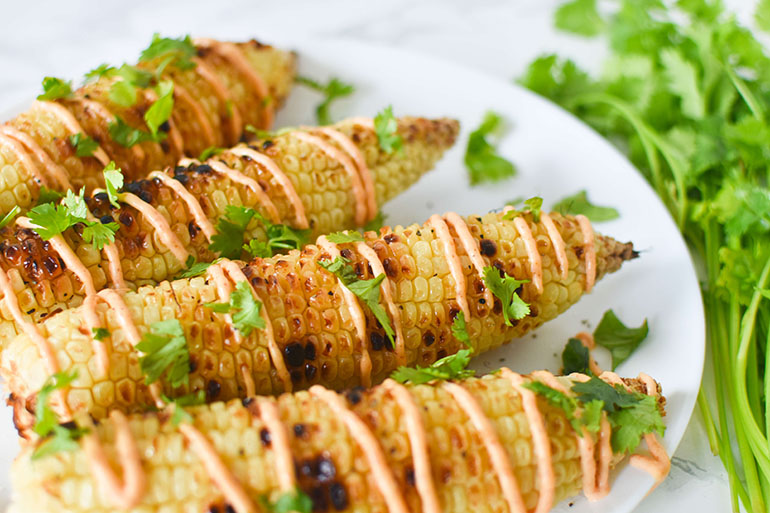 What to Pair with this Vegan Spicy Mayo Grilled Corn:
I know you'll love this Vegan Spicy Mayo Grilled Corn! It's super easy to make, flavorful and the PERFECT way to spice up your traditional corn on the cob! Give this recipe a try and let me know what you think in the comments below!
Tools You Might Need:
Hungry for more? Follow me on Youtube, Pinterest, Instagram, Twitter, and Facebook!
Vegan Spicy Mayo Grilled Corn
Easy Vegan Grilled Corn recipe topped with a simple spicy mayo sauce. Perfect twist on the classic summer staple grilled corn.
Ingredients
4

ears of fresh corn

husk and silk removed

roughly chopped cilantro for garnish

(optional)

2

tbsp

melted vegan butter

(I used Earth Balance)

salt and pepper to taste)
Instructions
Preheat your grill so that it's hot. Once heated, evenly space your corn on the grates and brush with a generous amount of melted vegan butter.

Cover the grill and allow to cook for about 25 minutes or until charred to your liking. Rotate each piece intermittently and continue to brush with vegan butter as you see fit.

While the corn is being grilled, combine the ingredients for the spicy mayo in a small bowl.

Optional: you can now transfer the mixture to a squeeze bottle for easy application to the corn.

Once the corn is finished cooking and is charred to your liking, remove it from the grill and onto a serving dish.

Sprinkle the corn with salt and pepper to taste and top the corn with the spicy mayo mixture. Garnish with chopped cilantro. Enjoy!
Notes
Note: you will likely have leftover spicy mayo. You can store it for next time or use it to top other foods as mentioned in the blog post above.