Is it just me or do S'mores Cookies seem to be having a moment this year? Idk about you but I've definitely been wondering why in the world I hadn't thought to give these a try before now. I LOVE s'mores. Gimmie aaaaalllll the burnt marshmallows sandwiched between a piece of chocolate and graham crackers. I'm obsessed! I'm so excited to share the recipe for my version of these easy vegan s'mores cookies. They're everything you love about s'mores, but in cookie form. DELICIOUS!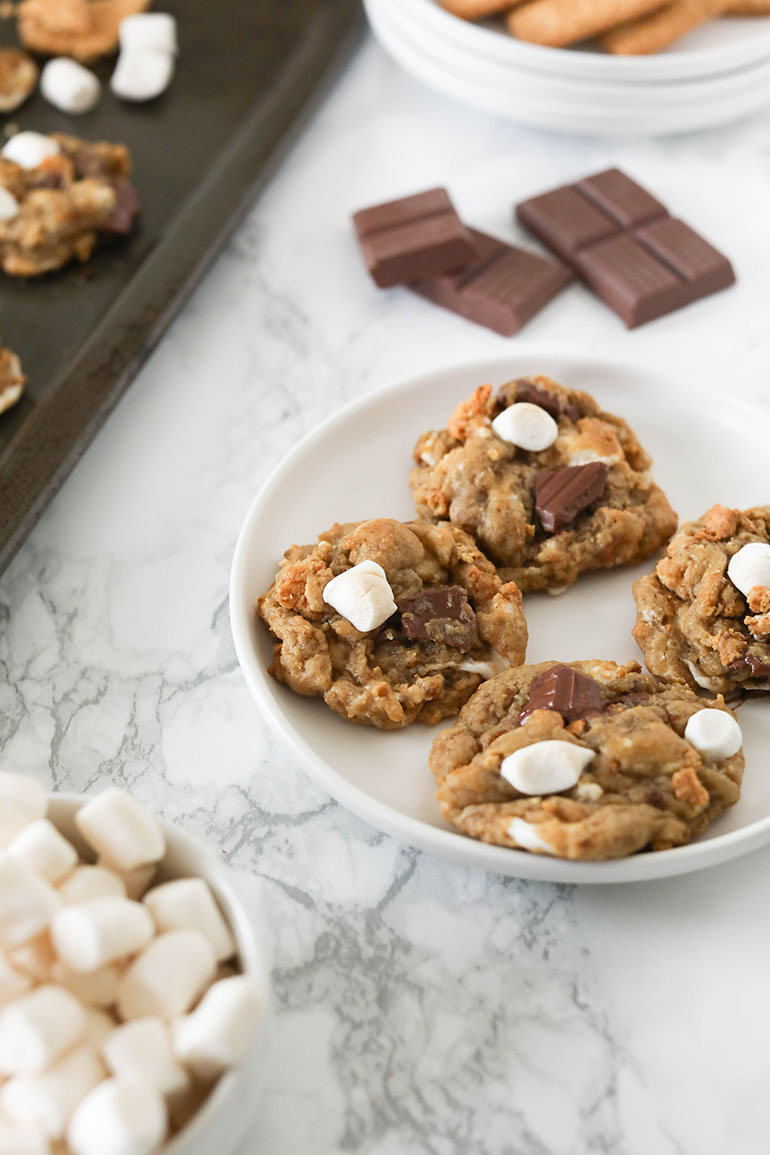 Ingredients for Vegan S'mores Cookies
Making these Vegan S'mores Cookies is super easy. All you need are a few simple ingredients to get you started:
Vegan Butter
Organic Brown Sugar
Unsweetened Applesauce
Baking Soda
Sea Salt
Vanilla Extract
All-Purpose Flour
Semi-Sweet Chocolate Chips/Chunks
Graham Crackers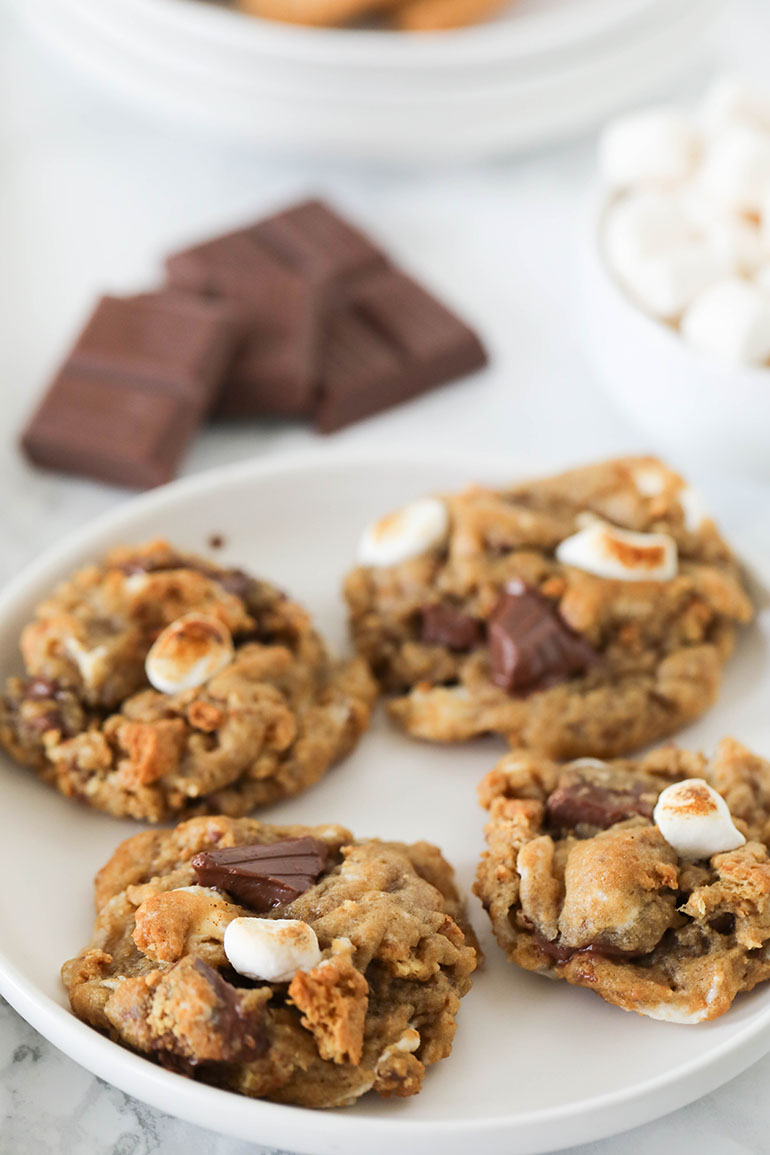 How to Make Vegan S'mores Cookies
To make these Vegan S'mores Cookies, you'll want to first start by mixing the softened vegan butter and organic brown sugar together until it appears whipped. I always tend to use my standing mixer for this recipe (or cookies in general) because it allows me to prepare or measure out additional ingredients I will need while the other contents are being mixed.
Once the vegan butter and brown sugar have been combined, it's time to add in your unsweetened applesauce, baking soda, sea salt, vanilla extract and all-purpose flour. Combine these ingredients together in the mixer along with your butter and sugar and mix until a dough is formed.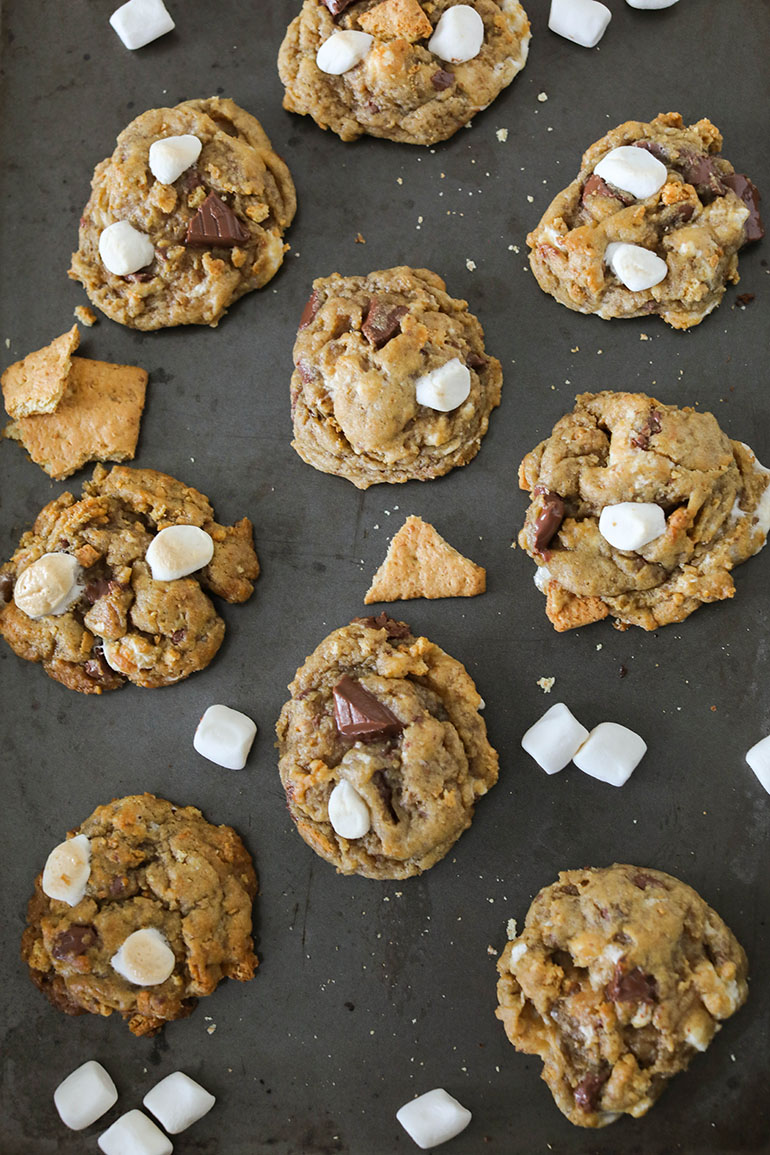 At this stage, the dough may be a little crumbly. To make it stick together, add in a tablespoon of water and mix until the dough is no longer crumbly.
Now it's time for the fun stuff! Prepare to mix in the semi-sweet chocolate chips (or chunks), vegan marshmallows and graham crackers! Add in the chocolate chips, followed by the vegan marshmallows. The measurement for the graham crackers in the recipe card below is just a suggestion. I'm OBSESSED with graham crackers so for me, the more the merrier. Feel free to add as much or as little as you'd like. I find it best to break up the graham crackers into larger pieces so the flavor comes through more in the cookie. As tempting as it may be, I think it's best if you don't completely crumble them.
Once your vegan marshmallows, semi-sweet chocolate chips, and graham crackers have been added to the bowl, slowly mix them just until they have been incorporated into the dough. Careful not to over-mix.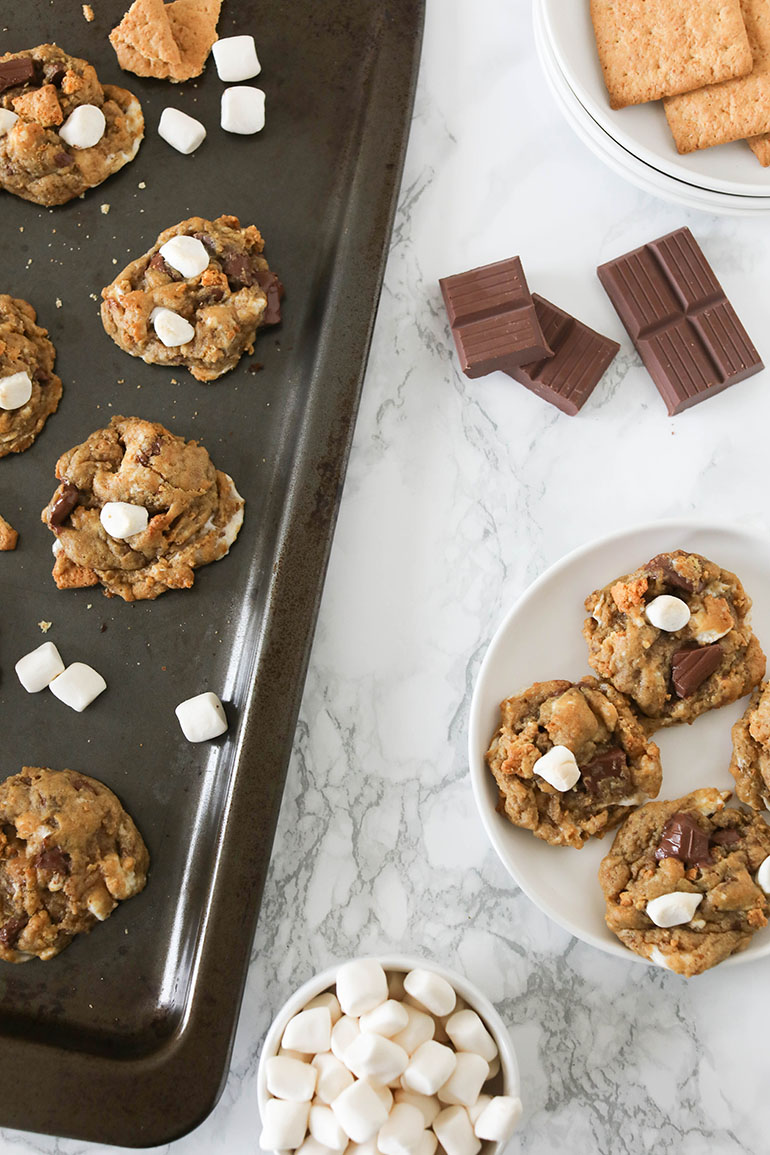 Grab your favorite cookie scoop to retrieve the dough from the mixing bowl and place your Vegan S'mores Cookies on a baking sheet lined with parchment paper (foil works too!) and bake them in your preheated oven for about 10 minutes. Feel free to bake them for a few minutes more if you prefer a firmer cookie (I like mine soft and chewy).
Where Can I Find Vegan Marshmallows?
Believe it or not, traditional marshmallows are not vegan as they contain animal gelatin. Weird right? Who thinks of this stuff?! The good news is, you can find vegan marshmallows for your Vegan S'mores Cookies at Trader Joe's, Whole Foods and Amazon. Dandie's is likely the most popular company for vegan marshmallows. They even make different flavors! You can certainly jazz up this recipe by substituting the traditional mini marshmallows for a flavored version, but the classics are perfect for this recipe.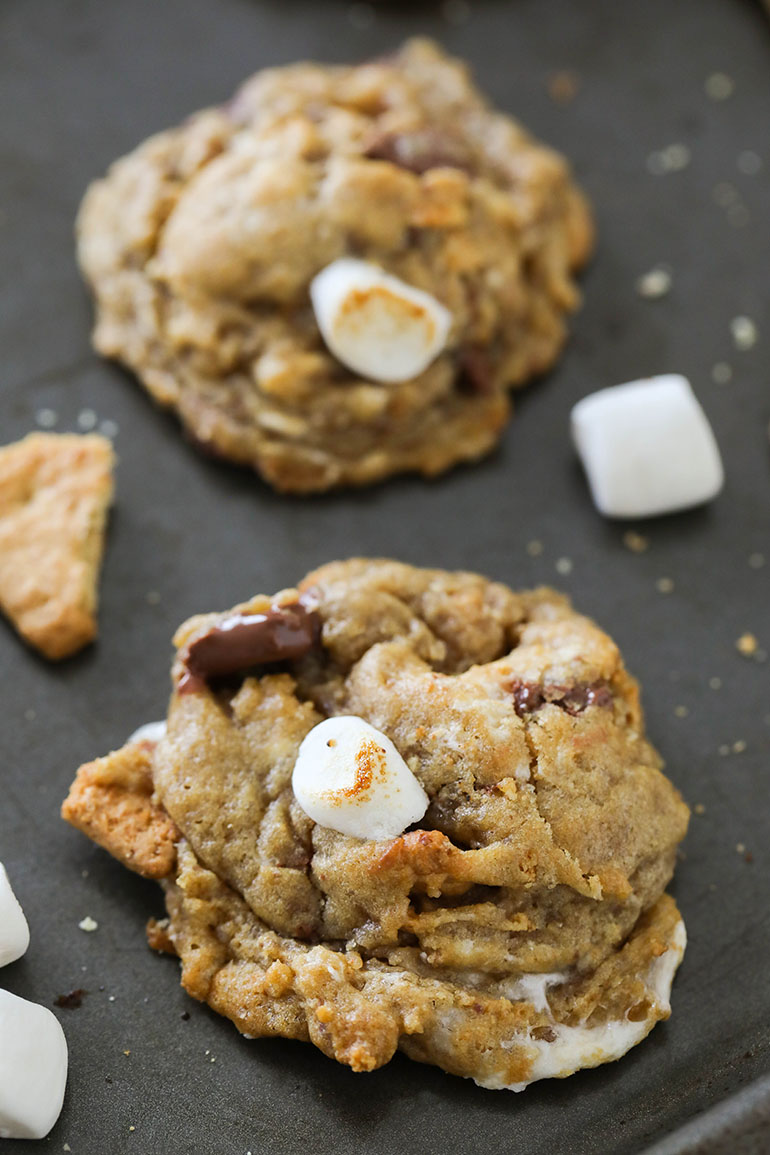 Where Can I Find Dairy-Free Chocolate Chips?
A lot of mainstream chocolate chips also include milk or other forms of dairy. My favorite place to find dairy-free chocolate chips is Trader Joe's. They currently carry chips and chunks (new). Both of them are dairy-free and completely vegan friendly. You can likely find other options from brands like Enjoy Life on Amazon.
Where Can I Find Vegan Graham Crackers?
I don't know if you've noticed, but there are a lot of graham crackers on the market and the vast majority of them seem to contain honey. Personally, I don't mind honey (don't judge me!) but if you'd like to avoid it, have a look at these I found on Amazon.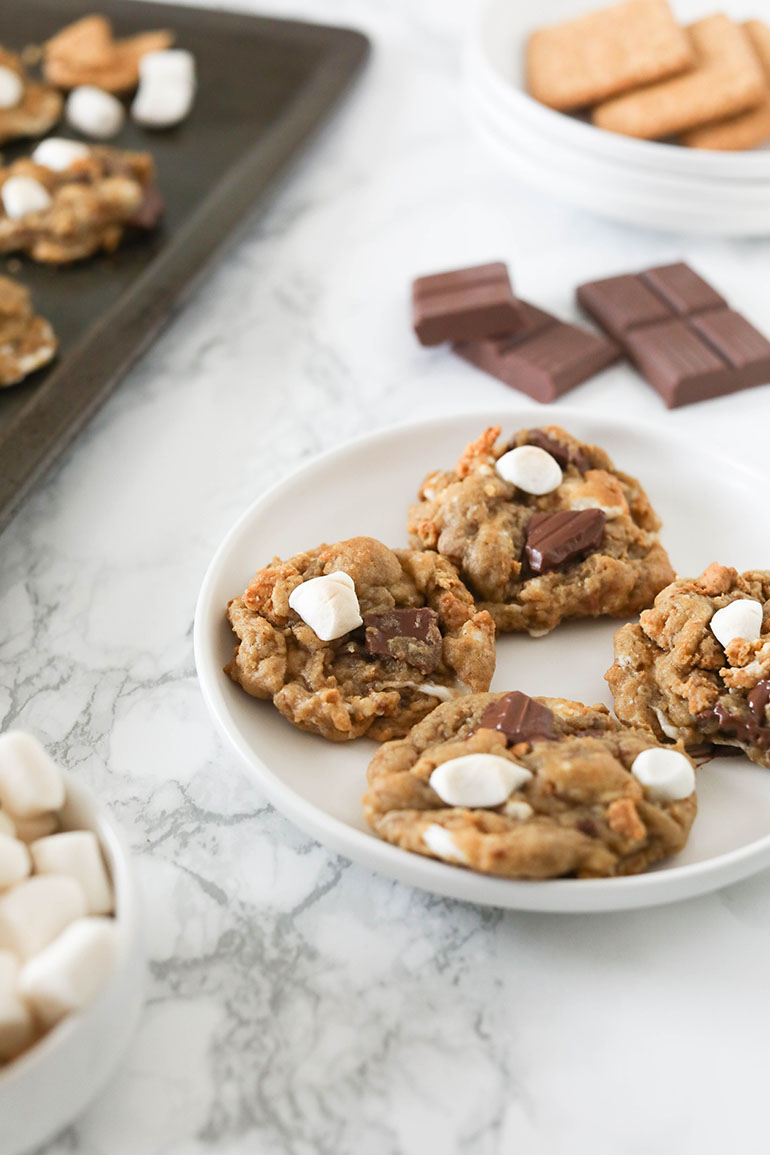 How to Store:
These Vegan S'mores Cookies can be stored in an airtight container in the fridge for up to one week or on the counter for 3-5 days for optimum freshness.
If you're wondering if these Vegan S'mores Cookies can be frozen, the answer is yes! Bake and pack these babies away in your favorite air tight container and freeze them for up to three months. To keep them from sticking to each other, you can add a sheet of parchment paper between the layers. This is totally optional. Whatever you do, just be sure that you allow the cookies to cool completely before placing them in the freezer.
Alternatively you can freeze or refrigerate the dough in an airtight container. If storing in the fridge, use the dough within one week. If freezing, you can freeze for up to three months.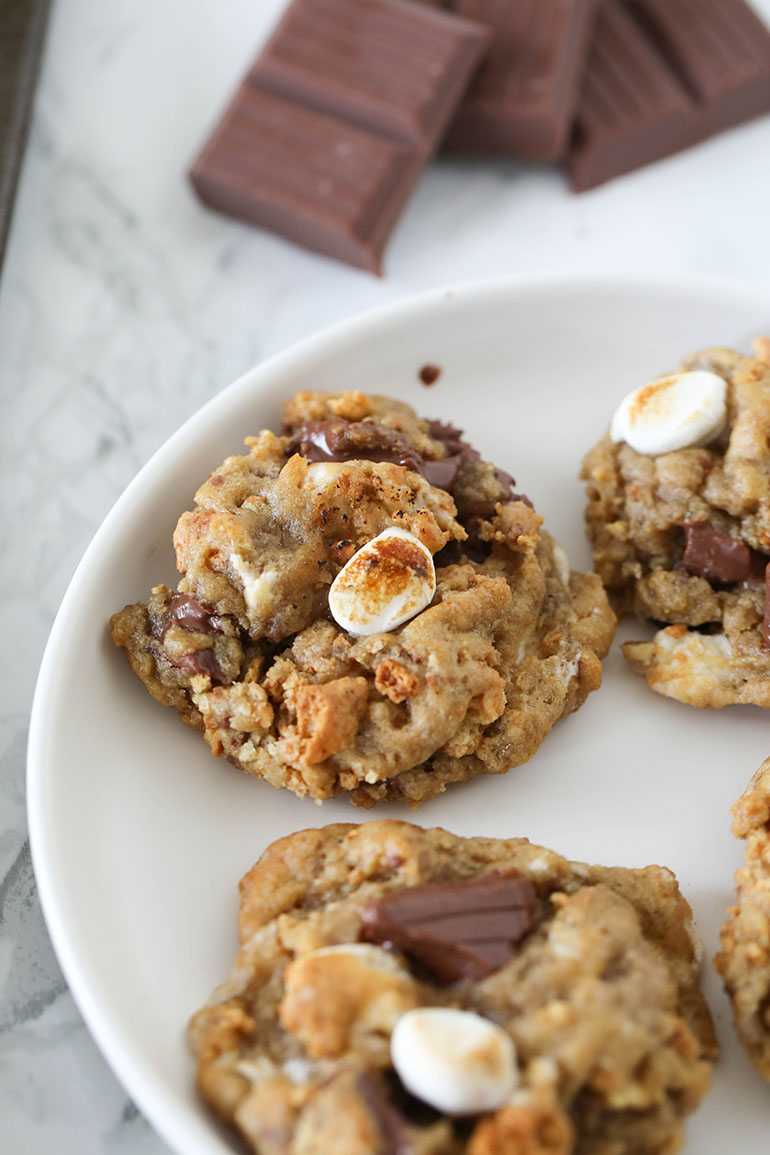 Tips for Making THE BEST Vegan S'mores Cookies
Make sure your vegan butter is softened, not melted. Just set it out on the counter for a few hours until you can easily press your finger into it from outside of the packaging.
Don't over mix. Keep an eye on your batter as it's mixing. It will turn into dough pretty quickly. Over-mixing can throw off the consistency and texture of your cookies. Trust me, you don't want no parts of that!
With cookies, often times looks can be deceiving. Remove the cookies from the oven when they still appear puffy to achieve those soft and gooey centers.
Use the middle rack to bake your cookies. Putting your cookie sheet too low or too high in the oven can lead to over baked cookies. The center is the perfect place to put them! So if your tray isn't big enough to fit all of the cookies, only bake one tray at a time!
Other Vegan Cookies You'll Love:
Once you're finished, prepare for all the nostalgia and childhood memories to come racing back with each bite. These Vegan S'mores Cookies are so incredibly addicting and delicious. If you're anything like me, you'll find yourself sneaking back into the kitchen for more all day long! I know you'll love this recipe. Give it a try and let me know how it goes in the comments below!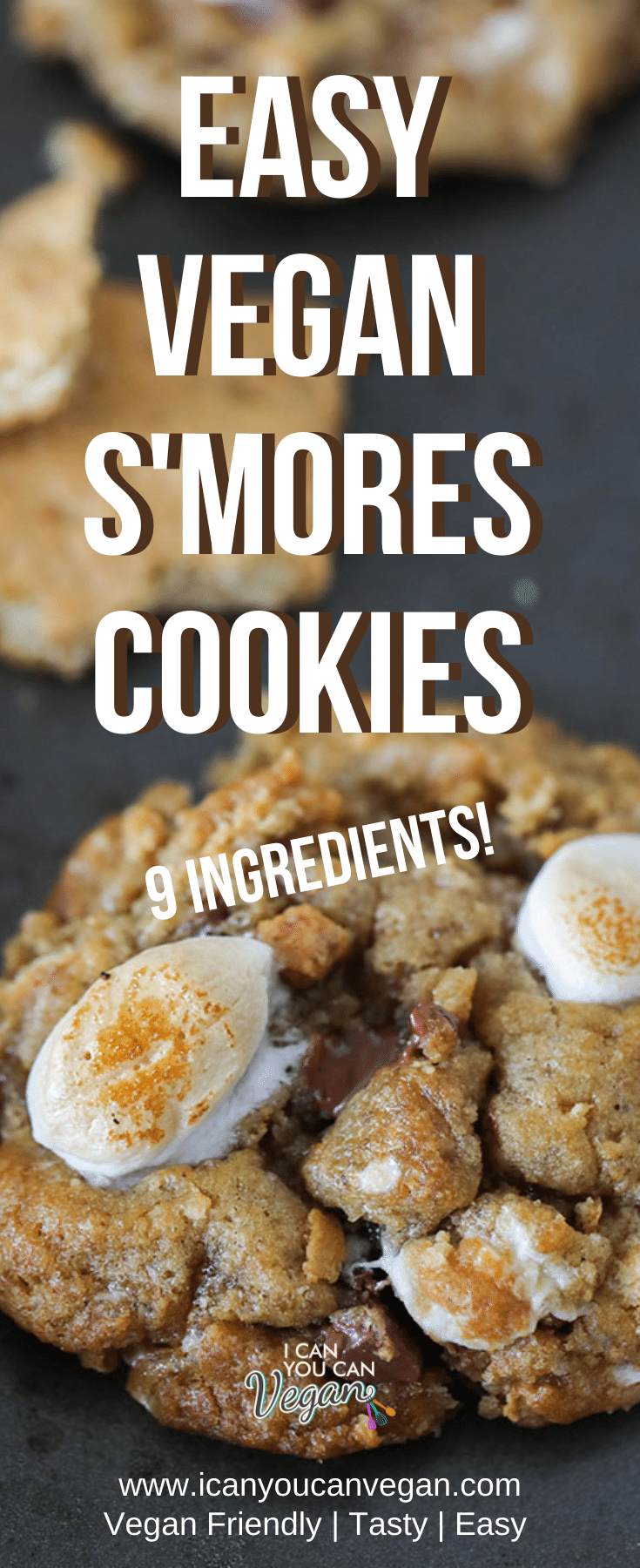 Hungry for more? Follow me on Pinterest, Instagram, Twitter, and Facebook!
Easy Vegan S'mores Cookies
Everything you love about s'mores just got BETTER! These Vegan S'mores Cookies are serving up nostalgia in each bite. Just 9 simple ingredients and no chill time required!
Instructions
In a large mixing bowl, beat the softened vegan butter and brown sugar on a high speed until it appears whipped (about 1½ minutes). I used a standing mixer, but you can also use a hand mixer as well.

Add in the unsweetened applesauce, baking soda, pinch of sea salt, vanilla extract and flour. Mix to combine.

Batter may be crumbly. To form dough, add in water and continue to mix.

Next, add in the vegan chocolate chips and vegan marshmallows and slowly mix into the dough.

Add roughly broken graham crackers and slowly mix to combine.

Use a 1½ tbsp cookie scoop to evenly disperse cookies onto a baking sheet lined with parchment paper or foil for easy removal.

Bake in preheated oven for 10 minutes.

Once done, remove from oven and let cool for 5-6 minutes.
Notes
Please note this recipe can easily be doubled if you'd like more cookies!
Also, if you don't have regular brown sugar, you can also use light brown sugar as an alternative.