A while back, one of my followers slid into my DMs and suggested that I changed my IG handle to something cookie related because I make so many cookies. Since making these Easy Vegan Apple Cinnamon Oatmeal Cookies, I'm starting to think they were right, haha!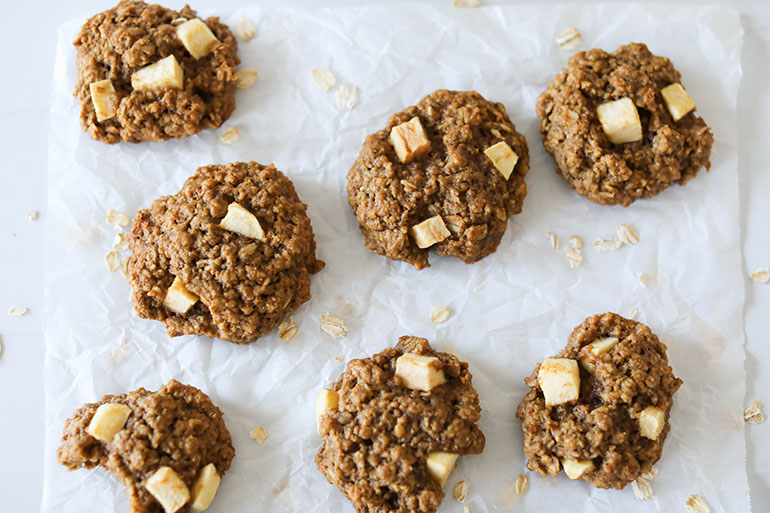 Ingredients You'll Need to Make Vegan Apple Cinnamon Oatmeal Cookies
Vegan butter- I used Earth Balance, but you can use whatever vegan butter you prefer
Organic brown sugar
Organic cane sugar
All-purpose flour
Old fashioned rolled oats- quick oats will work too, but the texture will be slightly different
Unsweetened applesauce
Molasses
Vanilla extract
Ground cinnamon
Ground nutmeg
Baking soda
Diced apples- I used granny smith apples, but you can use whatever you have on hand
How to Make Vegan Apple Cinnamon Oatmeal Cookies
To make these Vegan Apple Cinnamon Oatmeal Cookies, you'll want to start by creaming together the vegan butter and both sugars. When doing this, I always recommend using softened vegan butter instead of butter that's straight out of the fridge. It helps to give the cookies the perfect texture and it's easier to cream together.
When I say softened vegan butter, I mean just that. Not melted. Whenever I try to soften vegan butter in the microwave it always ends in disaster (a melted mess), so I typically leave it out on the counter for a few hours instead. So if I know I want to make cookies on a particular day, I'll take a stick of vegan butter out of the fridge that morning and it's usually ready to go by lunch time.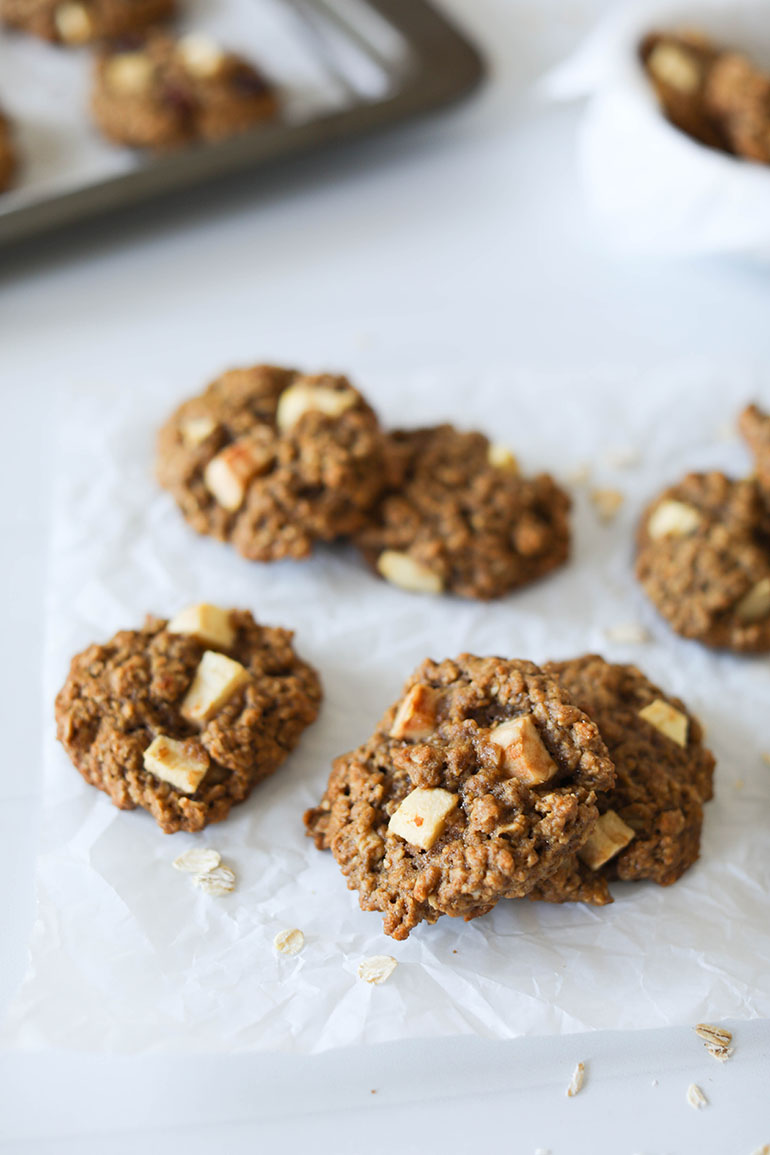 Once the mixture appears whipped, it's time to add in all of the other remaining ingredients with the exception of the diced apples. Once everything has been added and blended together you should have a nice mixture that appears dough-like.
Using a spatula or large wooden spoon, pour in your diced apples and stir them into the batter until it's well combined. In case you're wondering, the apple pieces should be about the size of a pea. You don't want to make them too big or it's possible that the apple chunks may not be finished cooking by the time the cookies are, and ain't nobody got time for that.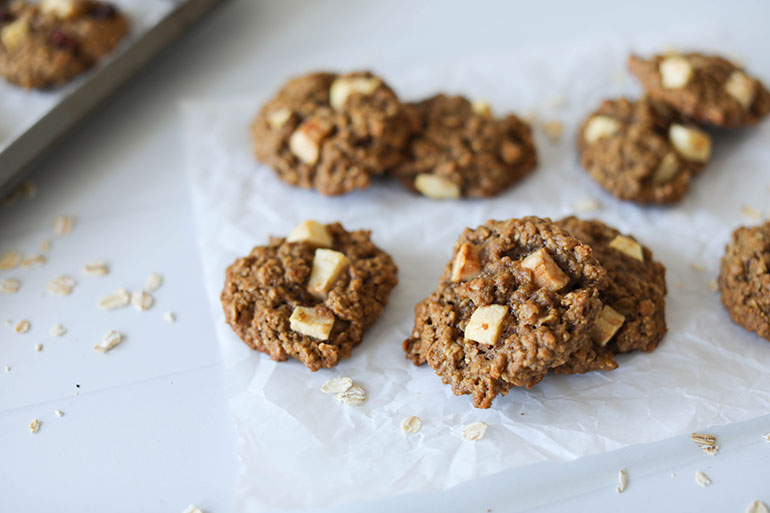 Now that the dough is prepared, you're ready to transfer them to the oven. I always like to use a cookie scoop for consistency purposes, so I line a baking sheet with parchment paper (for easy removal) and scoop out each cookie, making sure they're evenly spaced to avoid cookies sticking together.
I usually end up having to use two baking sheets, but if you don't have two, you can cook one batch, transfer the cookies to a cooling rack, then start the next round of cookies.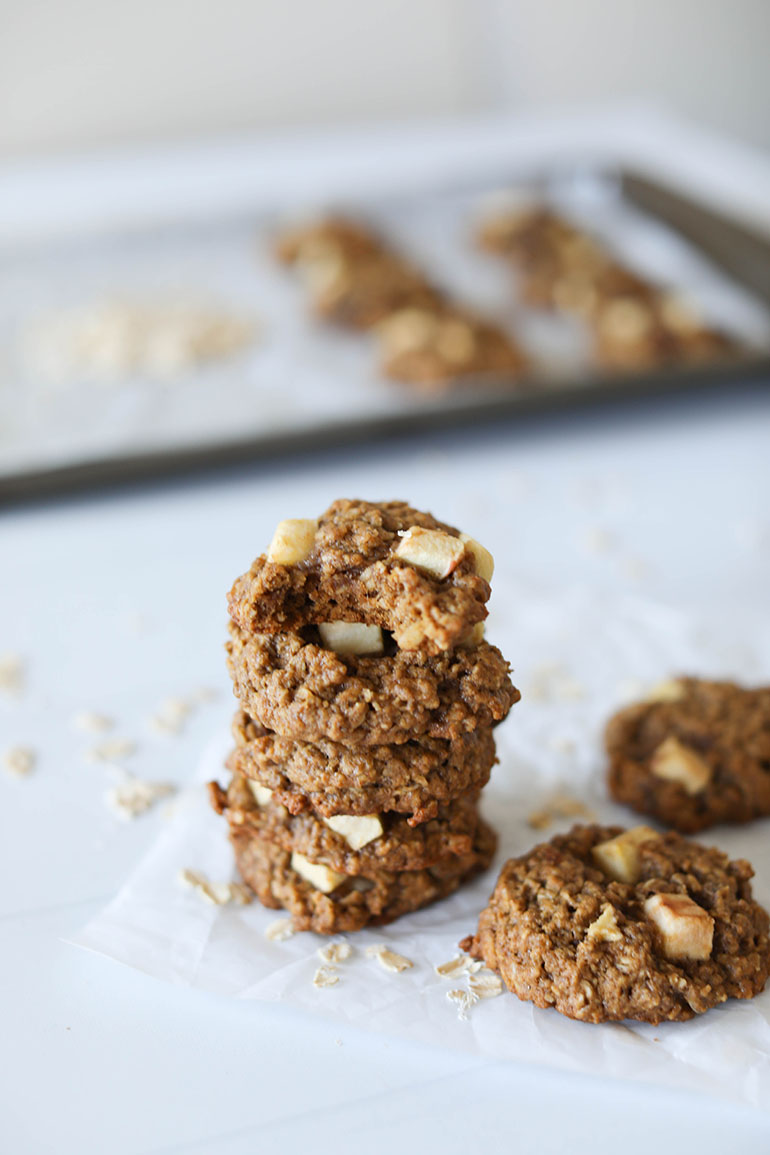 What Else Can be Added to Vegan Apple Cinnamon Oatmeal Cookies?
Though these Vegan Apple Cinnamon Oatmeal Cookies are amazing as is, you might be wondering if there are any other additions that would pair well with the apple. I wondered the same thing, so I tried adding raisins and they were a hit! My husband actually enjoyed the apple/raisin combination more than he did the apple alone.
In addition, you could add dried cranberries, or your favorite nuts. The choice is yours! Just know you can't go wrong with dried cranberries or raisins!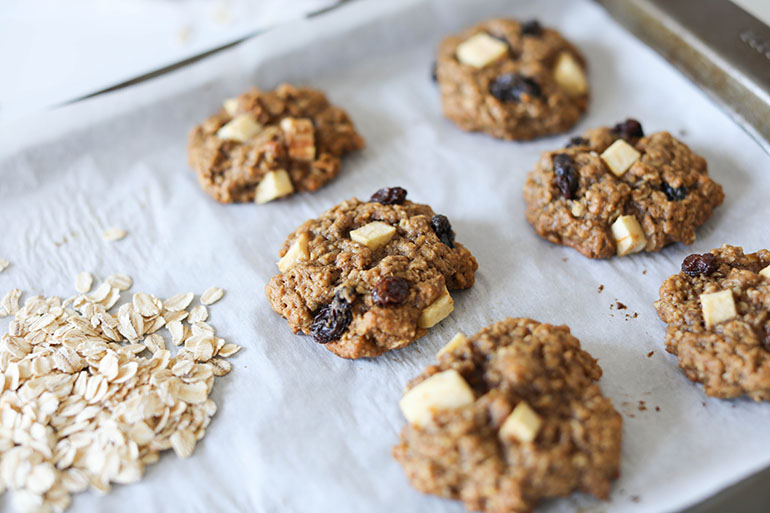 How to Store:
These cookies can be stored in an airtight container in the fridge for up to one week or on the counter for 3-5 days for optimum freshness.
If you're wondering if these vegan apple cinnamon oatmeal cookies can be frozen, the answer is yes! Pack these babies away in your favorite air tight container and freeze them for up to three months. To keep them from sticking to each other, you can add a sheet of parchment paper between the layers. This is totally optional. Whatever you do, just be sure that you allow the cookies to cool completely before placing them in the freezer.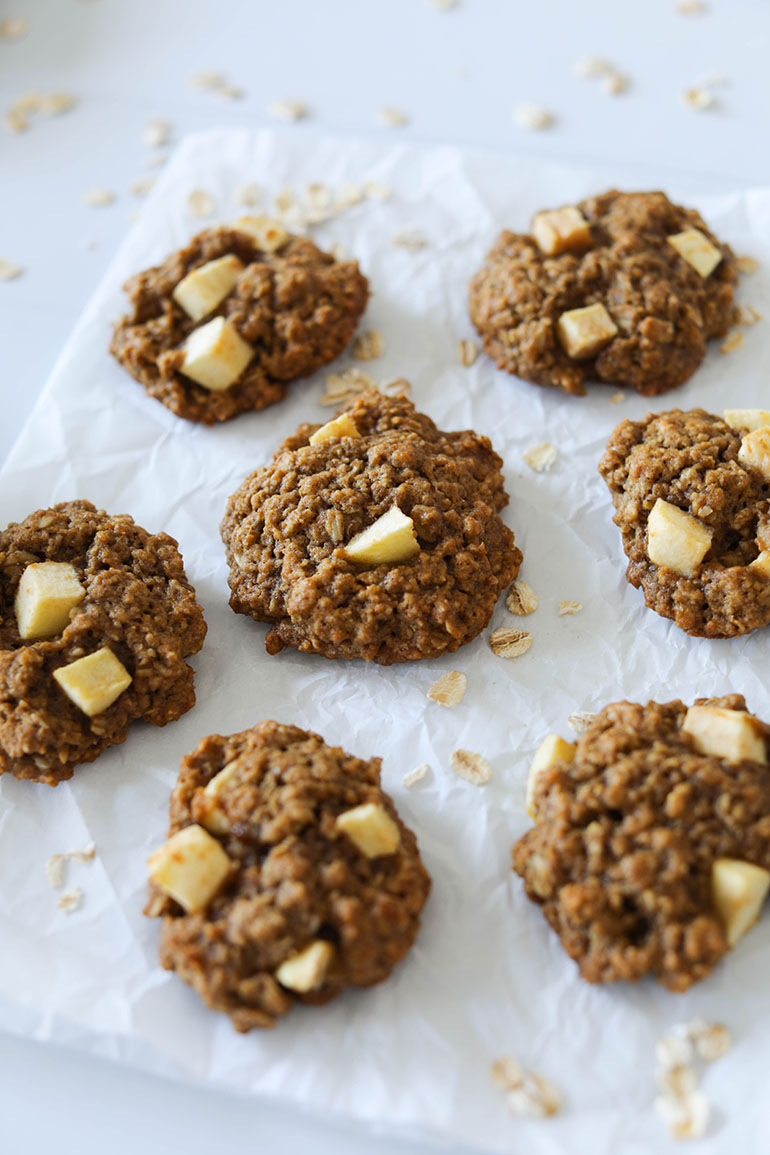 Other Vegan Cookie Recipes You'll Enjoy:
I know you'll love these Easy Vegan Apple Cinnamon Oatmeal Cookies! Not only are they super easy to make, they're soft, chewy and delicious. Oh! And customizable too! Give these cookies a try and let me know what you think in the comments below.
Hungry for more? Follow me on Pinterest, Instagram, Twitter, and Facebook!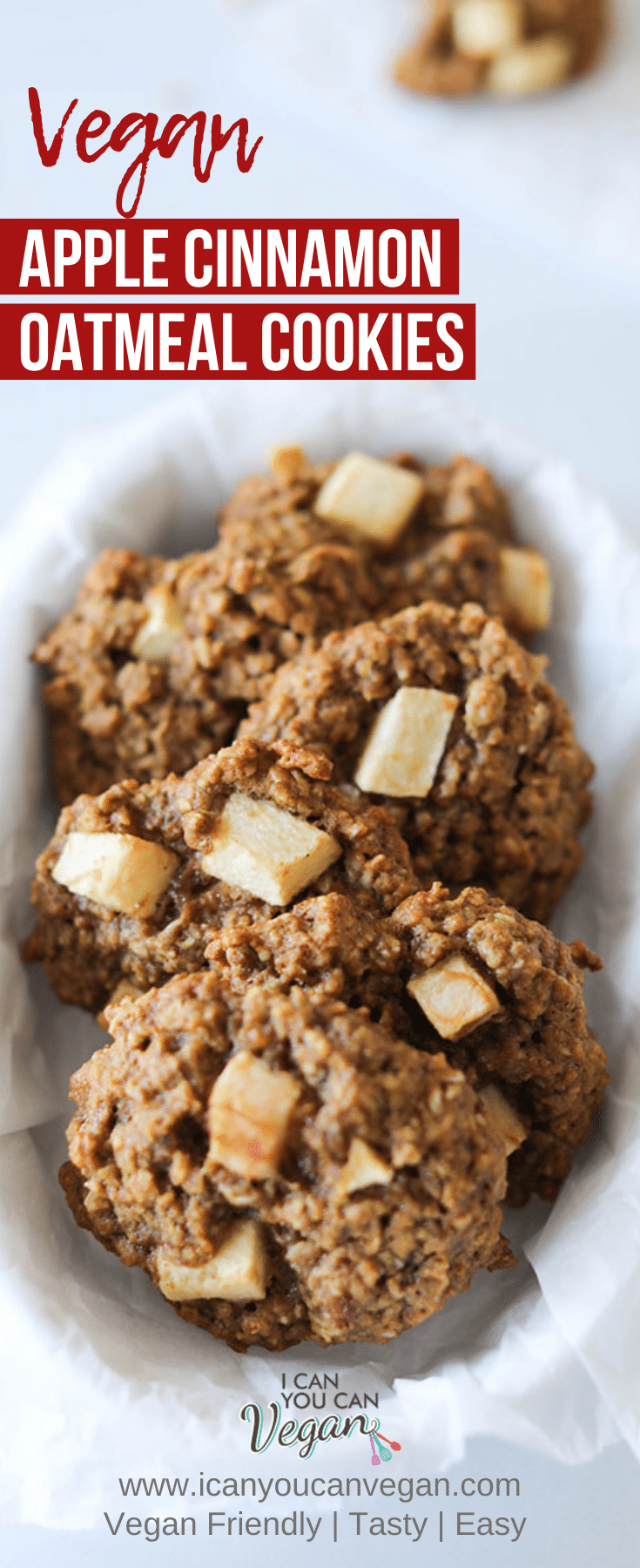 Easy Vegan Apple Cinnamon Oatmeal Cookies
Soft and chewy Vegan Apple Cinnamon Oatmeal Cookies that are easy to make and packed with apples in every bite!
Instructions
In a large bowl, cream together the brown sugar, cane sugar and the vegan butter until it appears whipped.

Next, add in all other ingredients (except the diced apples) and combine until evenly mixed (careful not to over-mix)

Using a spatula or large spoon, fold the diced apples into the batter.

Line a baking sheet with parchment paper and use a standard cookie scoop to evenly distribute the cookies, spacing them appropriately. Gently flatten them a bit so that they are the shape and thickness you want them to be when they're done.

Transfer the cookies to the oven and bake for 10-12 minutes.

Once done baking, let cool for 5-10 minutes and enjoy! Store leftovers in airtight container.