I think we can all agree that everyone's in a hurry these days. But who really wants to forgo #TacoTuesday for the sake of time? Certainly not me! That's why I rounded up some of my favorite quick and easy taco ideas. Try some of these 30 minute meals to help you eat well and sensibly in a pinch! Each of these can be made in 30 minutes or less!
Raw Walnut Taco Meat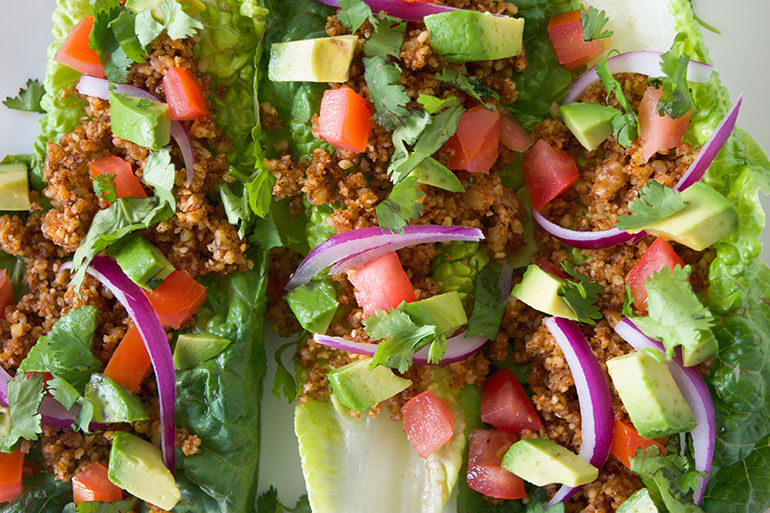 Is raw food your thing? Even if it isn't these walnut tacos are OH SO GOOD! I too was a little apprehensive about turning walnuts into "taco meat," but I promise it's one of the best decisions I ever made. This recipe doesn't skimp on flavor not one bit! You can enjoy these completely raw using lettuce to wrap them, or go for a semi-raw meal and use a traditional tortilla. Top them with your favorite taco fixings and enjoy!

.
.
Lentil Tacos
I'm convinced that lentils know no bounds. Lentils are super versatile and I always enjoy adding them to dishes for a little something extra. These tasty lentil tacos are made in less than 30 minutes. Complete in just 25 minutes! Just 6 ingredients and you're ready to enjoy. I can't think of anything better 🙂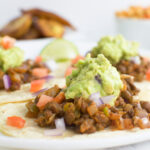 .
.
Portobello Fajitas
I've never been a huge mushroom fan, but I gotta say… portobellos have definitely grown on me. So much so, these portobello fajitas are in frequent rotation at my house. Not to mention, I LIIIIIIIIVE for a good sizzle. You know, the kind of sizzle that you get when you toss some peppers into a hot oiled cast iron skillet. That sizzle paired with the smell of homemade taco seasoning. YES PLEASE! These fajitas are made in just 20 minutes!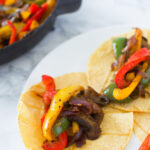 .
.
Chickpea Tacos
I'll admit, I don't make these Chickpea Tacos enough! They're sooooo filling, easy to make, and ready in 20 minutes! This is definitely one of those meals that won't break the bank and make for great leftovers. You could meal prep them (packing the tortillas separately), or prepare them for dinner. The choice is yours!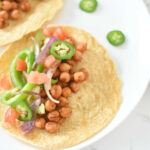 .
.
Black Bean Tostadas
These black bean tostadas are hands down one of the easiest things you'll ever make. A little smashin' (avocados), a little choppin' (tomatoes and onions), a little arrangin' (all the veggies) and you're in business. For this recipe I used canned black beans and corn, simply heating them for a few minutes in the microwave after seasoning them. This dish comes together in just 15 minutes and you can customize it however you'd like!

.
.
BONUS! Tortilla Soup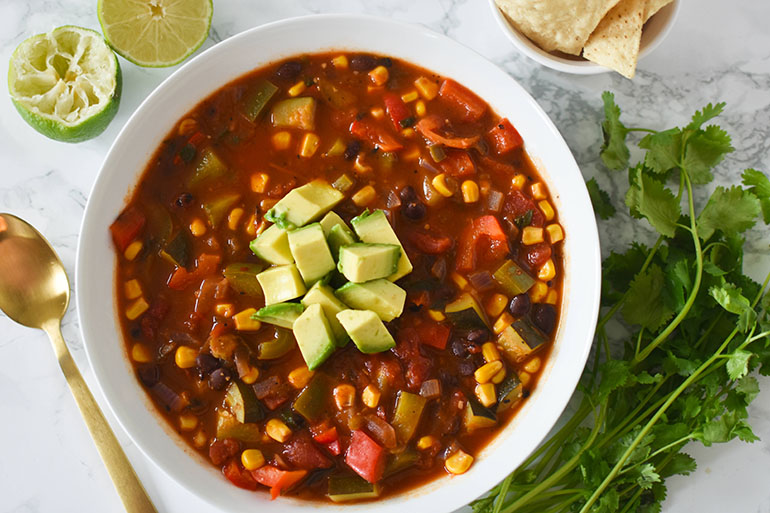 Got 10 extra minutes??! If so, you'll definitely want to give this tortilla soup a try. It's not exactly a taco, but all of the ingredients remind me of one, so in my head it's categorized in the same family. Besides, this soup is packed with so many tasty ingredients, it's hard to pass up. If you've got the time, I'd HIGHLY recommend whipping this up. It's amazing!
Easy Tortilla Soup | Vegan + Vegetarian
Easy meatless tortilla soup recipe filled with bell peppers, zucchini, black beans, corn and more!

Hungry for more? Follow me on Pinterest, Instagram, Twitter, and Facebook!