I've been blogging for about two years now, and thanks to social media, I've been able to connect with tons of amazing people from all over. Some were already vegan/plant-based and some were looking to make the transition. One of the most common requests I get are for easy meals that can be prepared at home and are appropriate for a person who doesn't spend a lot of time in the kitchen. These requests were the inspiration for this post. Below you'll find 5 Vegan Recipes for Beginners! None of these recipes require any fancy kitchen tools, nor do they require a laundry list of ingredients! They're easy, quick and tasty! In sharing this post, I hope that you'll find that preparing plant-based meals aren't as hard as you may think!
Sesame Garlic Noodles
This Sesame Garlic Noodles recipe is one of my favorites! With just 7 ingredients, what's not to love? It's got great flavor and if you're into meal-prep, it's perfect! Would you believe it's ready in under 30 minutes? About 15 to be exact. It's important to note that for this recipe, I used a red lentil pasta alternative, so the noodles cooked really fast. Much faster than traditional pasta. So if you decide to use traditional pasta, just know that the total cook time may increase a bit.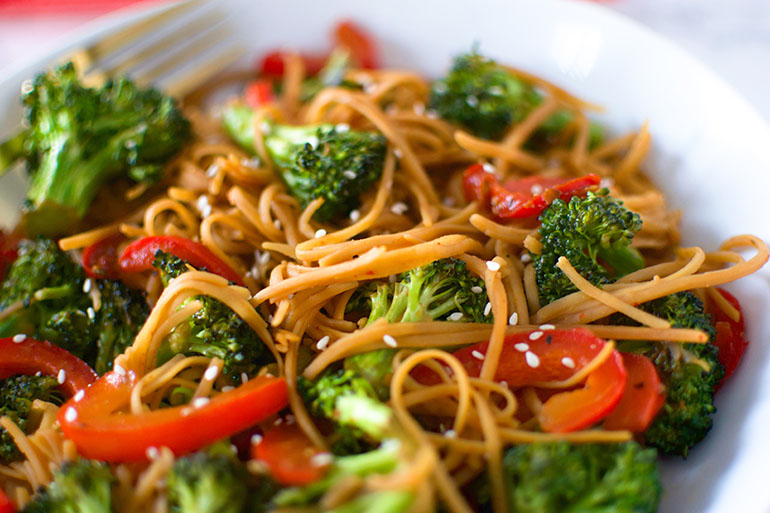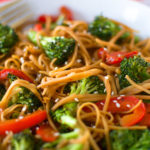 –
Quinoa Breakfast Bowl
Breakfast has always been one of my favorite meals of the day. I'm sure everyone is familiar with oatmeal, but how about Quinoa? Up until this recipe, I had always considered quinoa to only be appropriate for lunch or dinner. I was terribly wrong. Quinoa is now one of my favorite quick and easy breakfast meals to make! Customize it by adding all of your favorite toppings like fruits and nuts! My favorite part? It's ready in 15 minutes!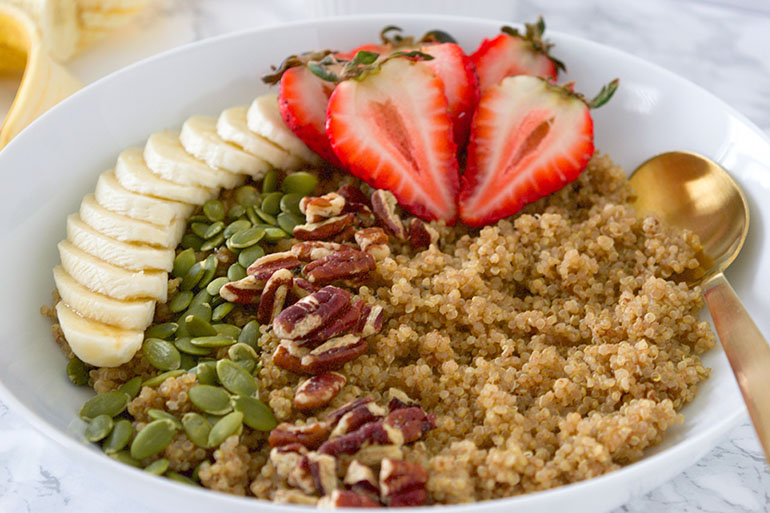 –
Lentil Taco Salad
After typing the title of this post, the first word that came to mind was YUM! This Lentil Taco Salad is so good and so easy to make! The recipe calls for one of my favorite homemade taco seasoning blends, but you can swap it for a store bought one if you want (though I definitely recommend the homemade version!). The recipe calls for 10 ingredients, but you can add or remove different items depending on what you prefer. I'm not a huge salad person, but this is one that I actually look forward to eating! The lentils take just 10 minutes to cook. The remaining time is simply prepping to put your salad together!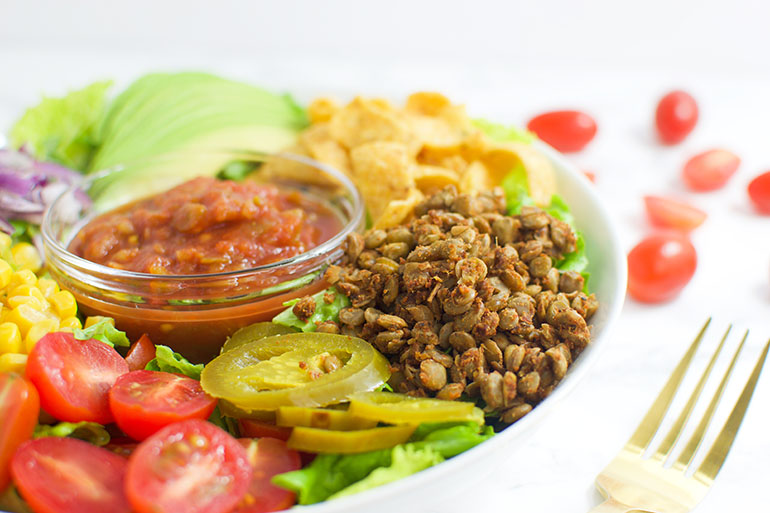 –
Flour-less Pancakes
Who knew that it was possible to make pancakes that actually taste good, without using flour? I was so impressed with how these pancakes turned out! The recipe calls for just 6 ingredients and you likely already have them on hand. I love topping these with with fresh fruits and maple syrup. They're also very quick to make and cook.
Flour-less Pancakes
Easy, vegan flour-less pancake recipe that's made using oats instead of traditional flour. A delicious alternative to traditional pancakes!
Check out this recipe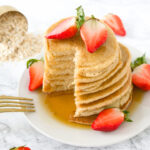 –
Spinach Pesto
Out of the 5, this recipe is probably the most involved. But don't get nervous, it's still REALLY easy to make. Prior to making my own pesto, I had always assumed that it was difficult to make. I was so wrong! These days, I make pesto at least once or twice a month. I would probably make it more if I wasn't always experimenting with new recipes to share! It's so good! Just 8 ingredients and 20 minutes later, you've got yourself a delicious meal!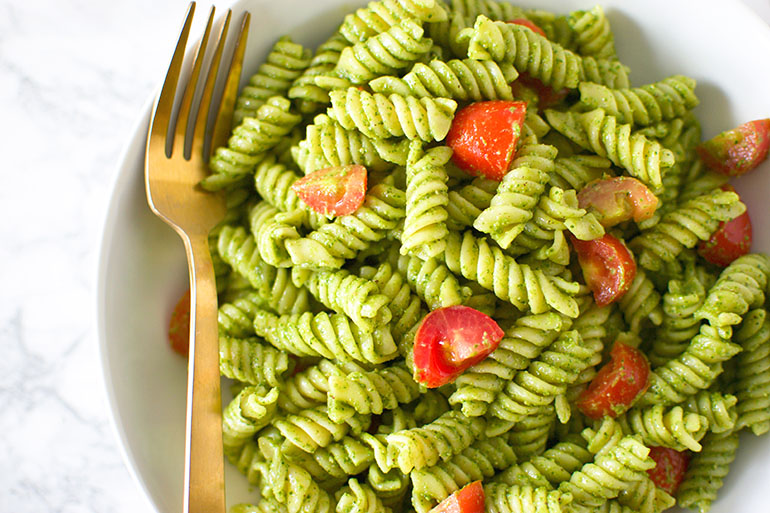 –
That wraps up this post on 5 Vegan Recipes for Beginners! Looks easy enough, right? You can totally do this, I believe in you! Give these recipes a try and let me know what you think in the comments below!
Hungry for more? Follow me on Pinterest, Instagram, Twitter, and Facebook!