If there's one thing I love, it's BREAKFAST food! These Vegan Blueberry Sheet Pan Pancakes have changed my life forever! If you follow me on the 'gram it's no secret that I make my favorite pancake recipe (a double batch at that) on the regular.
Well folks, that recipe just got even better! How is that possible you ask? Well now you can make a double batch with any fruit or add-ins you'd like in ONE pan, in the OVEN that bakes in just 15 minutes! Gone are the days where I have to spend forever flipping pancakes over a hot stove. Sheet pan pancakes are where it's at!
Ingredients You'll Need to Make Vegan Sheet Pan Pancakes
Not only is this recipe my new favorite because it's such a timesaver, it's my favorite because it only requires seven ingredients. Six if you'd rather make them plain and ditch the blueberries.
All-purpose Flour
Baking Powder
Organic Cane Sugar
Plant-milk
Apple Cider Vinegar
Vegan Butter
Blueberries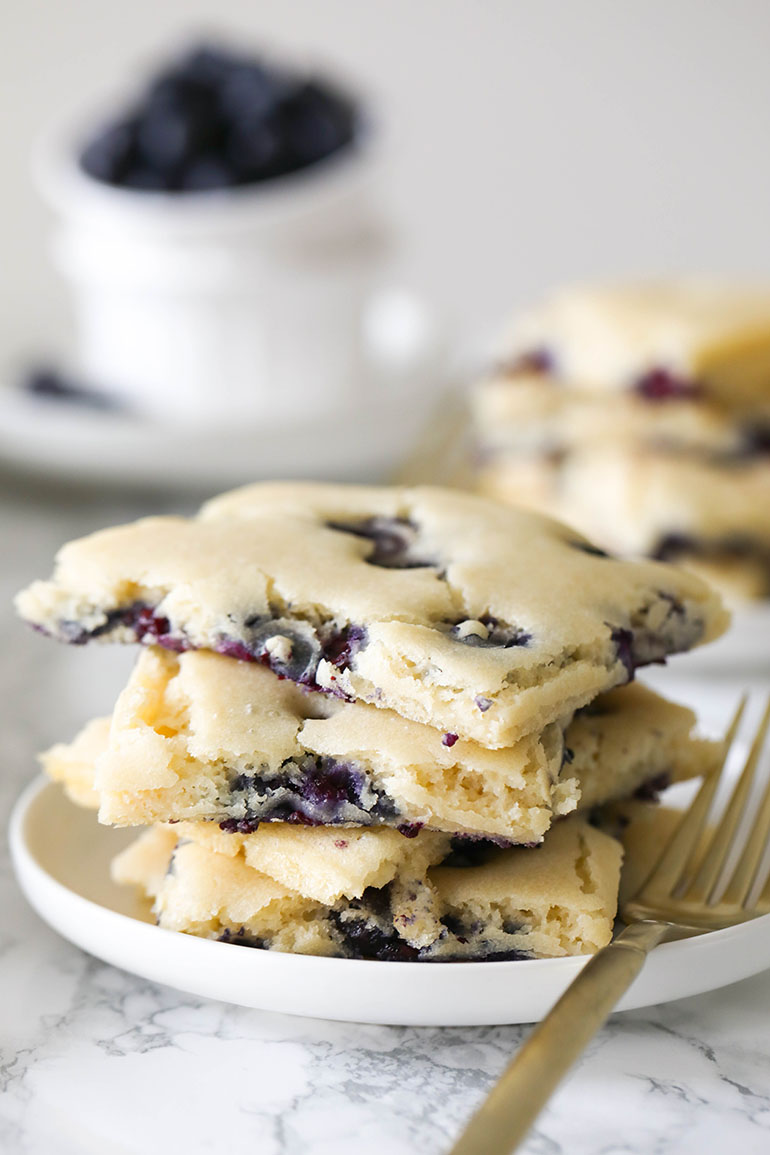 How to Make Sheet Pan Pancakes
Making these Vegan Blueberry Sheet Pan Pancakes is really easy. Actually way easier than making traditional ones! What makes these different from regular pancakes is how you cook them. Sheet pan pancakes are made in the oven instead of on the stove.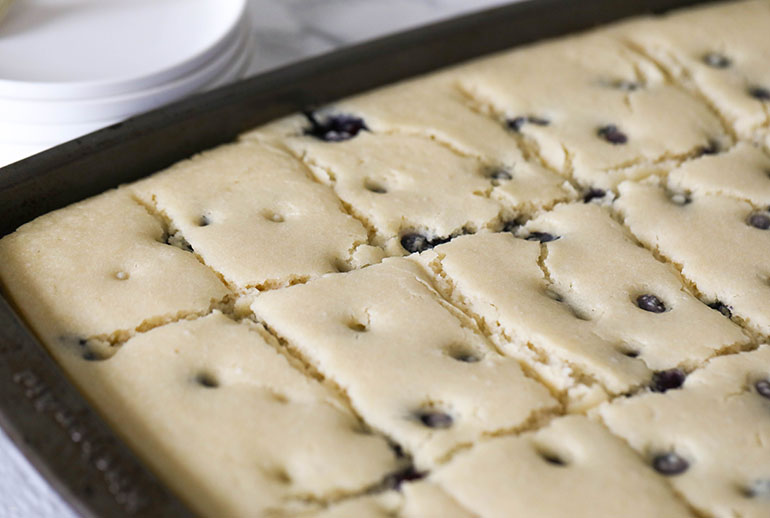 To prepare these pancakes, you'll combine the ingredients together just as you would for traditional ones. You'll want to first start by combining the unsweetened almond milk (or plant milk) with the apple cider vinegar. By doing this, you're creating a vegan buttermilk mixture. Set this aside while you gather the remaining ingredients. If you notice it starting to curdle, don't worry. This is totally normal!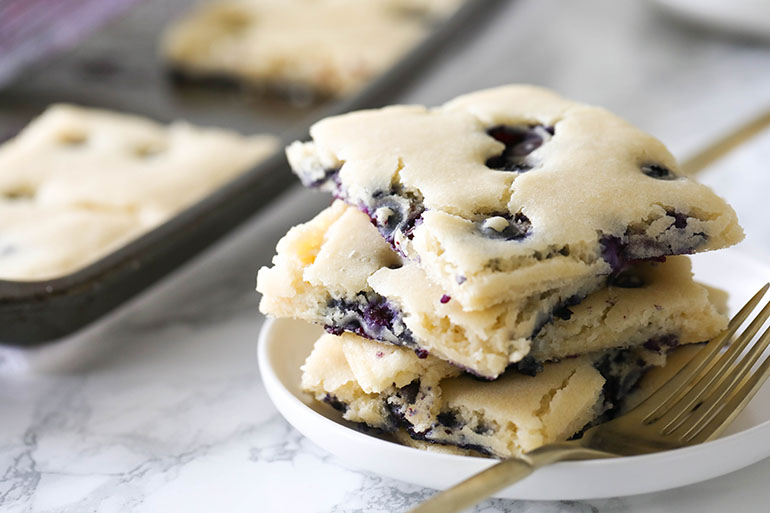 While the vegan buttermilk is setting, combine all of your dry ingredients- flour, baking powder, sugar and salt to a large mixing bowl. Grab a whisk and mix them together. Next, add in the vegan buttermilk mixture along with the melted vegan butter. Whisk everything together until most of the lumps have been removed and the mixture is mostly smooth.
Now that the batter is formed, gently stir in your fresh blueberries. Grab your sheet pan and spray it with a neutral cooking oil (like vegetable oil) or additional melted vegan butter, then spread the batter into the pan. Most likely your blueberries are not spread evenly, so now would be a great time to spread them out so that you can have blueberries in every bite!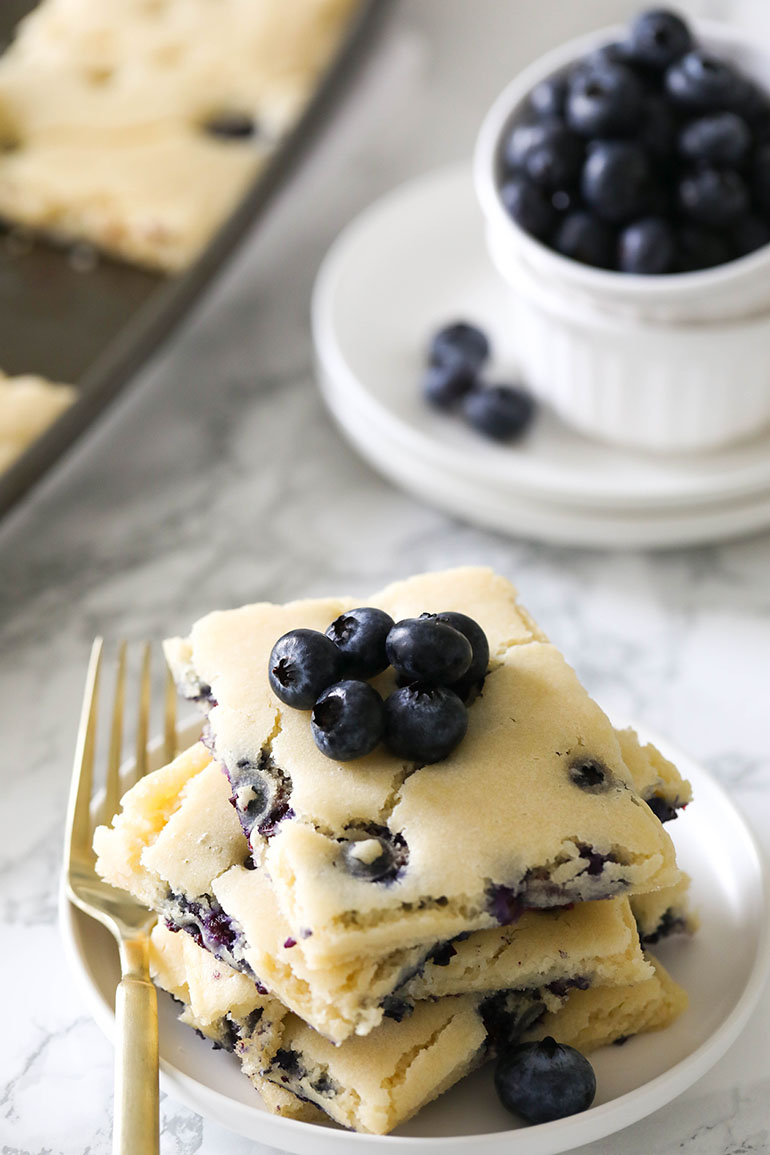 Once you have the blueberries spread out how you'd like, you're ready to pop the pan into your preheated oven and allow it to bake for 15 minutes. Once it's finished you'll notice that the sides will be lightly crispy and slightly pulling away from the edges.
Now you're ready to serve! I found it easiest to use a pizza cutter to cut into squares, but a butter knife will get the job done too. Once everything is cut you're ready to serve! Stack your Vegan Blueberry Sheet Pan Pancakes up as high as you'd like along with additional fruit (if desired) and drizzle with maple syrup. Prepare to enjoy!
How Long Does it Take to Cook Sheet Pan Pancakes?
The fact that these Vegan Blueberry Sheet Pan Pancakes are ready to eat straight from the oven in just 15 minutes is my favorite part about this recipe!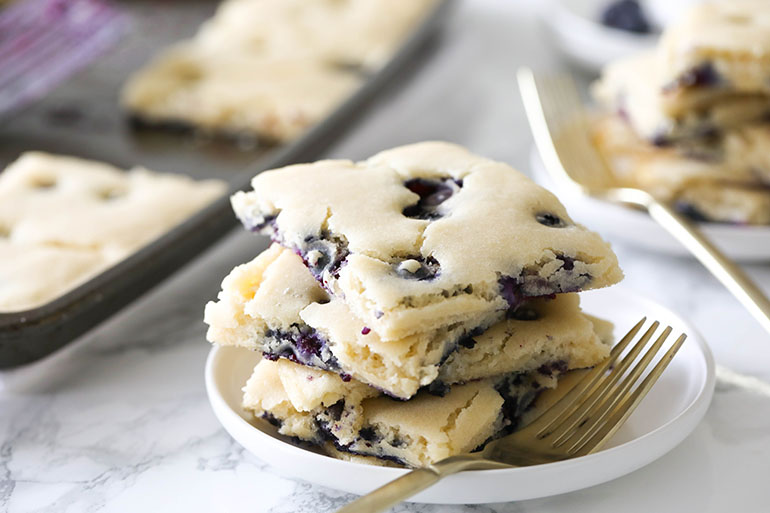 How to Reheat Sheet Pan Pancakes
This might sound weird, but I've found that the best way to reheat sheet pan pancakes (or any pancakes for that matter) are to pop them into the toaster for 2-3 minutes. Of course, the microwave for 40 seconds or so works too but there's something about the toaster that makes them taste fresh! If you've tried it then you already know what I mean. If you haven't tried it, you need to! At least once.
Do I Have to Use Blueberries?
Nope! You can use whatever fruit you'd like, just make sure that they aren't sliced too thick. If you wanna get fancy, you could even divide your sheet pan into different quadrants and use a different topping for each. Blueberries in one, bananas in another, strawberries in the third and chocolate chips in the fourth. Whatever you'd like!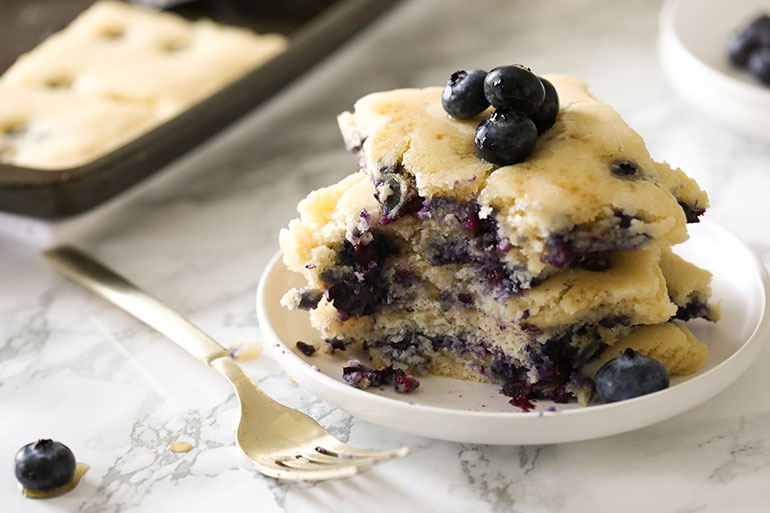 Will Frozen Blueberries Work?
Yep! Frozen blueberries would be fine as a substitute for fresh ones for this Vegan Blueberry Sheet Pan Pancakes recipe. Just be sure to break up any of them that may be clumped together.
Tools You Might Need:
I know you'll love these Vegan Blueberry Sheet Pan Pancakes! They're made from scratch with just a few common ingredients and they're really easy to whip up and serve to your family. Give this recipe a try and let me know what you think in the comments below!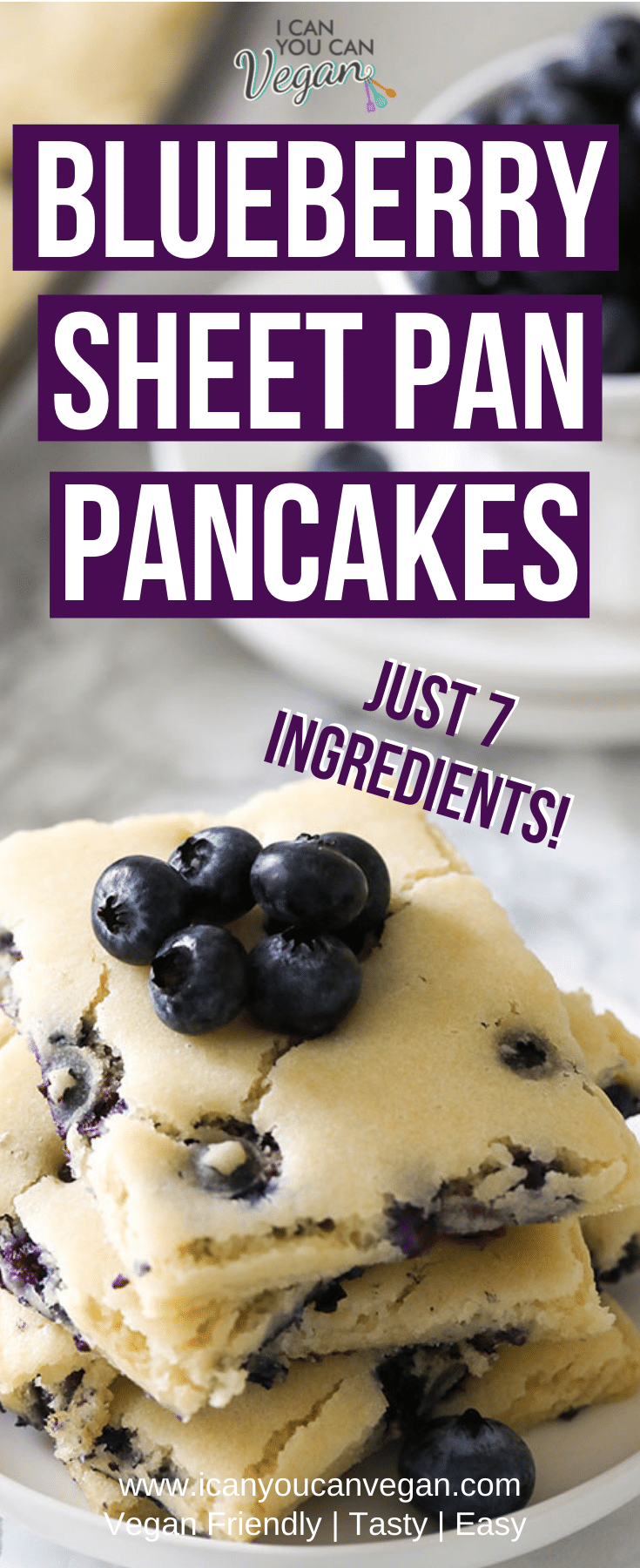 Hungry for more? Follow me on Youtube, Pinterest, Instagram, Twitter, and Facebook!
Vegan Blueberry Sheet Pan Pancakes [+VIDEO]
Fluffy, easy to make vegan pancakes made without eggs, milk or dairy! Pancakes made simply by baking them in the oven instead of on the stove to save time!
Instructions
Measure out 2 cups of almond milk and add 4 tsp of apple cider vinegar. Set aside.

In a medium sized mixing bowl, combine all of the dry ingredients.

Add the melted butter and almond milk mixture to the bowl and whisk to combine. Batter should be mostly smooth.

Spray a baking sheet with a generous amount of a neutral oil (like vegetable oil or more vegan butter) and spread the batter and blueberries out evenly. Transfer to the oven and bake for 15 minutes.

Once finished baking, remove from oven and cut into squares. Top with additional fresh fruit (optional) and maple syrup. Enjoy!
Video