If it involves lemon, COUNT ME IN! I've been wanting to make these Vegan Lemon Cupcakes for quite some time and I have finally perfected them!
When it comes to cakes I'm very particular. They've got to have good flavor, be moist, and have good texture. I'm happy to say these Vegan Lemon Cupcakes have all three! To put the icing on the cake, they're really easy to make. To make the actual cupcakes, you'll need just 9 ingredients. What makes this even better is that they're all so common. You probably have most if not all of these ingredients waiting for you in the kitchen!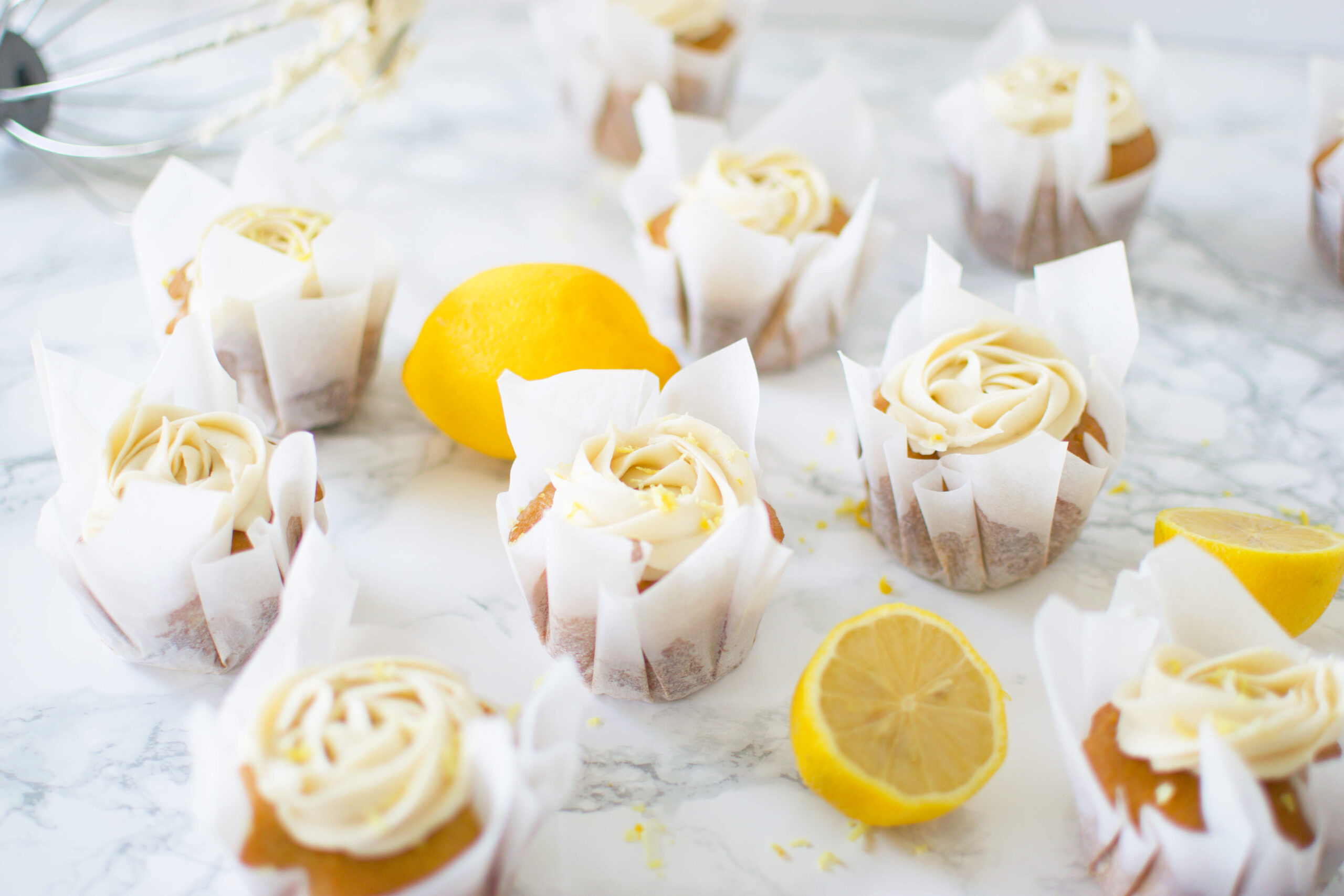 Not in the mood for cupcakes? This recipe could easily be adapted for a regular sized cake. Use this Easy Vegan Vanilla Cake recipe as a reference if you're curious about how to adjust the cooking time.
How to Make Easy Vegan Lemon Cupcakes
Making these vegan lemon cupcakes is really simple. As I mentioned above, all you need are just 9 ingredients. You'll start by gathering all of your dry ingredients into a large mixing bowl, then add in all of the wet ingredients. Use a whisk, high-speed blender or a standing mixer to combine everything together until the batter has formed and is mostly smooth.
Once the batter has come together, line a cupcake pan with liners and use a 1/4 cup measuring cup to evenly distribute the batter into each of the liners. I always find it helpful to use a measuring cup to maintain consistency. This way, they're all done baking at the same time.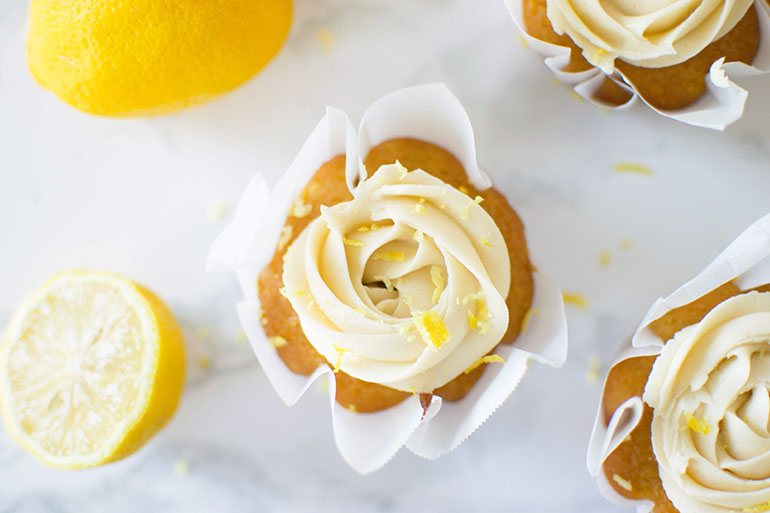 Transfer your baking pan to the oven and allow them to cook for about 25-28 minutes. Times may vary slightly depending on your oven, so be sure to keep an eye on them. You can test to check if they are done in a few different ways. Two of my most used testing methods are to simply press down lightly on one of them using two fingers. If the cupcakes quickly bounce back up, you're ready to take them out. If they leave an indention, continue cooking them for a few more minutes.
Alternatively, you could use the toothpick method. If you think they're done, insert a toothpick into the center of one of the cupcakes, then quickly remove it. If the toothpick comes out clean, you're good to go. If the toothpick comes out with batter on it, continue to let the cupcakes cook for a bit longer.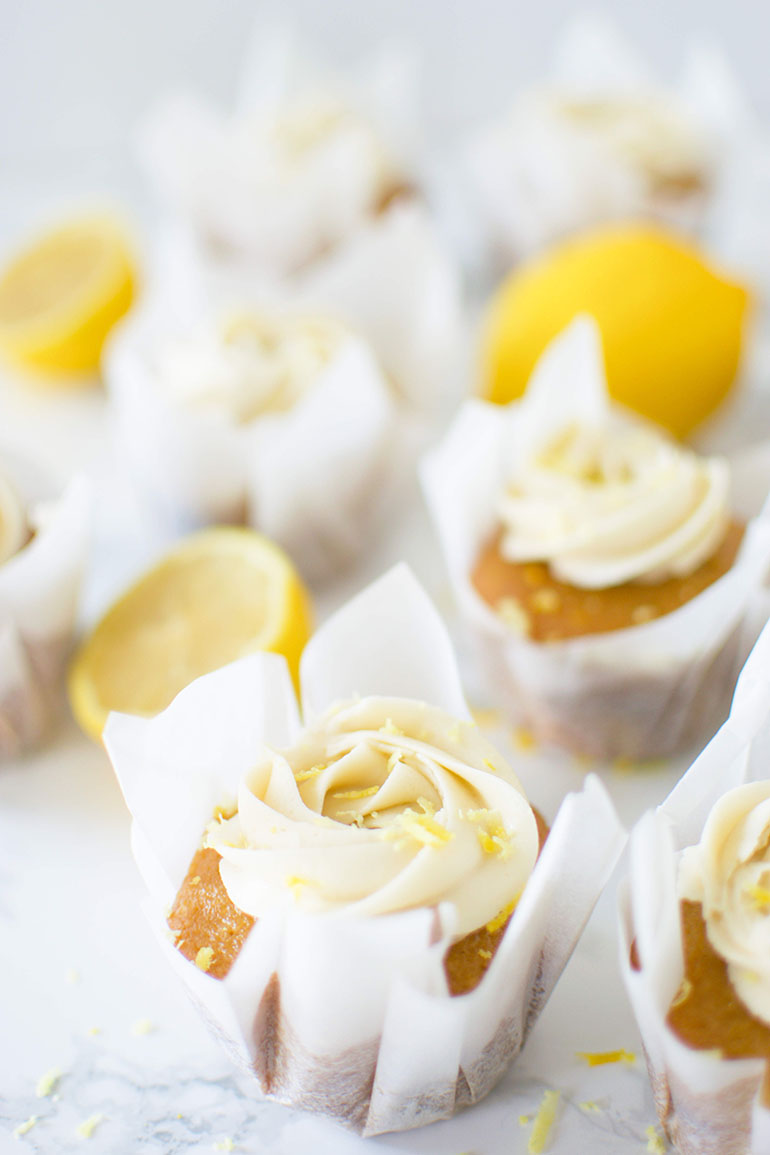 How to Make Vegan Lemon Frosting:
Making vegan lemon frosting is just as easy as making the lemon cupcakes. You might even recognize it from my previous post. Though the recipe below is for a basic vanilla frosting you could mix in some lemon zest or even swap the vanilla extract for lemon extract to add some extra lemon flavor. I kept it simple and just used some extra lemon zest for garnish, but this part is completely customizable!
To make the frosting, you'll want to first be sure you're starting with vegan butter that has been softened. To do this, I usually leave it out on the counter for a few hours until I'm ready to use it. You do not want to use melted butter. Melted butter will completely ruin the finished product, so be sure not to opt for melting the vegan butter in the microwave. The end result won't be pretty!
In a mixing bowl combine all of the vegan frosting ingredients: softened vegan butter, sifted powdered sugar, extract of your choice (vanilla or lemon) and almond milk. Use a hand mixer or standing mixer to slowly combine all of the ingredients. You'll want to avoid starting on a really high speed because the powdered sugar will most likely end up flying everywhere. Then you've got a mess on your hands. We don't want that!
Whether you choose to make vegan lemon frosting or vanilla frosting to top these cupcakes, you can't go wrong with a little extra lemon zest sprinkle to garnish these off with. Because the zest is so fine, you can barely taste the texture of it. If you're worried about it being too much, this step is totally optional, so feel free to skip it if you want!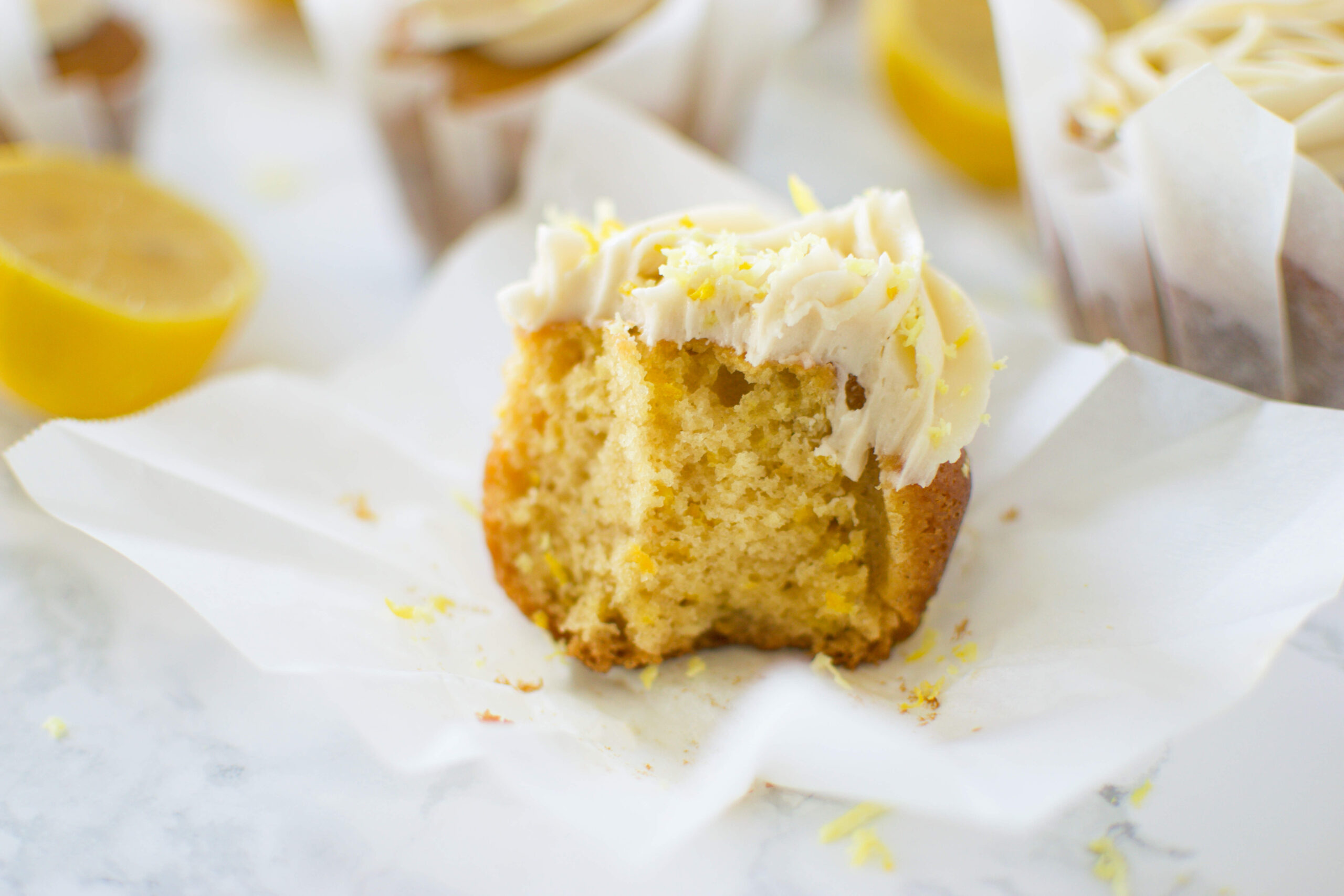 Tip: for a guaranteed smooth frosting, be sure to sift the powdered sugar. Taking a few minutes to sift the powdered sugar will definitely keep you from over-mixing the frosting trying to remove lumps that have formed.
Where Does the Lemon Flavor in Lemon Cupcakes Come From?
The main culprit behind the delicious lemon flavor in these cupcakes is the lemon zest. This is a key ingredient that should not be done without! If you're not familiar with lemon zest, it's simply the finely grated pieces of skin from a lemon. To get the zest, you can use a traditional zester, or the finer side of a cheese grater (what I use, since I don't have a zester). Either of these will work!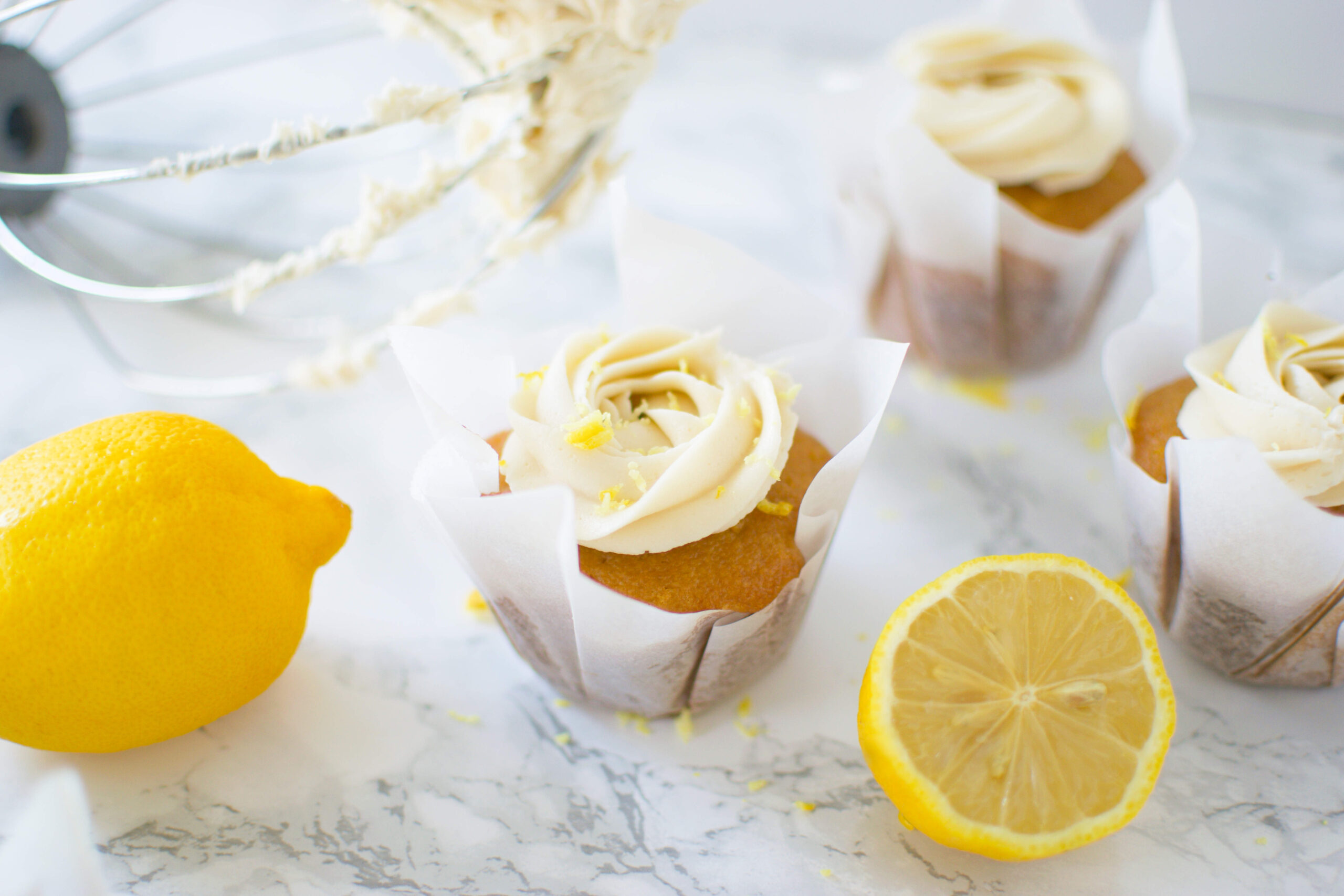 To help add to the flavor (just a little), the lemon juice comes into play. However the zest does a lot of the heavy lifting. Want even more lemon flavor? Try substituting the vanilla extract for lemon extract to kick things up a notch.
DIY Tulip Cupcake Liners
If you're wondering about my cute little tulip cupcake liners, I actually made them myself! I had planned to use traditional liners, but I went into the pantry and discovered I only had 3 left! Well obviously that wasn't going to work, so I did what I do best: improvise! I can't lie, my first reaction was to run to the store, but I quickly remembered how easy it was to make these liners because I also used them for my Pumpkin Spice Muffins. There's a pictorial in that post showing how easy they are to make.
I know you'll love these Vegan Lemon Cupcakes! They're super easy to make and so delicious! These cupcakes would make for the perfect dairy free birthday treat, or recommendation for anyone looking for dairy and egg free desserts for kids. They'll love these, promise!
I took them to work (because I don't need the temptation lingering in my home!) and they disappeared QUICK! Give them a try and let me know what you think in the comments below!
Tools You Might Need:
Hungry for more? Follow me on Pinterest, Instagram, Twitter, and Facebook!
This post contains affiliate links.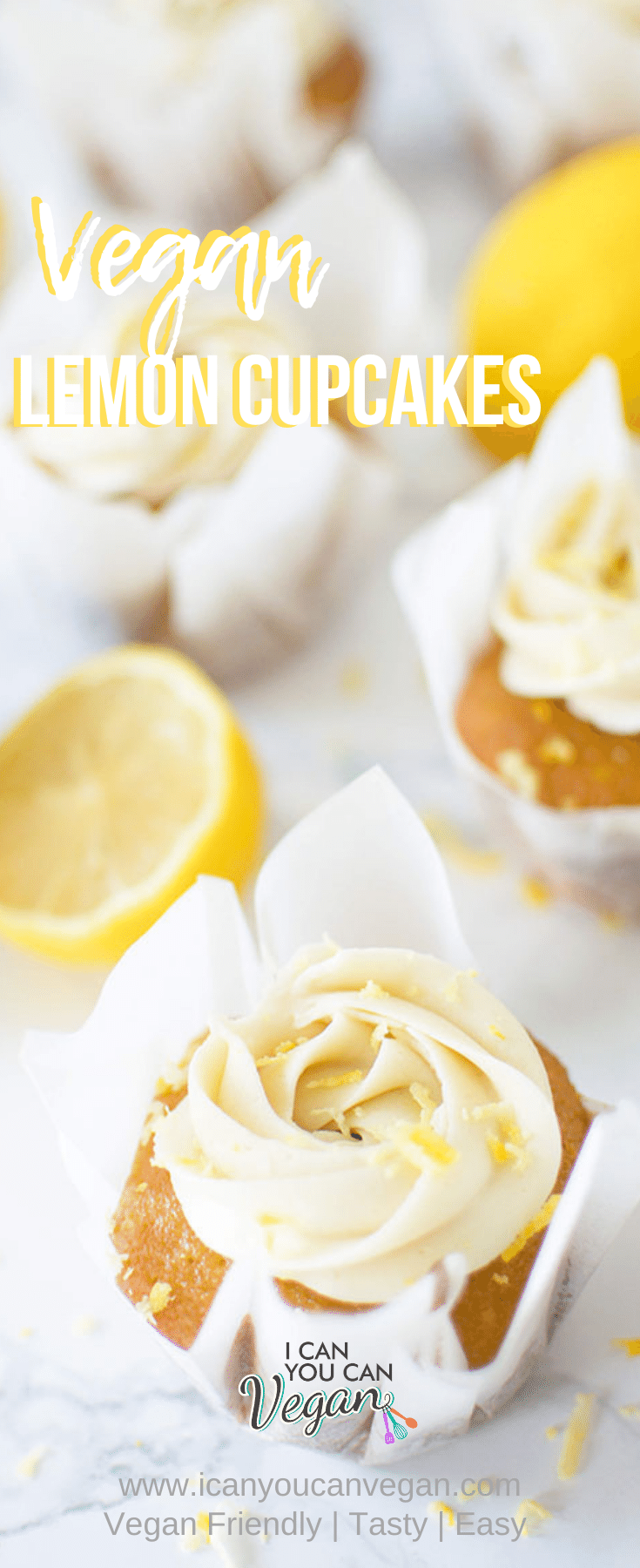 Vegan Lemon Cupcakes
Easy Vegan Lemon Cupcakes that are light, fresh and BURSTING with delicious lemon flavor! Top it with vegan lemon frosting or vanilla, the choice is yours! The perfect dairy-free birthday treat! Completely dairy and egg free.
Ingredients
Vegan Frosting
½

cup

softened vegan butter

(should be room temperature)

2

cups

sifted powdered sugar

½

tsp

vanilla extract

(can sub for lemon extract to make vegan lemon frosting)

1

tbsp

non-dairy milk

(I used almond milk)
Instructions
In a large bowl combine all of the dry ingredients for the cake, then add in the wet ingredients and mix together.

Line a cupcake pan with liners and distribute the batter amongst the pan using a ¼ measuring cup.

Bake for 25-28 minutes or until a toothpick can be removed clean once inserted into the center of a cupcake.

While the cupcakes are baking, make the frosting. Add all of the ingredients to a large mixing bowl and use an electric mixer to combine until the frosting is light and fluffy. Set aside in the fridge (or leave out if your home isn't too warm).

Remove the cupcakes from the oven and carefully take each of them out of the pan and transfer onto the counter so they stop cooking and are allowed to cool.

Once the cupcakes are completely cooled, ice them using your frosting. Garnish with additional lemon zest (optional) and enjoy!
Notes
Store cupcakes in an airtight container for up to one week.