Y'all, I didn't think it could get any better than my Thai Red Curry Vegetables… but I think it just did! I whipped up this Thai Red Curry Pasta as a a play on the veggie version. I'm obsessed with pasta, so it seemed like the right thing to do, ya know? Well I'm here to report back, it definitely was!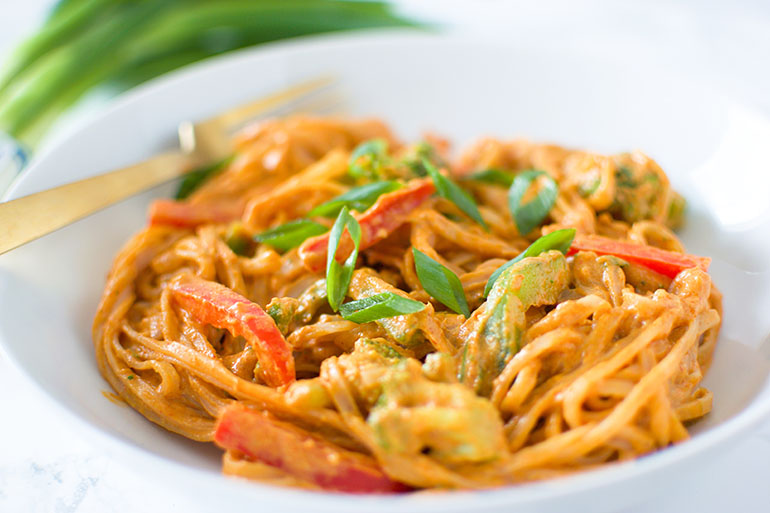 More times than not, I try to create recipes that are easy to put together, require no-fuss ingredients, and are fairly quick to put together. I'm not successful in this all the time, because let's face it; some recipes are worth the "extra-ness" that they require. This Thai Red Curry Pasta requires just nine ingredients, y'all! Want to know the best part? It's ready in 30 minutes!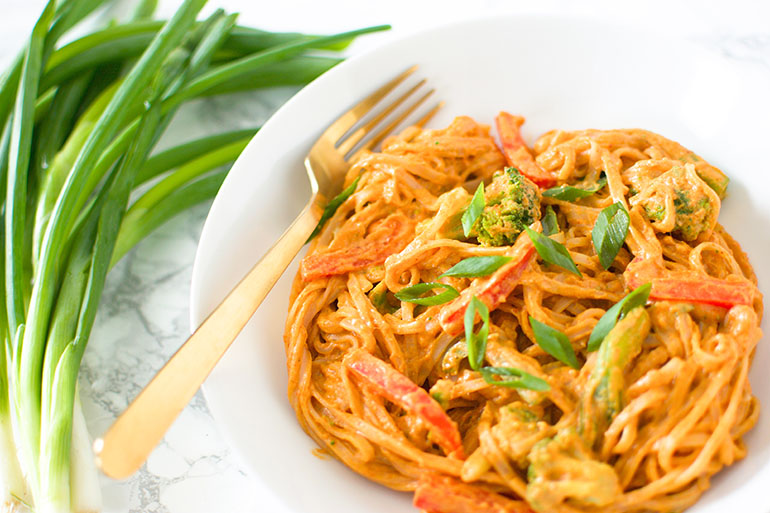 I made this meal last week for my weekly meal-prep and I'm happy to say that the flavor has been consistent throughout the week! If you're a meal-prepper, you know that not all dishes are appropriate to eat 5 days later. Some things are just better fresh, and that's cool too! Needless to say, I'm usually partial to meals that can be reheated and work well as leftovers, just like this pasta.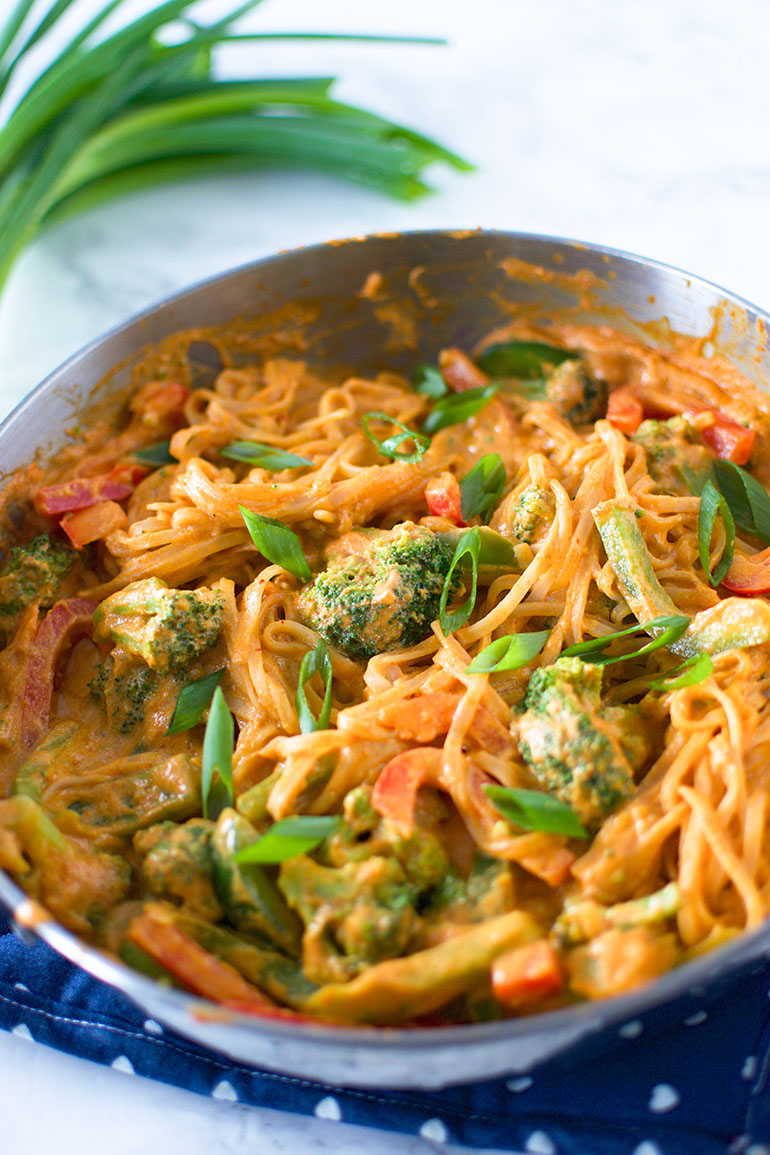 If you're interested in meal prepping this dish, I would also suggest making a double batch because I was only able to get three good servings out of this. It could very well be because I'm greedy, but whatevs. To stretch it, you could also try making a side of additional veggies to go with the pasta.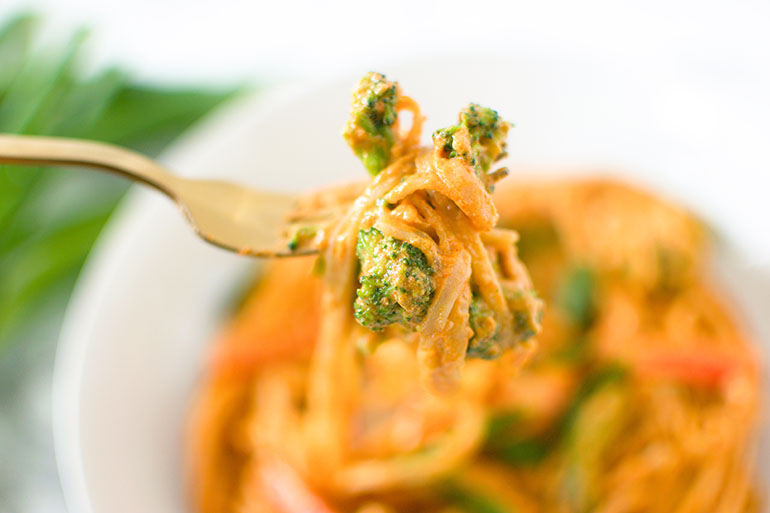 Have you looked at the recipe card? I think you'll be pleased to see that the ingredient list is simple and the directions are even more simple. To put the icing on the cake, this recipe can be made in just one pot!
The trick to success with this meal is simple. Keep an eye on it! You definitely don't want a batch of overcooked noodles. To keep this from happening, I put in the frozen broccoli and pasta at the same time. To help the pasta cook, I would continuously stir and cover it with the curry sauce.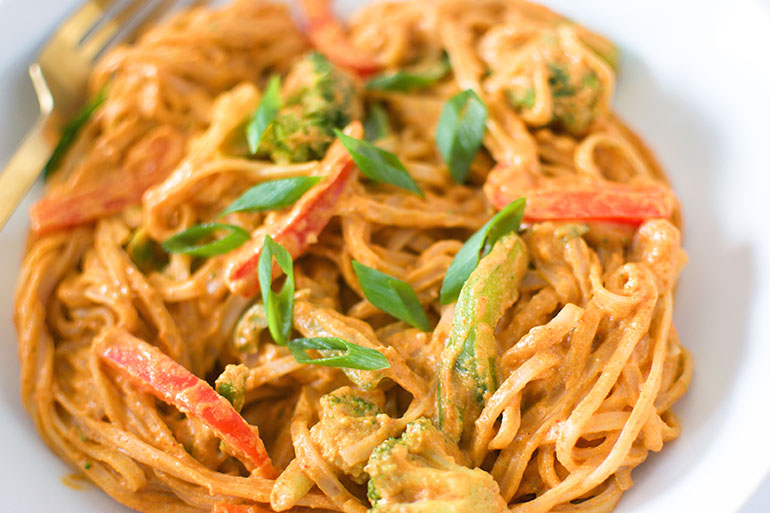 I know y'all will love this recipe! It's creamy, easy to make, and delicious! Try out this Thai Red Curry Pasta for dinner or meal-prep and let me know what you think of it in the comments below!
Hungry for more? Follow me on Pinterest, Instagram, Twitter, and Facebook!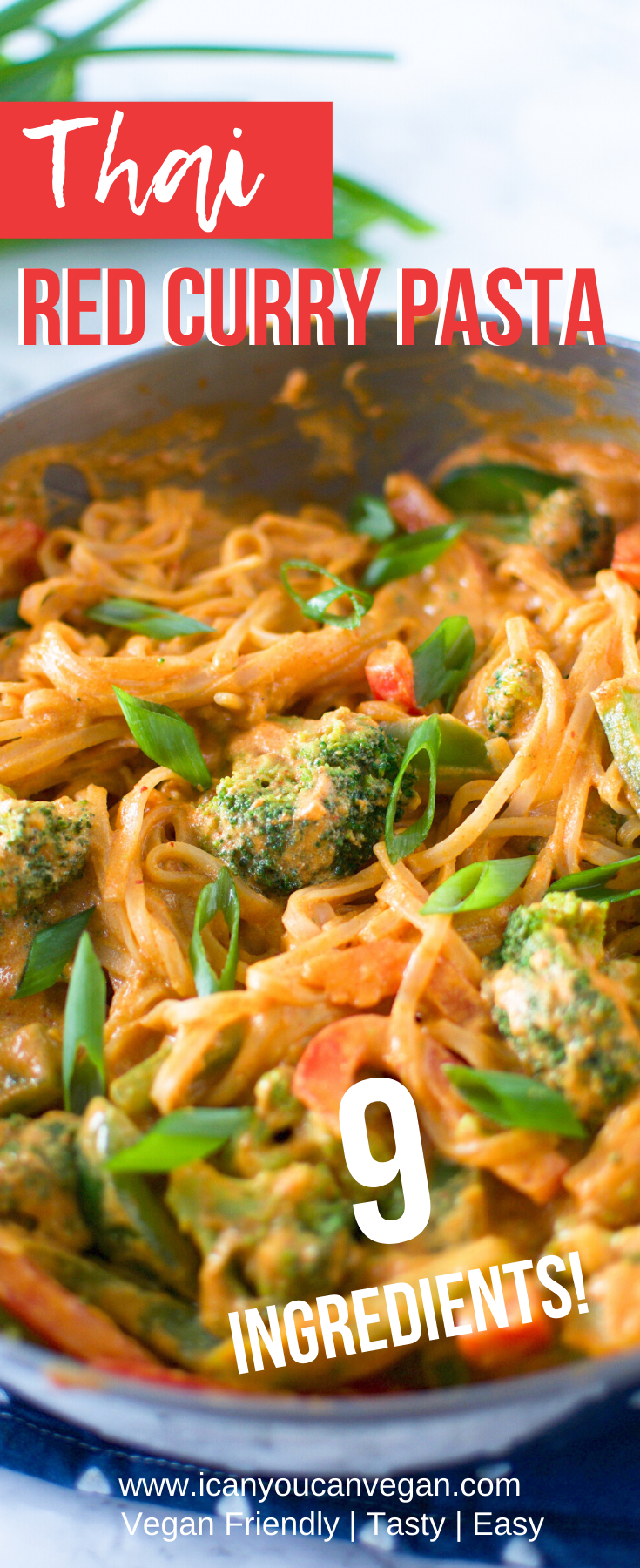 Easy Thai Red Curry Pasta
Ingredients
½

green pepper

sliced and halved

½

red pepper

sliced and halved

1

tbsp

minced garlic

4

tbsp

red curry paste

(I used the Thai Kitchen brand)

1

can

full fat coconut milk

2½

cups

frozen broccoli

½

tsp

ground ginger
salt

to taste

4

oz.

noodles

(I used brown rice pasta)

green onions for garnish

to taste (optional)

a few splashes of vegetable broth

to loosen if desired (optional)

1-2

tbsp

oil of choice

(I used olive oil)
Instructions
In a large pan warm 1-2 tbsp of oil over low-medium heat. Once warm, saute minced garlic until fragrant.

Once garlic is fragrant add the red curry paste, ground ginger, and salt along with the full fat coconut milk. Whisk together until all ingredients are combined, then bring to a boil (still stirring).

Once boiling, reduce to a medium heat and add in your pasta. Stir off and on until cooked.

Lastly, add in the sliced peppers and frozen broccoli stir to combine. Cook for an additional 5-7 minutes or until broccoli is cooked through.

Remove from heat and allow to cool in order for the sauce to thicken (about 8-10 minutes).

Plate and garnish with green onions (optional). Enjoy!