I've seen a million memes on Instagram joking about how people should avoid trying new stuff on holidays like Thanksgiving. Here's my unpopular opinion- you should definitely try new recipes on Thanksgiving! After all, family traditions have to start somewhere, right?
I'm not saying you should go messing up a classic. For instance, if you've been making the same amazing dinner rolls for years, don't go switching things up by trying another variation. And if you do, be sure to bring the originals. You know, just in case the new ones don't hit like the old ones.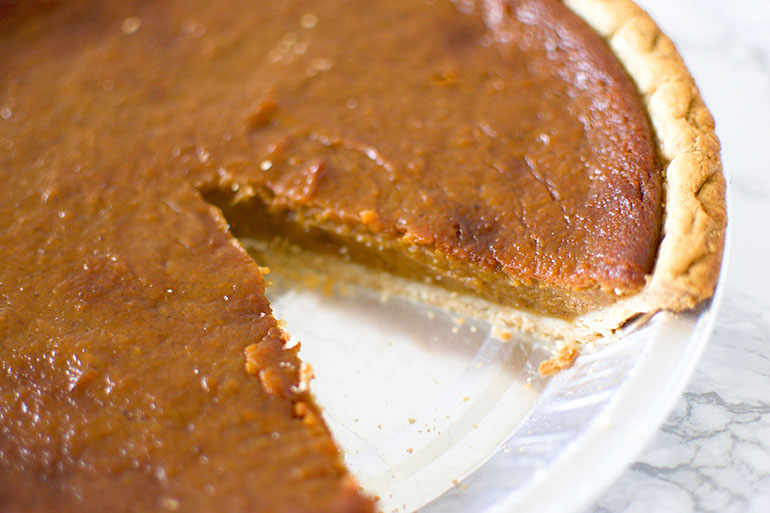 Any who, my mom used to make a sweet potato pie every year, so I wanted to see if I could come up with a version that was just as good, if not better. I'm so excited to share with y'all this new Easy Vegan Sweet Potato Pie recipe!
Making This Easy Vegan Sweet Potato Pie
Making this Easy Vegan Sweet Potato Pie was surprisingly really easy. I think one of the keys to great sweet potato pies is of course, good sweet potatoes.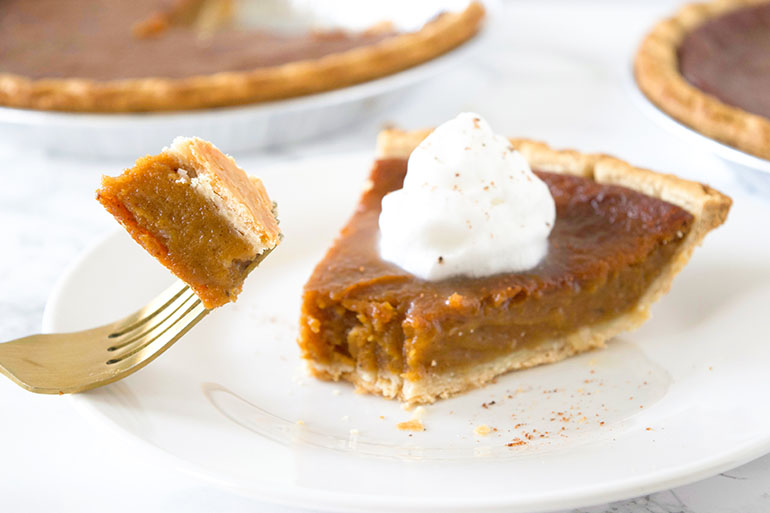 To get them the perfect texture, I cooked the sweet potatoes in my instant pressure cooker. It only takes about 30 minutes total to cook and they always come out so soft. The skin practically falls right off of them!
Once the sweet potatoes are done cooking, I transferred the meat of the sweet potato to my standing mixer. Next, I added in all of the other sweet potato filling ingredients.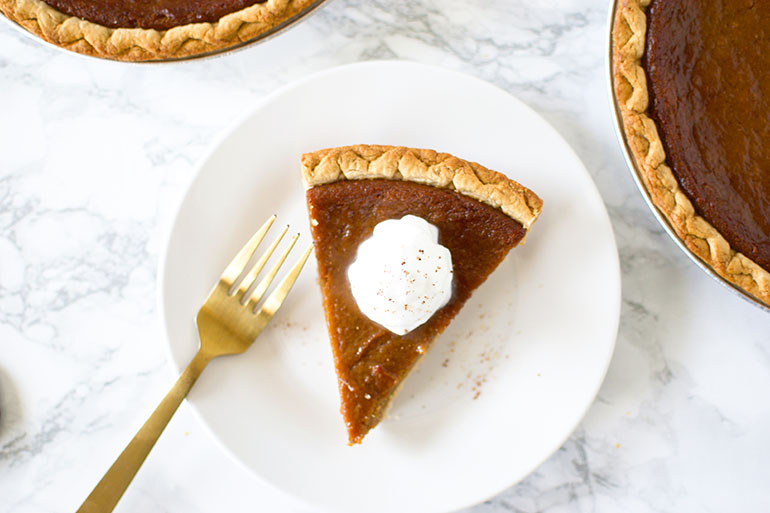 Once everything is mixed well, all that's left to do is transfer the filling to your pie crust. I haven't perfected a vegan pie crust yet (maybe next year?), so for now, I just use a pre-made version instead. With this filling, I was able to make two nine-inch pies. I placed them in the oven and about an hour and a half later, they were done!
First of all, these Sweet Potato Pies will fill your home with the sweetest aroma. After they were done baking, I wanted to eat them immediately! However, I prefer my pie served chilled. Not hot.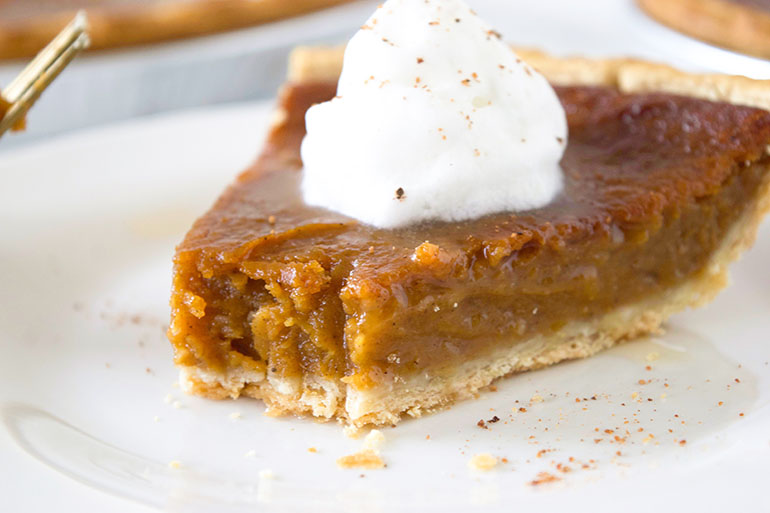 Is hot sweet potato pie even a thing? Any who, I let the pies cool for a bit then placed them in the fridge for them to chill. In my opinion, chilling the pies is (an unofficial) part of the cooking process. It helps the pies form properly.
These pies are perfect for making in advance because they keep so well. I made them the day before Thanksgiving and couldn't help but to grab a piece later. You can eat them plain, or dress them up with a little coconut whip and a dash of nutmeg. I know you'll love these pies because they're so tasty and easy to make! Enjoy them for the holidays or on a whim!
I know you'll love this Easy Vegan Sweet Potato Pie! Give them a try and let me know what you think in the comments!
Other Sweet Potato Recipes You'll Love:
Need more holiday recipes? Check out this Easy Vegan Holiday Recipe Roundup!
Hungry for more? Follow me on Pinterest, Instagram, Twitter, and Facebook!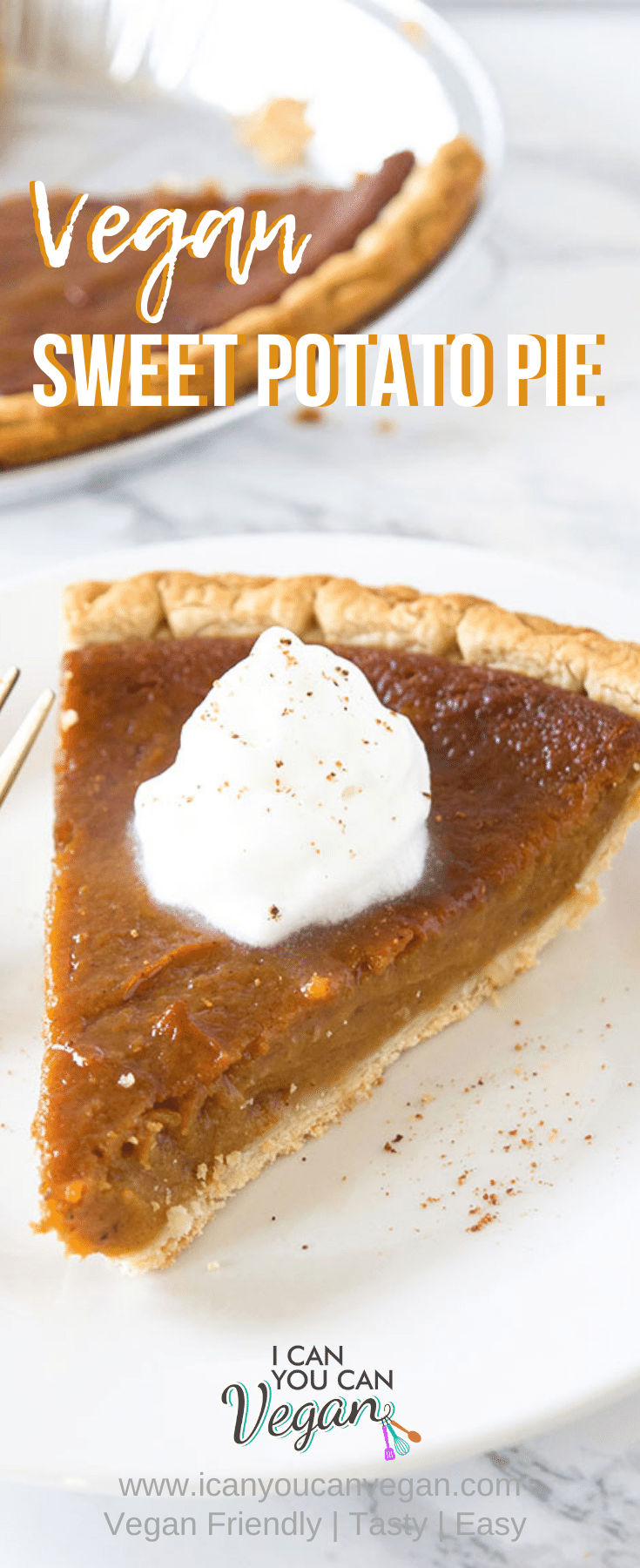 Easy Vegan Sweet Potato Pie
The perfect easy vegan sweet potato pie made without egg or dairy!
Instructions
Cook your sweet potatoes according to your preference. I cooked mine in an instant pressure cooker on high for about 22 minutes.

While the sweet potatoes are cooking, place all other pie ingredients (except the crust, of course) into the mixing bowl you plan to use.

Once the sweet potatoes are finished cooking, remove the skin from them and measure out 3 cups of cooked sweet potatoes. Transfer to the mixing bowl with the rest of the ingredients and mix together using a standing mixer or hand mixer.

Once all ingredients have been combined, evenly divide the mixture between the two pie crusts.

Transfer the pies to the oven and bake for 1 hour and 15-30 minutes. When finished, the outer edge of the sweet potato filling should be browned and if a toothpick is inserted it should come out mostly clean.

Once the pies are finished cooking, remove from the oven and let cool until room temperature. Cover, then move to the fridge until chilled and ready to serve.

Slice and top with coconut whip (optional) and garnish with a few sprinkles of nutmeg (optional), or serve as is. Enjoy!