Hey y'all I'm back with another tofu dish! Serving up Chinese takeout vibes, only this dish is made in your kitchen at home! No need to leave a tip for this one 🙂 This Easy Vegan Chili Garlic Tofu is definitely about to be my new go-to meal when I get a craving for a savory dish. I paired it with some Garlic Herb RightRice and it was a match made in heaven! I know you'll love it too!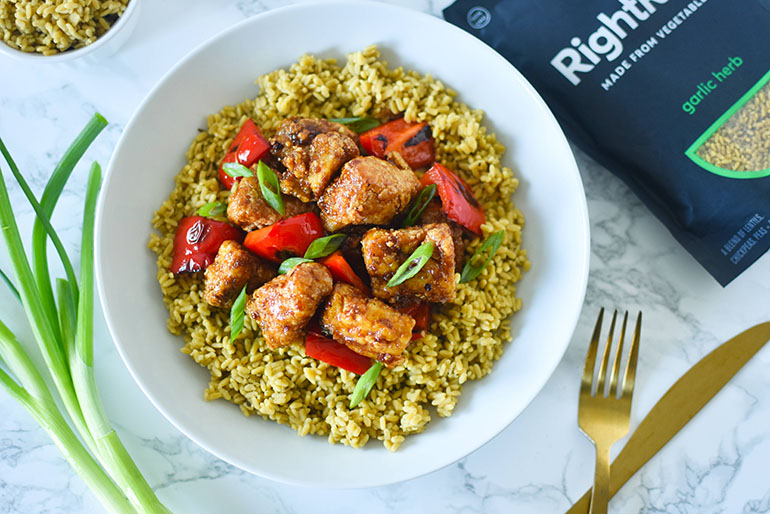 Making the Garlic Herb RightRice
I'll just start by saying I LOVE this stuff! This is coming from a lifelong rice lover. I'm serious about my rice y'all. Always have been. This Garlic Herb RightRice was the perfect addition to my meal. It's seasoned just right, so you don't even have to worry about adding anything to it. It's ready to go as is. Wanna know my favorite part? They have a variety of different flavors for whatever you might be cooking:
Lemon Pepper
Original
Spanish
Garlic Herb
Thai Curry
Cilantro Lime
The cool thing about RightRice is that it's made from plants (90% lentils, chickpeas and peas) and packed with veggies in every bite. It's got 2x the protein, 5x the fiber, and almost 40% fewer net carbs than a bowl of white rice. Plus, it's ready in about 10 minutes. So if you're one of those people who have always struggled with cooking rice, RightRice is for you! I've made it a number of times already and it turns out perfectly every time!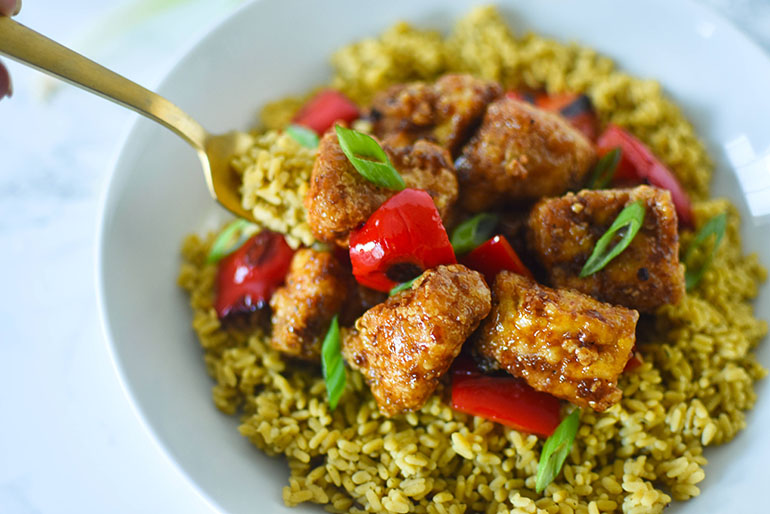 To make the RightRice for this meal, all you need to do is measure out the correct amount of water according to the package directions, bring it to a boil, remove the pot from the hot eye, add in the RightRice and place a lid on top. By the time everything else is ready, your RightRice is done!
How to Make Chili Garlic Tofu
Making Chili Garlic Tofu is really easy, but prepare to wash a few dishes (it's worth it)! To start, you'll want to drain your tofu if it was packaged in water. You can do this using a fancy tofu press, or you can round up a few household items like a cast iron pan and a few books along with some paper towels and press the excess water out that way. Just put a few paper towels on both the top and the bottom of the tofu, then stack the cast iron pan and books over top and wait for the water to drain (you may need to change out the paper towels once or twice).
Once your tofu is pressed, you want to cut up your tofu. You can either dice it into 1 inch cubes using a knife, or break it into pieces using your hands in order to get a more "meaty" look. As you can see, I opted for the latter.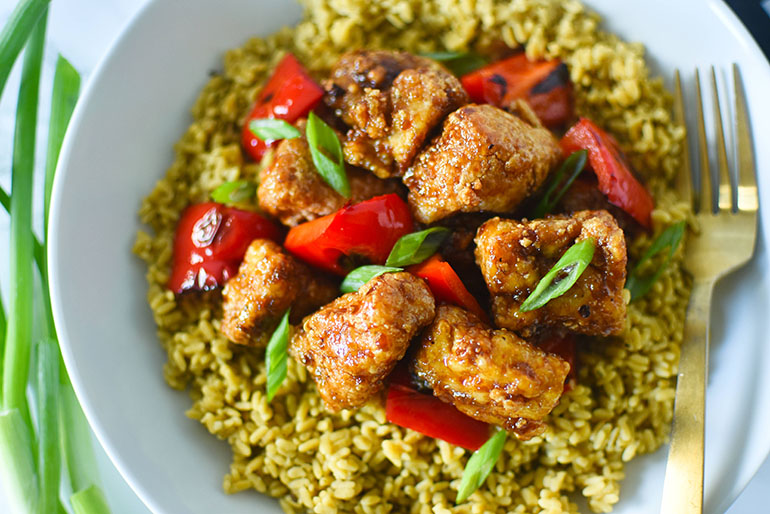 Using your choice of coconut aminos or soy sauce, sprinkle a little over the tofu pieces for a little extra flavor. This will help ensure that when you bite into the tofu pieces they won't taste bland. Tofu is perfect for soaking up flavor, which is why it's always necessary to press the excess water out. Doing this allows for more flavor (like the coconut aminos or soy sauce) to get in.
Making the Chili Garlic Tofu Sauce Mixture:
Making the sauce for this Easy Vegan Chili Garlic Tofu is really easy. To start, you'll want to round up all of your ingredients and measuring spoons. In a sauté pan, add in the vegan butter along with the minced garlic. Sauté these together until the garlic is lightly browned and fragrant. Next, add in the remaining ingredients and bring the mixture to a boil. Once boiling, reduce the heat to low.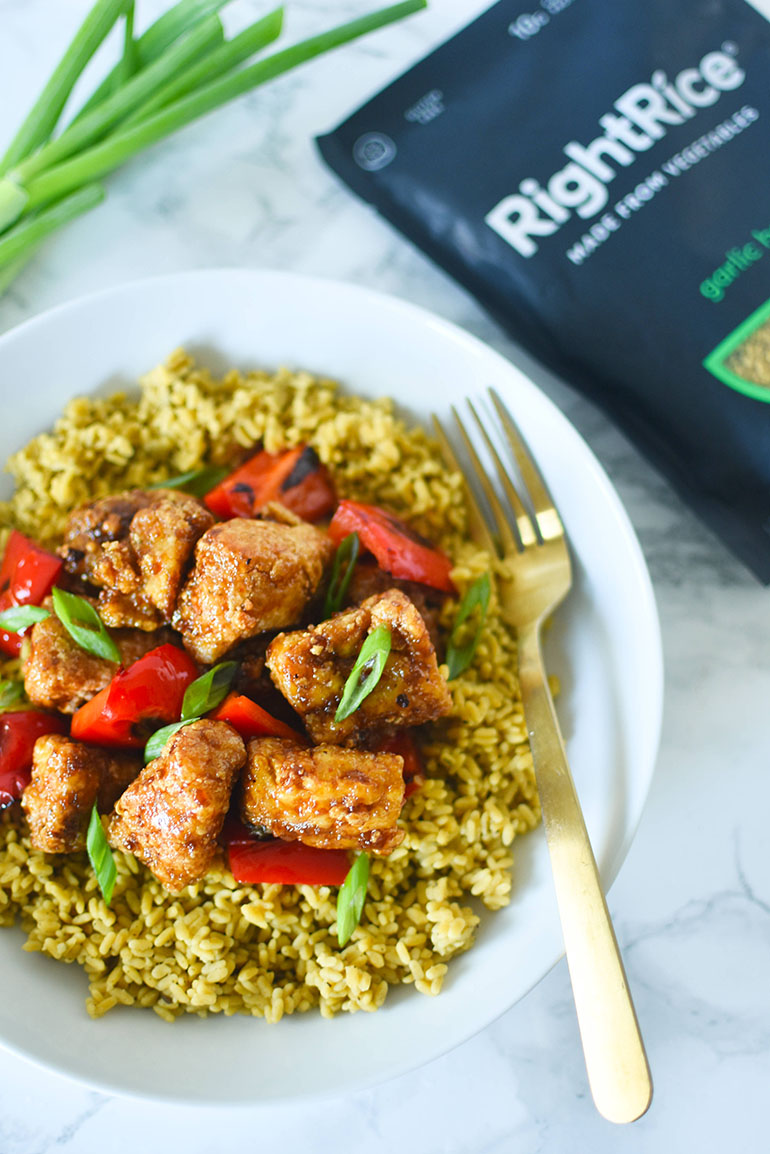 How to Fry the Chili Garlic Tofu Pieces:
Now that you've made the Chili Garlic Sauce and prepared your RightRice, you're ready to start frying the tofu. Begin by heating a large frying pan to medium heat with just enough oil to cover the tofu pieces at least half way.
While the oil is heating, combine the ingredients together for the dry mixture. Next, toss in the tofu pieces and coat each piece well, ensuring that all sides have been covered. By the time all the pieces are covered, your oil should be hot enough to begin frying. To test it, try carefully flicking a tiny bit of water into the oil. If the oil begins to pop, it's ready. If not, hold off for a few minutes more and try again.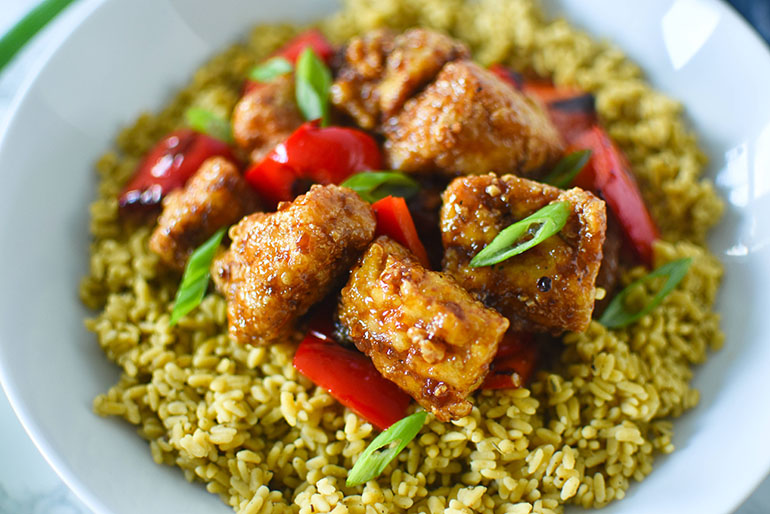 Now that the oil is hot, use a pair of tongs to transfer each coated piece of tofu to the hot oil. Once the underside has browned, rotate each piece so that both sides are browned. It's important to note that while cooking, the coating may not feel crispy when touching it with the tongs. This is normal! I was concerned that the breading wouldn't be crispy, but as soon as they were removed from the oil they were indeed crispy!
Once all of the tofu is cooked, allow the excess oil to drain by placing it on a plate lined with paper towels. Next, transfer the tofu to a clean mixing bowl, give the chili garlic sauce a good stir and toss it into the bowl with the cooked tofu pieces. Plate this Chili Garlic Tofu alongside your cooked Garlic Herb RightRice and enjoy!
Tools You Might Need:
Other Tofu Recipes You'll Enjoy:
I know you'll love this Easy Vegan Chili Garlic Tofu! It's easy to make, crispy, and the perfect at home takeout meal. Give this recipe a try and let me know what you think in the comments below!
Hungry for more? Follow me on Pinterest, Instagram, Twitter, and Facebook!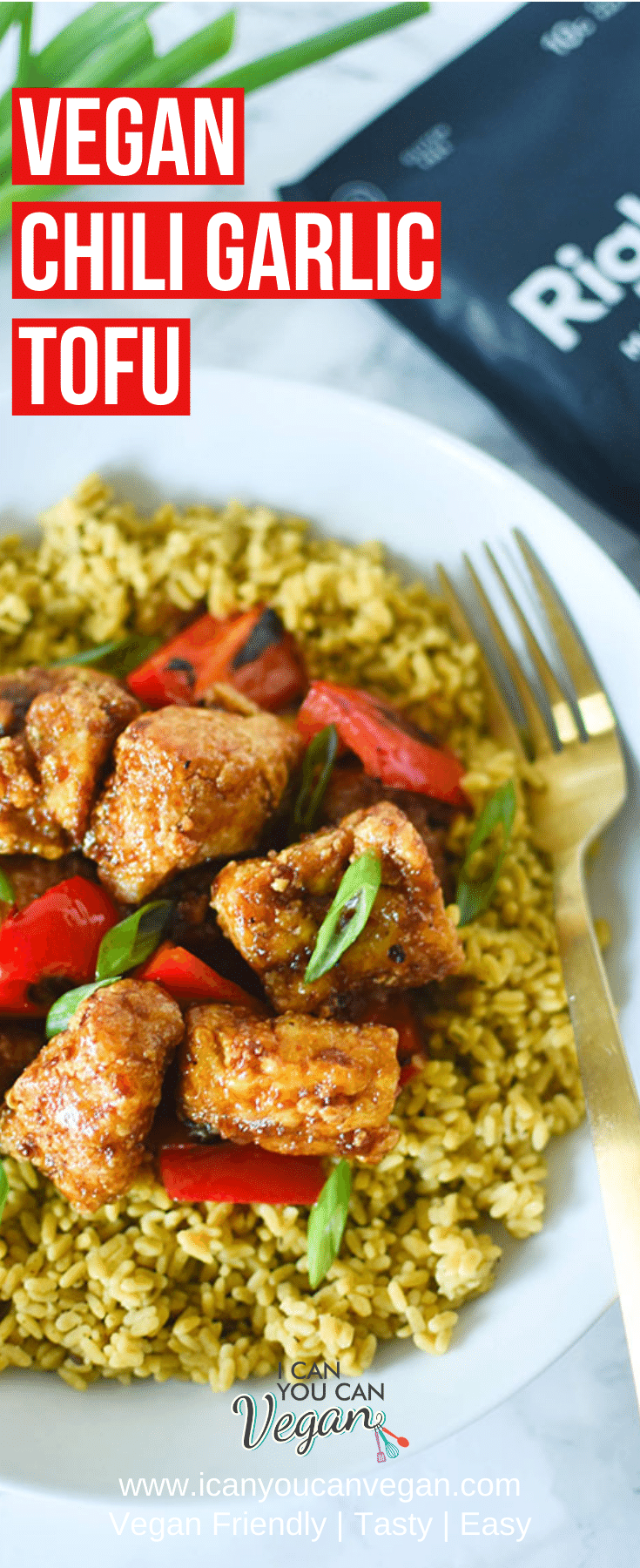 Easy Vegan Chili Garlic Tofu
Easy Vegan Chili Garlic Tofu that's perfect for at-home takeout paired with Garlic Herb RightRice!
Ingredients
1

package

Garlic Herb RightRice

1

block

extra firm tofu

cut or broken into 1 inch pieces

coconut aminos to taste

(or soy sauce)

enough neutral oil for frying

I used vegetable oil

1

red bell pepper

diced (optional)
Chili Garlic Sauce Mixture
Instructions
On one eye, cook the RightRice according to package instructions. Set aside.

In a small sauté pan, sauté the minced garlic in the vegan butter until lightly browned and fragrant.

Add in all other sauce ingredients and whisk to combine. Bring the mixture to a boil, then let simmer over low heat. Keep over low heat until needed (if using the red bell pepper, you can cook along with the sauce or in a separate pan).

Preheat a large frying pan with enough oil for frying (about a ½ inch or so high) over medium heat.

Drizzle the tofu pieces with coconut aminos or soy sauce to taste.

In a medium-sized bowl, stir all of the ingredients together to create the dry mixture, then add in the tofu pieces and coat with the dry mixture until all pieces are covered.

By now your oil should be hot enough for frying, but you can test it by carefully flicking a tiny bit of water into the pan. If it pops, you're ready to proceed. With a pair of tongs add each of the coated tofu pieces into the hot oil until browned on both sides. Flip each piece over intermittently to ensure both sides are cooked.

Once the tofu is lightly browned on each side, transfer them to a plate lined with paper towels to absorb any excess oil.

Transfer the cooked tofu pieces to a clean medium-sized mixing bowl and drizzle with the chili garlic sauce mixture. Stir to combine.

Plate with Right Rice and serve immediately. Enjoy!
Notes
Please note, this dish is best served fresh.