Is it even summer without BBQ Baked Beans? I think not. Although I enjoy baked beans year-round, in my home they're absolutely essential in the summer. You can pair them with all of your favorite grilled eats (like these skewers) or take them as a side dish to your best friend's potluck. Me personally, I'll cozy up to a small bowl of baked beans on their own. Yep, I love 'em just that much.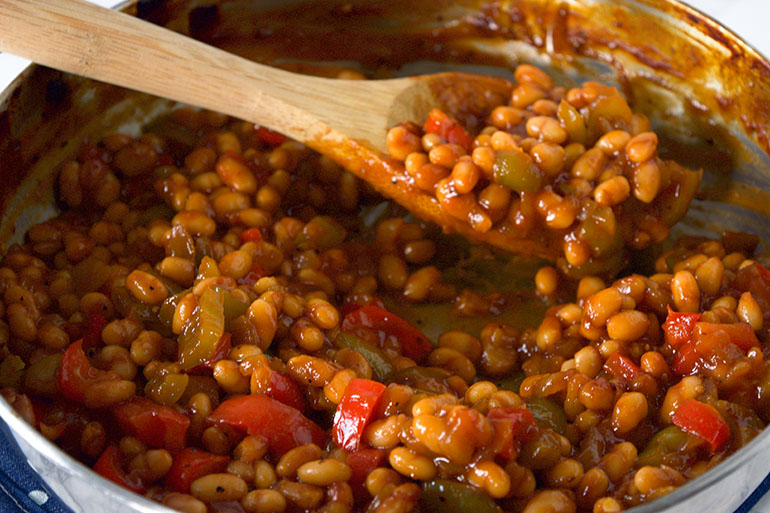 Growing up, my dad was always in charge of the baked beans. Stealing his recipe was a little difficult because he didn't really have one. His side of the family was always good in the kitchen. They even ran their own restaurant. I suspect that's where he learned how and developed a love for cooking.
All I know is that he'd empty a huge can of beans, rinse them off, and start adding in everything else. Peppers, ground beef, brown sugar, and other seasonings I can't recall. Whatever he put in there was delish! He even made them for holidays. As a kid, I didn't eat onions or bell peppers, which is strange because I'm obsessed with them now. He would always cut them into big chunks so I could easily remove them.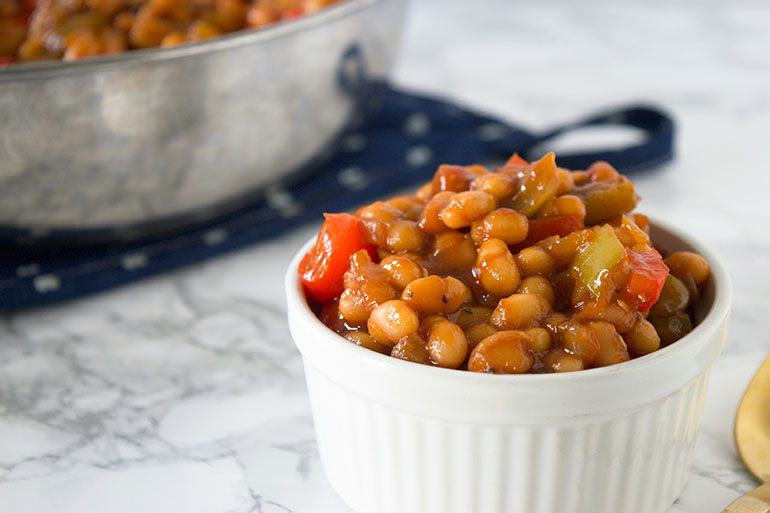 Things haven't changed much in regards to my dad's baked beans. He still makes them pretty frequently and I'm sure they're still good. One thing that has changed is me. A lot of the time he would put ground beef in the beans, which I no longer eat. I figured it was about time to come up with my own version 🙂 These BBQ Baked Beans are super easy to put together and don't require a laundry list of ingredients, or effort. They're sweet, but slightly tangy. If you prefer more sweet than tangy, you can always add in a bit more BBQ sauce and less Worcester sauce.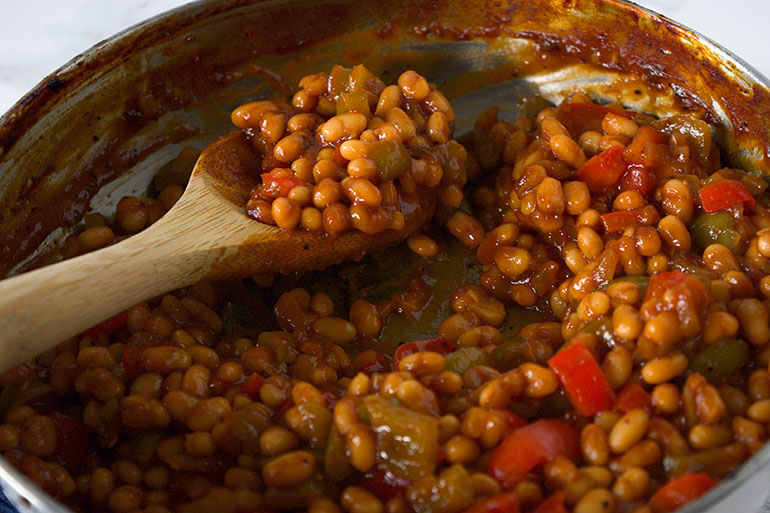 For the BBQ sauce, you can use whatever brand/flavor you prefer. Just keep in mind that the flavor of the sauce will be very present in the dish, so be sure to choose a good one! For this recipe, I decided to go with one from Sweet Baby Ray's (original version).
The first few times I made these beans, I made the recipe as is below. I'm having a housewarming party at the end of the month and I'm looking forward to adding the new Beyond Meat beef-less crumbles to it! I haven't tried it yet, but I love their Beyond Burgers and Beyond Sausages, so I'm sure they'll be a win! Keep an eye out for a post on social media or maybe even a blog post?! I'm looking forward to tricking everyone! Hehe!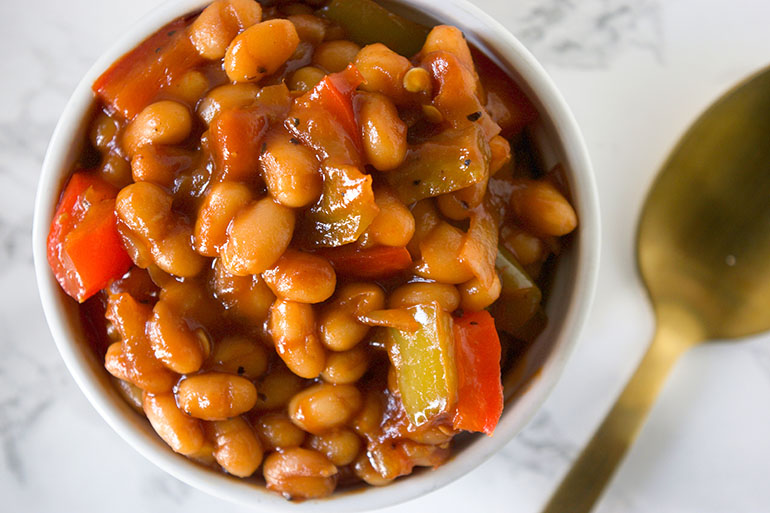 Are you hungry yet? Go ahead and give these baked beans a try. I know you'll love them! Let me know what you think in the comments below! Remember to adjust as you see fit! This is a great way to make the recipe your own.
What to Pair with Vegan BBQ Baked Beans
Hungry for more? Follow me on Pinterest, Instagram, Twitter, and Facebook!
Easy Vegan BBQ Baked Beans
Ingredients
1

red pepper

diced

1

green pepper

diced

1/2

white onion

diced

1

tsp

minced garlic

3/4

cups

BBQ sauce

1

tbsp

liquid smoke

2

cans

15 oz. navy beans

rinsed and drained

1/4

cup

vegan Worcester sauce

(more or less to taste)

1

tbsp

organic brown sugar

1

tbsp

neutral oil

(such as olive or vegetable oil)

1/4

cup

ketchup

salt+pepper

to taste
Instructions
In a large oven safe pan, add your oil and heat the pan to a medium low temperature. Once the oil is warmed, add in the minced garlic and saute until fragrant.

Add in the diced onion, red peppers, and green peppers. Saute until cooked.

Next, add the beans and all other remaining ingredients. Stir until combined.

Transfer your oven safe pan into the oven and cook for 30 minutes. Once finished cooking, remove from the oven and let cool for a few minutes. Enjoy!