Growing up, my grandma was known for baking bread. I don't think I ever helped her bake any, but I always stuck around long enough to grab a few pieces. Eating a piece of warm, fresh baked bread with a little butter spread across the top was like taking a bite out of heaven. Her breads were never too complicated. Just a plain white bread, but whenever I think about baking my own, the thought is inspired by hers. To be honest, baking bread always intimidated me. For whatever reason, I thought it was complicated. I've tried a few times in the past, but was never successful. This time I wanted to do something a little different and really simplify things, plus add some spice to it (literally). I typically love all things apple related and this Vegan Cinnamon Apple Bread is no exception!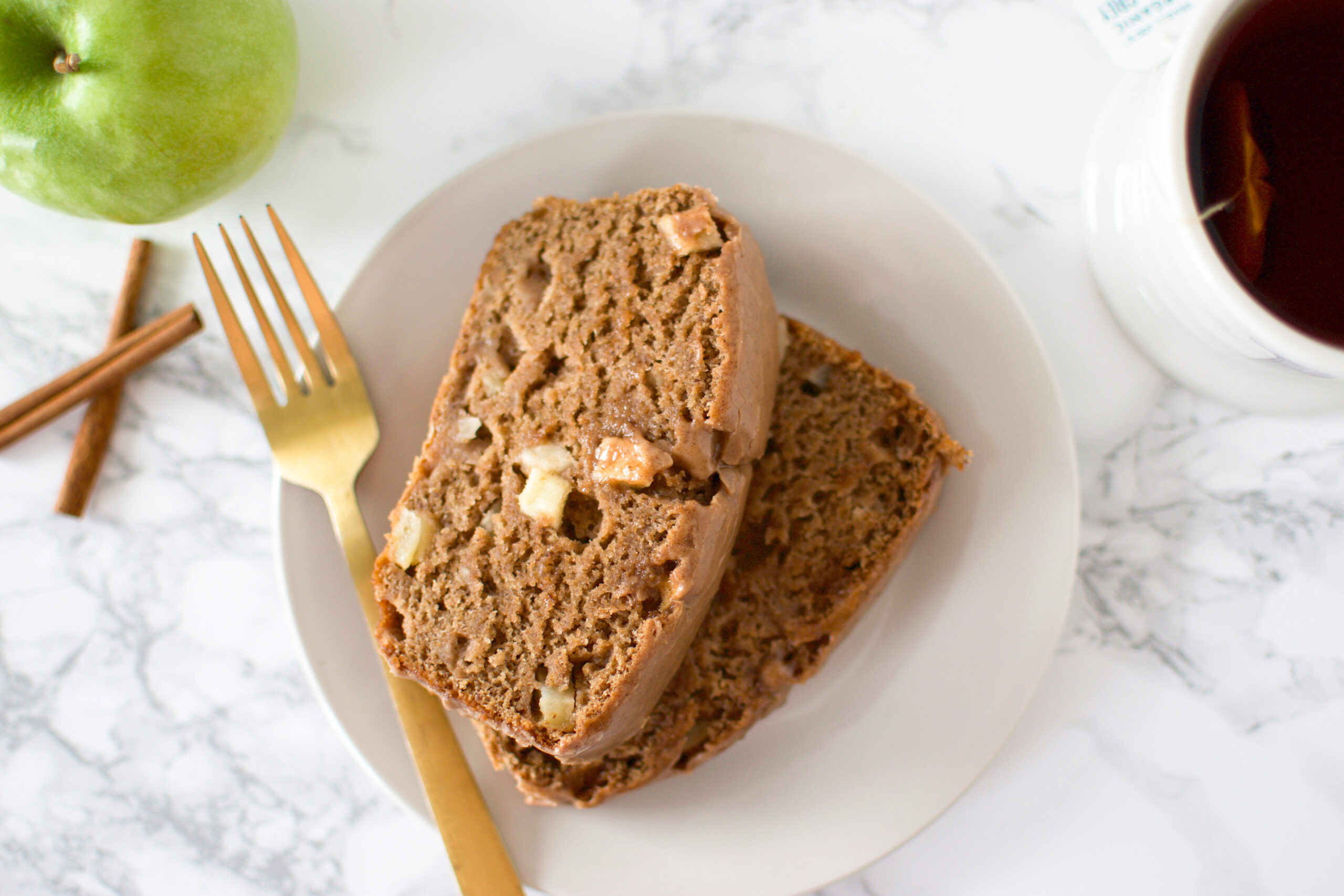 Though this recipe is technically a bread, I like to think of it as a mix between a bread and a cake. The cinnamon glaze that goes overtop gives it that cake feel. However, the loaf itself reminds me of a cinnamon and raisin bread I used to beg my mom for at the grocery store growing up. The cinnamon glaze is definitely recommended, but optional. The Cinnamon Apple Bread is delicious on its own!
Making this Vegan Cinnamon Apple Bread
Making this Vegan Cinnamon Apple Bread was so easy! You basically toss everything in a bowl and then bake it! With this recipe, I wanted to try something different and use whole wheat flour instead of my usual go-to all purpose flour. In addition, this recipe can be made completely oil-free! Instead of using oil or butter as I normally would, I opted for unsweetened applesauce.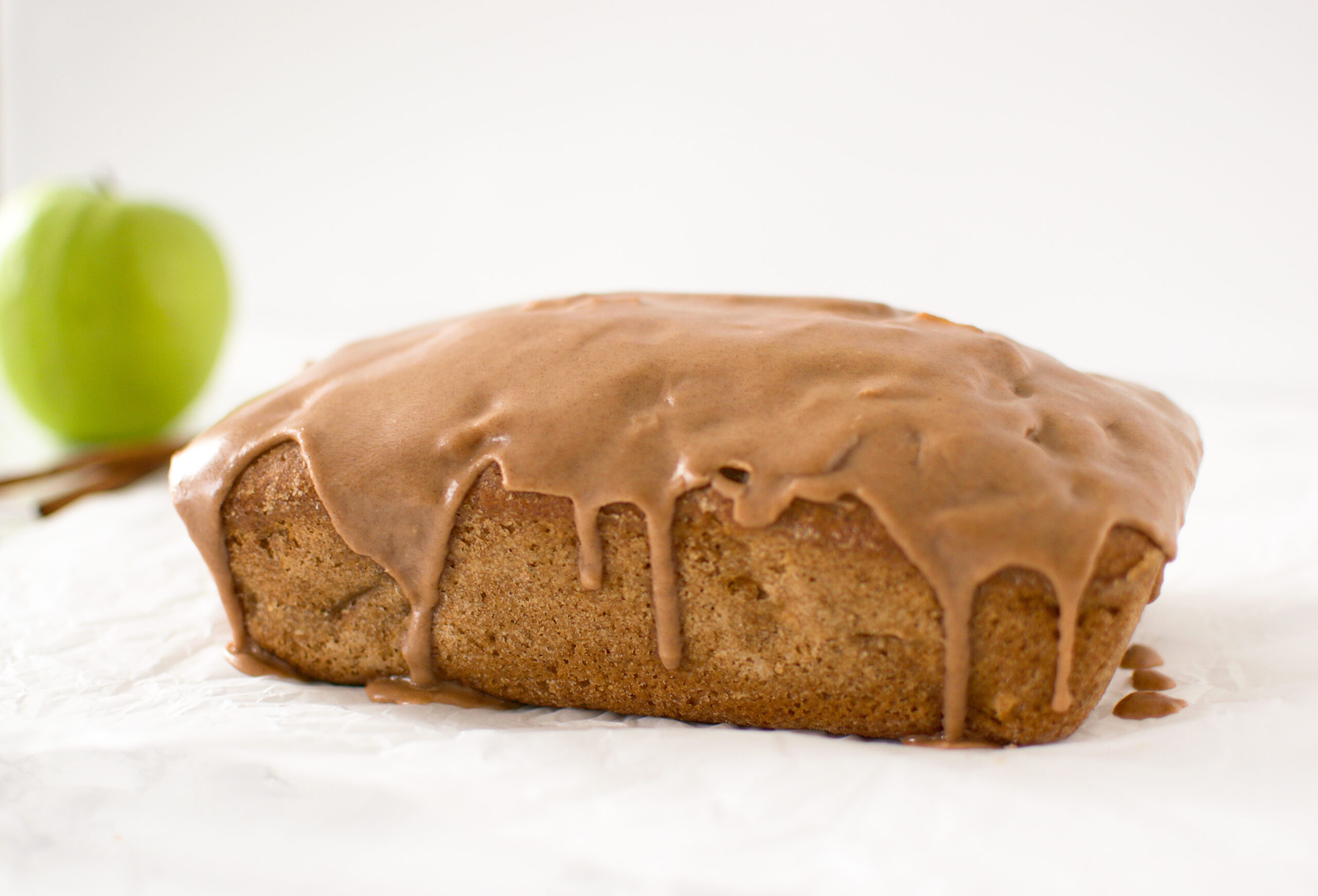 Before transferring the batter to your baking pan, it's important you plan in advance for the cake's removal. There's nothing worse than a delightful smelling cake that's stuck in the pan! But don't worry, I've got you covered. There are two ways you can approach this. My favorite method involves vegan butter and flour. You take a bit of vegan butter and line the inside of the pan with it. Then you take a tablespoon or so of flour and spread that out over the pan so that the butter is covered with a thin layer of flour. This usually involves shaking the pan gently every which way, so you can avoid touching it. Once the pan is fully coated, you can then transfer the batter and bake.
If you'd prefer to make a completely oil-free version of the cake, you can use parchment paper to line the pan instead. The parchment paper will allow you to pull the cake up by the paper and remove it from the pan with minimal effort.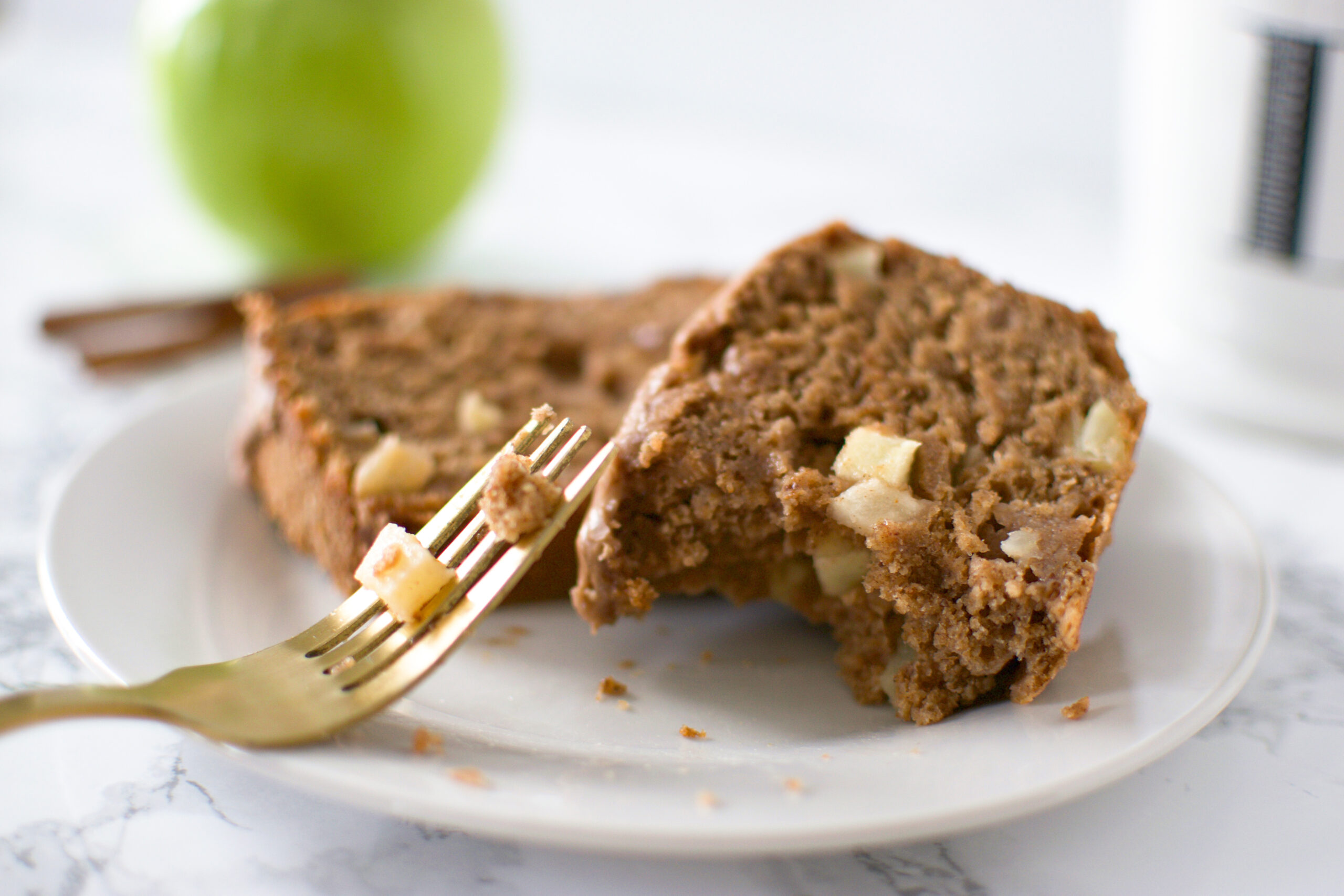 Ingredients:
If you're new to making bread (like me), this recipe is the perfect place to start! I love that it's made with common ingredients, much of which you probably already have. Below is a breakdown of what some of the ingredients cost. Some of them I already had (as you probably do too)! It's important to note that prices may vary from store to store, but I figured this would be helpful in helping you gauge how much a recipe like this might cost.
1 Large Granny Smith Apple- $1.40
Whole Wheat Flour- $4.49
Organic Sugar- $2.99
TOTAL: $8.88
This Vegan Cinnamon Apple Bread makes about nine slices, so making this bread cost me less than $1 per serving. I don't visit coffee shops too often, but I know that I would have definitely paid at least $4 for a treat like this! I paired this with a hot cup of tea and felt like I was in a cute little coffee shop right in my own home! 🙂 If you have plans to entertain soon, this would be perfect for sharing with guests!
I know you'll love this Vegan Cinnamon Apple Bread! It's perfect to enjoy year-round, affordable, and super easy to make! Hungry yet? Get in the kitchen and start whipping this up! Share your thoughts in the comments below!
Hungry for more? Follow me on Pinterest, Instagram, Twitter, and Facebook!
Cinnamon Apple Bread
Instructions
In a small container mix together the flax seed meal and water to make a flax egg. Set aside in the fridge to thicken.

In a large mixing bowl combine all of the dry ingredients.

Next, add in the unsweetened applesauce, vanilla extract, almond milk, and flax egg. Combine until well mixed.

Gently stir the diced apples into the mixture.

In a loaf pan line the inside of the pan with oil or vegan butter, then sprinkle with flour until the entire inside of the pan is covered. If oil-free, line the pan with parchment paper instead. Both options will make for an effortless removal.

Transfer the mixture to the loaf pan and place in the oven for 1 hour. Top of bread should bounce back up when gently pressed.

Remove from the oven and let cool until room temperature.

While the apple bread is cooling, combine the ingredients for the cinnamon glaze. Set aside.

Once the bread is cooled, generously spread with the cinnamon glaze. Serve and enjoy!