Pasta is life. Plain and simple. I'm convinced that my goal in life is to create and discover ALL the ways to enjoy pasta in its many variations. It's so versatile and can be easily paired with a variety of dishes. When I think about it, I realize that a lot of my favorite meals involve pasta. Like this White Wine Pasta Sauce!
For instance, one of my favorite meals of all time is eggplant parmesan. The eggplant is great on its own, but paired with pasta it's a match made in heaven. In addition, I've always had a fondness for mac and cheese. No surprise there. It's PASTA!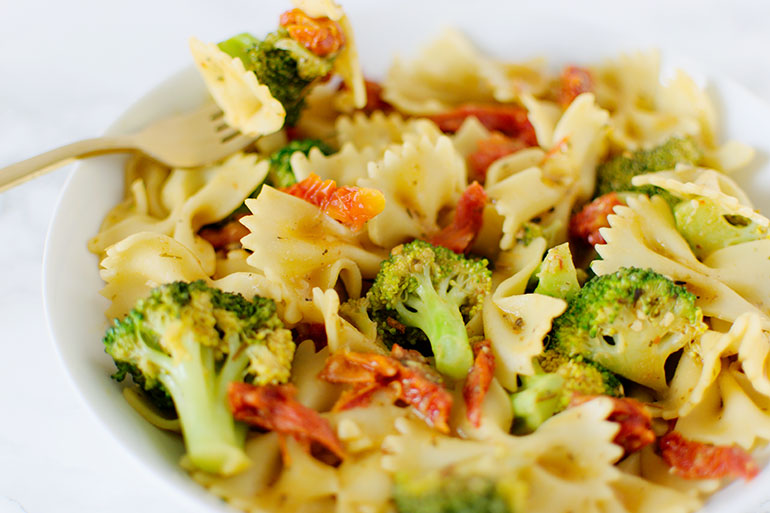 I think my husband would agree with me on this too. We generally cook 3 meals per week. This is usually enough for dinner and lunch the next day. On the weekends we just sorta do a free for all and eat whatever we can find. Anyways, Deryle usually cooks 1 out of those 3 meals.
Wanna know his favorite thing to make? You guessed it, PASTA! His go-to is a simple pasta with marinara mixed in with an assortment of veggies. Usually mushrooms, spinach, peppers, and whatever else he can find in the fridge that seems appropriate. Any chance he gets, this is what Deryle's making. As you can imagine, after having it on several occasions, it gets a little old. But I usually let him live because I appreciate the effort. Also, there's nothing a little vegan parmesan can't fix 🙂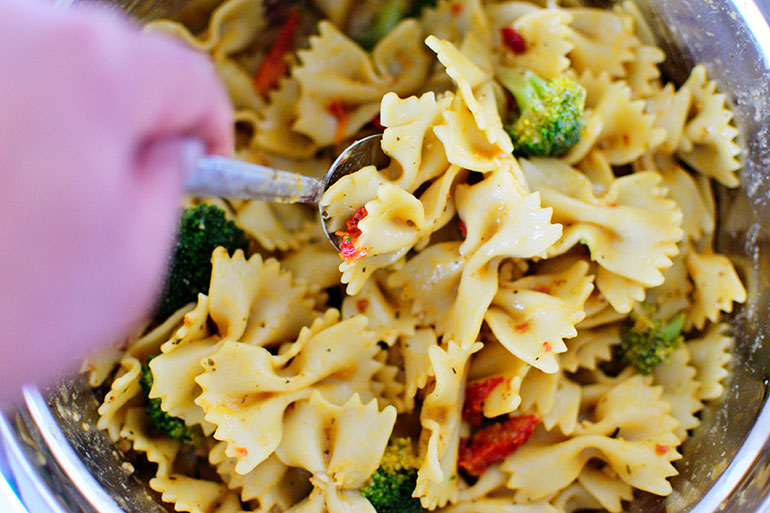 During this White Wine Pasta Sauce experiment, I wanted to do something a little different. Years ago I made a creamy white wine pasta sauce that I remembered being fond of. This was pre-vegan life, so I knew I wouldn't be able to make the same exact one (it required heavy whipping cream+other dairy products). So instead of a creamy white sauce, I decided to go in another direction and create a much lighter sauce that could be tossed in pasta and veggies. I decided to go with a White Wine Pasta Sauce as an alternative.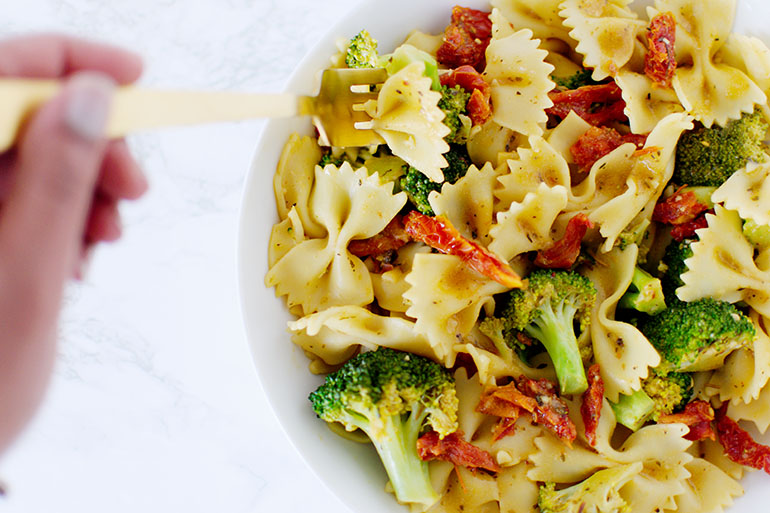 I absolutely LOVE how this pasta came out! First of all, the white wine sauce SMELLS AMAZING (like a fancy dish at a restaurant) and it's ready in under 45 minutes! It's one of those pasta dishes you don't have to feel guilty about. Not to mention, it's really light, simple, and flavorful. You'll love it! If you're on the hunt for a vegan white wine, I picked up some Pinot Grigio from Trader Joe's that was really inexpensive.
Try this dish out and let me know what you think in the comments below!
Other Pasta Recipes You'll Enjoy
Hungry for more? Follow me on Pinterest, Instagram, Twitter, and Facebook!
Sun Dried Tomato + Broccoli with White Wine Pasta Sauce
Easy weeknight dinner recipe that's perfect for the entire family! This White Wine Pasta Sauce is light and flavorful and tossed in sun dried tomatoes and broccoli.
Ingredients
12 oz.

bowtie pasta

(could also sub for another type like linguine or angel hair)

12 oz.

fresh broccoli florets

(or one head of broccoli chopped)
Instructions
Bring a pot of water to a boil, then add pasta and cook according to package directions.

In a large frying pan over medium heat, add the olive oil then once warmed, add in the minced garlic and cook until fragrant.

Once the garlic is fragrant add all other white wine ingredients and bring to a low boil then add in broccoli florets. Stir to combine. Let simmer until broccoli is cooked to your liking (for me, this was about 5-10 minutes).

Once your pasta is done, drain the water and transfer to a large mixing bowl.

Add the white wine sauce to the mixing bowl and toss with the pasta until evenly combined.

Serve immediately. Enjoy!