When I think of Greece, I don't necessarily think of vegan-friendly food. When we decided to add this as a destination to our trip, I won't lie… I was a little nervous about what I might eat but as always, I'm up for the challenge. I've learned that being vegan in various parts of the US and other parts of the world requires a little more intentionality and planning. Being spontaneous is cool and all, but only if you're okay with eating dry salads and fruit all day. As you may be able to tell from my content, that's not my jam.
In my experience in both Santorini and Athens, there were options available, you just had to seek them out. So here's what I found!
Santorini
During our stay in Santorini, we stayed in Kamari. A cute little area, just minutes away from the black sand beach. Have you ever been on Ocean Drive in Miami? That's what this area reminded me of. Restaurants and bars seemingly stretching the length of the ocean. Navy's was situated to the far right side of the strip (when facing the beach). They had a covered section available for seating as well as tables closer to the beach overlooking the beautiful landscape.
One of the reasons I enjoyed Navy's was because they have options for everyone. My preference is typically a vegan-only spot, but I have a family full of carnivores, so places like this help to keep everyone happy 🙂 Navy's has an entire vegan menu, so that means you'll actually have options! We started with the hummus that was accompanied by fresh corn pita bread, which was absolutely delicious. You could tell that the pita was homemade. For the entree, I decided to go with the Pumpkin and Tofu pasta which consisted of tortellini, pumpkin cubes, and rosemary in cumin-tofu cream. It was wonderful! All of this was accompanied by a view of the black sand beach and picturesque mountains. What more could you ask for?!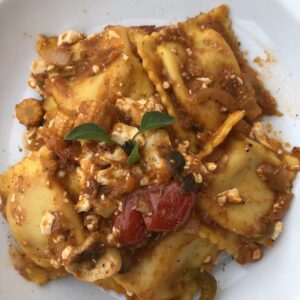 While preparing for this visit, I'd heard a lot of good things about this restaurant, so I knew I had to try it out. This restaurant was certainly a bit of a hike for us coming from Kamari to Thira. We had to catch a taxi up to the location because it was a bit tucked away. We considered walking initially, but I'm glad we didn't. The route was full of hills, twists and turns. If we had walked, we probably would have passed out before we got there. Anyway, to start, they give you a dip made from mashed olives and olive oil with pita chips. Y'all, I've never been a fan of olives (EVER), but I tried it anyway. To my surprise, it actually wasn't bad at all. Not sure if I'd ever try making it in my own kitchen, but it was pretty good! For my entree, I ordered the Falafel Burger that's typically served with yogurt sauce, but can be omitted to make vegan. It's served on corn pita bread and topped with a thick tomato, lettuce and a side salad. Delish!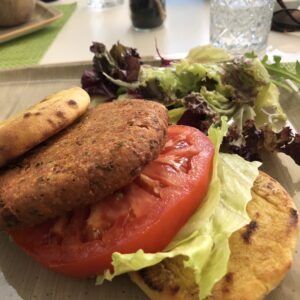 If you're in the mood for fresh juice, this is your spot! It's located in Thíra and just slightly tucked away. It's a lot smaller in person than I thought it would be, but great and tasty juice combinations none the less. In addition to juices, they offer vegan salads and sandwiches as well. Definitely worth a visit if you're in the area. The staff was super friendly and the guy working there even helped me get the best angles while taking a photo! Haha, he was super invested! Just outside of their shop I also noticed they had a few herbs growing (basil, laurel, mint and thyme), which I thought was really neat!
Honorable Mentions:
Soul By Splash- I ordered a delicious quinoa salad here! It was served cold and was super refreshing on a hot day (along with my fresh peach juice). My husband and I ended up here randomly, so I had to make due with the options I had. I would tell you what was inside, but unfortunately I didn't take a photo of the menu (because I thought it would be accessible online), but I can't seem to find it online anywhere!
Falafels- They were everywhere! Majority of them are vegan friendly, but always ask to be sure and request it without the yogurt sauce. I had quite a few of them at a variety of random little shops throughout the area.
Athens
In an area of Athens filled with sky scrapers, metro stations, and busy people you'll find Mama Tierra. A cute little vegan restaurant tucked away on a side street. I was interested in an authentic meal, so I ordered the popular falafel platter, which included 6 falafel balls, Arabic pita bread, served with fattoush salad, hummus, tahini and spicy tomato dips. This was good, but honestly, I liked the falafels better in Santorini. My husband joined me and he ordered one of their veggie burgers. For my beverage I ordered a juice that was a combination of mixed seasonal fruits and dates.  Unfortunately I can't remember exactly what was included, but it was good! Would I come here again? Yes! But next time I'll try something different.
Another totally vegan spot! During my stay in Athens, I ate here twice. It's a small shop with outdoor seating and they're open pretty late which worked in my favor because my second visit here was about 15 minutes before they closed at 10pm. During my first visit, I ordered the American Style BBQ Jackfruit Burger on a whole wheat bun. It was topped with mayo, lettuce and tomatoes and it was everything! Y'all, I devoured this burger in a matter of seconds. Which is why I had to go back a second time. On my second go-round I ordered the Mexican Style Jackfruit Chicken Burrito that included marinated jackfruit, guacamole, sweet corn, coconut milk cheddar, bean sauce and tomatoes. Once again, they didn't let me down. My only critique is that the food was a little on the greasy side, but satisfactory nonetheless. If you're ever in Athens, I would certainly recommend a visit here. You won't be disappointed!
One of our last stops in Athens was to this restaurant. It's got a nice bit of space and a super friendly staff. I was in the mood for a Burger so I decided to try their avocado burger. My husband ordered a simple pasta+ cheese. Back to the burger… this thing was MASSIVE! I had to take a few moments to consider the best way to tackle it. Should I try cutting it? Or just try my best to bite into it?! I went with the latter. This burger was good, but messy as you may have guessed. The burger + toppings and bread make this burger so tall, it's tough to eat it without looking like a savage. Once I bit into it and it fell apart everywhere, I decided that the best way to eat it would be by piecing it together with a knife and fork. In addition to the burger, it was accompanied by sweet potato chips. Of course I would have preferred fries, but it's cool to switch it up every now and then.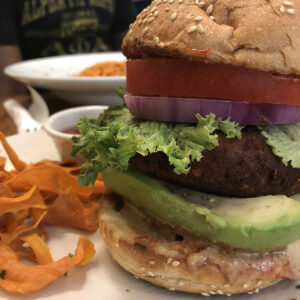 Honorable mentions:
Random fruit stands- I found some of the best fruit at a fruit stand on my way to the metro station. I got an entire bag of fruit filled with countless fresh cherries, peaches and other items for 2 euros, which is equivalent to  $2.35 USD. You can barely get a carton of strawberries in the states for $2! If you're on a budget, fruit makes for a great breakfast or snack! I ate off of this fruit for at least 2-3 days.
Couleur Locale– Our Airbnb host, Panos, invited us out to meet him for drinks. We didn't have much else to do, so we decided to take him up on the offer! I'm so glad we did because the location of the bar was an open concept rooftop setting with plenty of seating and a gorgeous view of Acropolis. It was really nice to watch the sunset here and the views of acropolis lit up at night afterward was stunning. If you're in Athens, this spot is a MUST! The cocktails are great, the views are everything, and it's about a two minute walk from here to Vegan Nation, so you can slide over for dinner after drinks (or vice versa)!
Hungry for more? Follow me on Pinterest, Instagram, Twitter, and Facebook!