Cardiff, Whales… Have you ever heard of it? To be completely honest, I never had prior to my husband bringing it to my attention. A few months ago we were in the midst of planning our 2-month trip abroad, when he asked me if I wanted to start the trip "unconventionally." Well, the whole trip was unconventional, so I wasn't really sure what he meant. It was then that he brought to my attention that Jay-Z and Beyoncé were going to be in Cardiff, Wales ON my birthday. After a little convincing (didn't take much), we decided to go for it!
As you can imagine, the show was amazing. I've seen them both a number of times in concert, but this was my first international show so this one was a new experience. First of all, the demographics were a tad bit different then back home. My husband and I were the only black folks in our section (from what I could see) and likely the only Americans. As a longtime fan of both artists, I happen to know a lot of the lyrics. Maybe knowing lyrics isn't a "thing" in Wales? The people in our area were so amazed at my ability to quote the lyrics word for word. *shrugs* Any who, here are a couple of mediocre photos for your viewing pleasure 🙂
Have you ever been to a castle before? If I have, I certainly don't remember it, so I'll say this is a first for me. After researching the area a bit, I found out that there was a castle about a 15 minute walk from where we were staying, so of course we had to go! The weather in Cardiff was pretty cool, probably in the mid-low 70's, so the weather was ideal for a short walk. As we approached the castle, I was amazed to see that it was pretty much in the center of town! Surrounding the castle were busy streets lined with restaurants and lots of people. Not to mention, the Principality Stadium was next door, which was where the concert was. It was interesting to see such an amazing and historic structure surrounded by modern-day. Almost like an oxymoron.
As we walked around the castle, I tried my best to envision what it might look like in its prime. We got to visit inside the living areas as well as the wartime shelters. If you're into this sort of thing, it's worth checking out!
Now onto the food!
This place was amazing! I enjoyed it so much, I actually went twice while we were in town! The first time, I ordered their pancakes. I was a little worried that they wouldn't be filling (they look kinda small, right?), but they were! They were also very well prepared; perfectly tender on the inside. In addition, they were topped with a panisse "bacon", blueberries and maple syrup. For my drink, I ordered the "Not Summer Yet" which was made from mango, pineapple, spinach, dates, lime & coconut milk. Ya'll, I ate and drank every. last. bit!
On the last day, I decided to go back for more! This time I ordered a dish that I had seen online that looked pretty interesting. It's called "The Cali Breakfast"- Homemade sausage, smokey rashers, wholemeal toast, avocado, grilled tomato, scrambled tofu, toasted seeds, and agave mustard dressing. Everything was delicious, but I must say, their scrambled tofu was like none other! Best scrambled tofu I've ever had, hands down! This time, I ordered the "Berries & C" as my drink (strawberries, blueberries, banana, acerola, dates and almond milk) and it was just as delicious as the first.
The food was amazing and so was the environment. It's always refreshing to be at a vegan restaurant where you don't have to worry about what ingredients may or may not be in your food. Their decor was unique and the staff was super kind. I never thought that I'd be adding Cardiff to my list of favorite places, but I'd LOVE to have this breakfast again, so next time I'm in the area this is where you'll find me!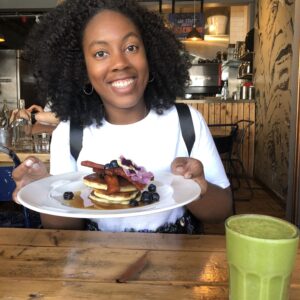 I don't know what it is with me and vegan doughnuts, but if I know they're near, I've GOT to get my hands on them! Perhaps it's because they're so rare at home? I found this spot on Instagram and I'm so glad I had the chance to visit. It's a small little bakery that was a short walk from our Airbnb (use this code to get $40 off your first stay) and we arrived just as they were opening. As soon as you walk in, you're met with the lovely aroma of fresh doughnuts! They're all aligned perfectly in their cases, separated by flavors. It was so hard to choose! I only wanted two and Deryle wasn't in a doughnut mood, so I couldn't mooch off of his. I chose the strawberries & cream along with the french toast. In addition, I ordered a flowering jasmine lily tea (watching it bloom was so cool!). Deryle ordered a glass of lemonade for himself (which was uh-mazing!).
Not only was everything delicious, the place is totally Instagramable! They've got a wall covered with leaves and a bright pink sign that says "But first coffee." Of course this turned into a mini photo shoot… ha! The staff was really personable and asked us about our travels, as we complimented their music selection. If we didn't have a flight to catch, I would have definitely hung out here longer!
Did I mention that they're totally vegan?! YEP! And to put the icing on the cake, they come out with new flavors all the time! Check out the photos below!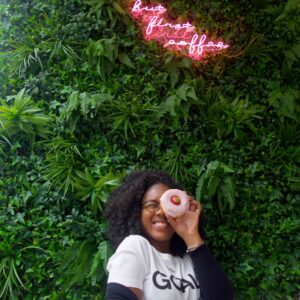 If there's a restaurant around with a vegan menu, I'm all over it! I was super excited when I found out about the Cosy Club. They provide a vegan menu upon request, which means there's more than one item for you to choose from, so that's an automatic win! During my visit, I ordered the Thai Burger- a spicy quinoa burger with edamame beans, pak choi, wood-roasted peppers, coconut sauce and sweet chilli jam with house slaw and fries. I'll be honest, this burger wasn't life-changing, but it was good. On my next trip to Cardiff (speaking it into existence!), I'll try something else. For dessert, they offer a vegan Chocolate & Orange Torte. Unfortunately I'm not that big on chocolate, so I decided to pass. I'm sure it's tasty though!
The restaurant itself was really charming. It had a nice vibe and the decor fit with the theme, as it's decked out with 30's and 40's decor (with a mix of others) and of course, cosy. The tables are a variety of different types and the staff is also dressed accordingly.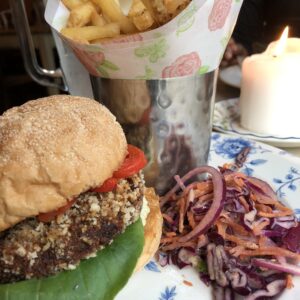 What are your favorite restaurants in Cardiff? I'd love to know! 🙂
Hungry for more? Follow me on Pinterest, Instagram, Twitter, and Facebook!