Can you believe September is right around the corner? This summer was super eventful and flew by so quickly. It's hard to believe I'll be starting my last year of school soon and my work-load will be back in full swing! This is why for the past few weeks I've been trying to soak up these last few moments of summer while I can. I'll go for short walks on my lunch break or eat outside, as long as I can find a spot in the shade!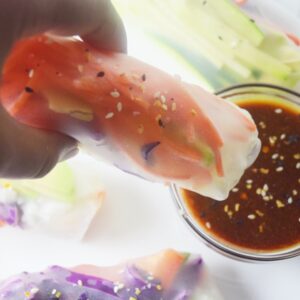 With all of the warm weather, sometimes it's way too hot to cook! I don't know about you, but here in North Carolina it's been in the 90's pretty consistently. Super hot! With weather like this, the last thing I want to do is heat up the entire house by making a meal that requires cooking in the stove. Or even on the stove for that matter!
I've been wanting to try my hand at making fresh spring rolls, and this seemed like the perfect time to do so. The only part that required cooking was the rice, but if you want to skip that and go for a veggie-only version that works too! While the rice was cooking in the rice cooker, I chopped up the veggies and prepared the first spring roll wrapper. This was my first time preparing them and it was totally new to me! Soaking these thin, hard, round things in water? Huh?! What?! Wrapping them was a little tricky, as the rice paper is so delicate. I definitely tore a few of them by accident! What I love most is that these spring rolls are a great way to clean out your fridge! I used carrots, cabbage, red peppers, avocado, and zucchini. You can use whatever you have on hand.
For the dipping sauce, I decided to use my favorite sriracha peanut sauce. It's super simple to whip together and paired perfectly with the spring rolls! I'll definitely be making these again soon– I need a reason to practice wrapping without tearing them!
Interested in trying them out? Go right ahead! When you do, let me know what you think in the comments below!
Hungry for more? Follow me on Pinterest, Instagram, Twitter, and Facebook!
Rice+Veggie Spring Rolls
Ingredients
6-8

spring roll wrappers

shredded carrots

to taste

fresh zucchini

(cut into match sticks) to taste

fresh red cabbage

to taste

1

cup

cooked white rice

red peppers

to taste

1

avocado

sliced

dipping sauce of choice
Instructions
Begin by aligning your veggies and rice in the order you desire to add them to each roll.

Once they are organized, dip your spring roll wrappers in water for 10-15 seconds or until soft. Then transfer to a clean, dry towel to remove excess water and begin adding portions of assorted veggies and rice. Fold ove each end, then roll carefully to avoid ripping. Set aside Note- I found it easiest to do this process one at a time instead of dipping all of the wrappers at once.