This post was sponsored by the wonderful people over at Annie's and TheFeedFeed!
Here in North Carolina, we're in that odd time of year. It's technically fall, but it sure doesn't feel like it! It's 80+ degrees and yet there are pumpkin spice latte's in every direction. I went into the grocery store the other day and it seemed like the entire store was orange! Fall and halloween items everywhere I turned!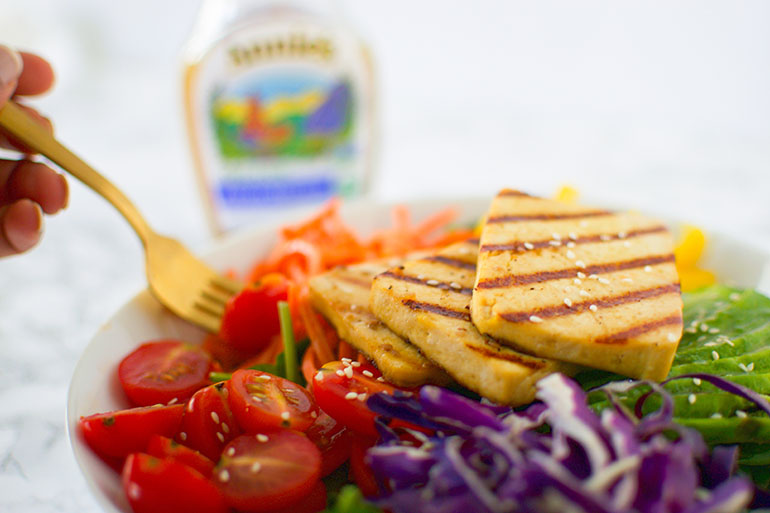 During this time of the year, I'm in this weird space where I'm still clinging on to summer, but feeling the pressure to embrace the fall. Which brings me to this Asian Sesame Grilled Tofu Salad. Though salads are a year-round food, I've always thought of them to be most appropriate for summer. Adding in warm and savory grilled tofu gave me the nice happy medium I was looking for to tie in fall.
To prepare the grilled tofu, I used Annie's Asian Sesame Dressing for a quick marinade. It's delish! If you've never used a salad dressing as a marinade, allow me to open up a whole new world of possibilities. 🙂 While I was in college, I actually started doing this to marinate chicken (pre-vegan life, of course) because I always seemed to have salad dressing on hand! Purchasing salad dressing instead of traditional marinades also allowed me the flexibility to use them for salads and adding flavor to proteins. It was a win-win!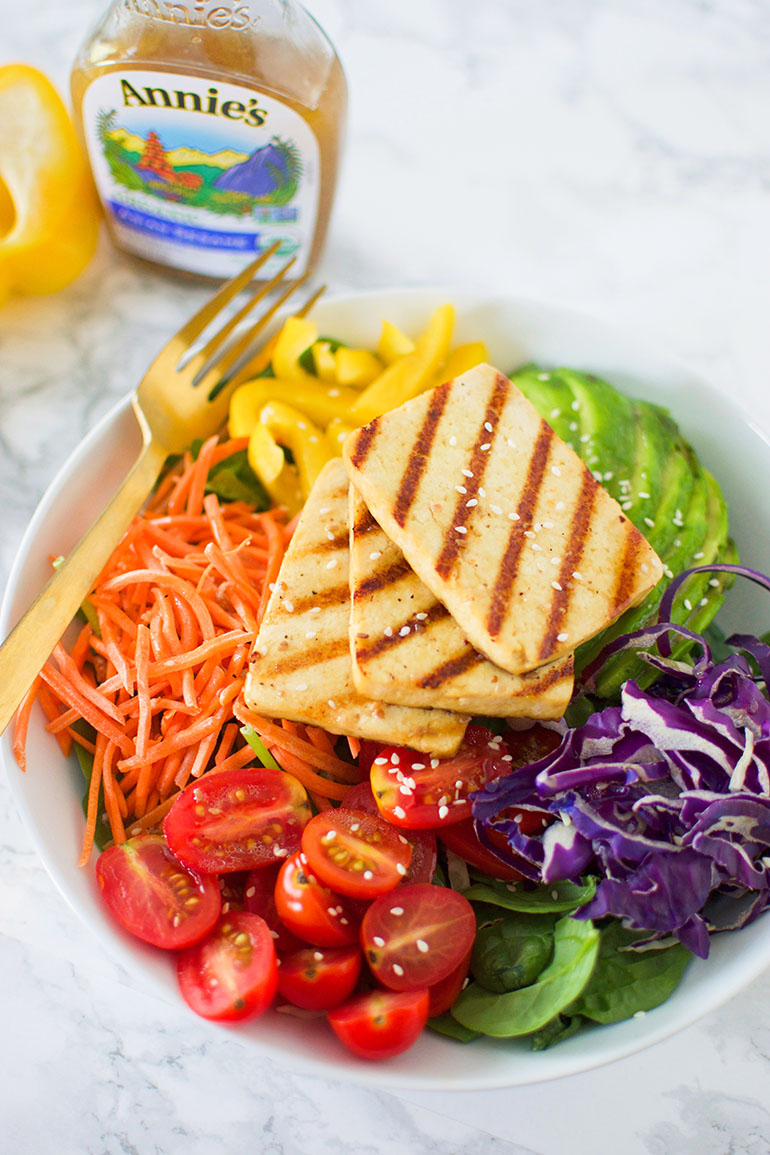 I found Annie's Asian Sesame Dressing at my local Co-op (click here to find one nearest you) and they'll be on sale October 2nd-15th. 2/$5 for their regular dressings and 2/$6 for their organic dressings. So if you were thinking about stocking up, now's the time!! I enjoy shopping at my local co-op because they always seem to have the latest vegan-friendly finds, as well as goods from local vendors all under one roof!
Preparing Your Asian Sesame Grilled Tofu Salad
Preparing this salad was super easy! It's perfect for those nights you want something tasty, but don't want to put in too much work. For this recipe, I used super firm tofu and sliced them to my desired thickness (about 1/4 inch). I then used the Asian Sesame Dressing to marinate it, rotating the tofu until each piece was covered. While the tofu was marinating, I decided to start preparing the rest of my salad. I kept it pretty simple and used some carrots, purple cabbage, avocado, tomatoes, and yellow peppers. All piled on top of a bed of spinach.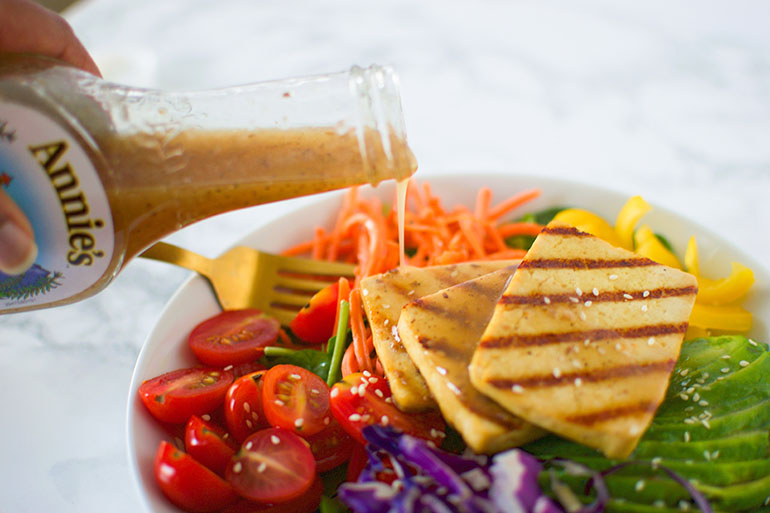 Prepping the salad shouldn't take long. I purchased pre-cut carrots, cabbage, and spinach. The only thing left to do was slice the peppers and avocado, and halve the tomatoes. Sounds easy enough, right? This only took about 10 minutes max. That meant I still had 20 minutes left to kill before my tofu would be done marinating.
In the meantime, I took a phone call and washed a few dishes. Before I knew it, the tofu was done and ready to be cooked! I transferred it to my grilling pan, browned it on both sides and BOOM! Salad complete and ready to eat 🙂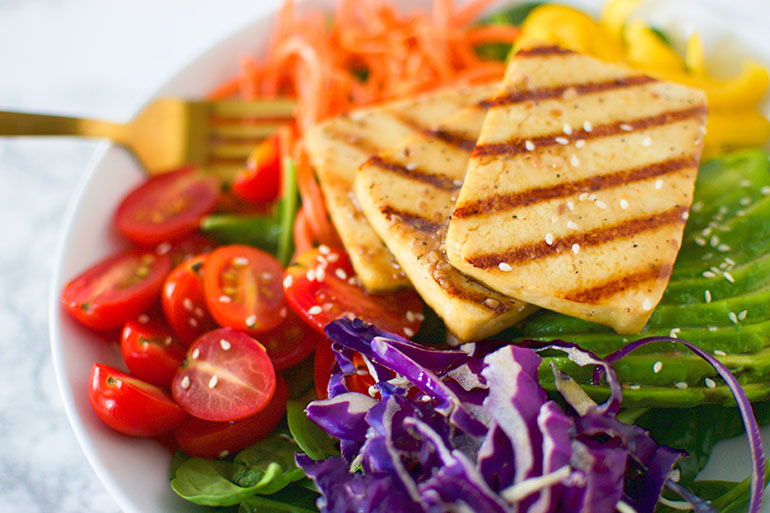 I think you'll love this salad. It's perfect weather transitioning food (I totally just made that up, haha) and comes together in minutes! When you try it, let me know what you think in the comments!
Hungry for more? Follow me on Pinterest, Instagram, Twitter, and Facebook!
Asian Sesame Grilled Tofu Salad
Ingredients
1/4

cup

shredded carrots

1/4

cup

shredded purple cabbage

1/2

yellow bell pepper

sliced

1/2

avocado

sliced

1/3

cup

halved cherry tomatoes

2-3

cups

fresh spinach

1/3

cup

Annie's Organic Asian Sesame Dressing for marinating tofu

(plus more for topping salad)

1/3

block of extra firm tofu

sliced med/thin

sesame seeds for garnish

(optional)
Instructions
Slice your block of tofu into thirds, then take one third and slice it into thin pieces as pictured.

Transfer the sliced tofu to an appropriately sized dish for marinating (preferably one where all pieces can lay flat) and cover with 1/3 cup of Annie's Organic Asian Sesame Dressing. Rotate pieces to ensure that each piece of tofu is coated. Cover and set aside for 30 minutes to marinate.

While the tofu is marinating, begin preparing or slicing the fresh vegetables to create your salad.

Once the tofu is done marinating transfer the pieces to your oiled grill pan on the stove over medium heat. Cook each side until browned.

Once tofu is done cooking, transfer the pieces to your salad and garnish with sesame seeds. Drizzle with additional Annie's Organic Asian Sesame Dressing. Enjoy!