I recently took a trip to Los Angeles in celebration of a good friend's 30th birthday (in addition to exploring the Los Angeles Vegan scene). Last week, I shared part one of my vegan eats and here's part two!
Crustacean is one of those fancy schmancy (pricey) restaurants in Beverly Hills that specializes in seafood. You know, the kind of place that has a fish tank built into the floor (literally). Lucky for me, they offered the Ragout Eggplant as a vegan option. The dish was pretty simple: it had eggplant, onions, carrots, tomato, tofu and other mixed vegetables all covered in a special red sauce. Was it to die for? No. Was it good? Yes. Filling? Yes.
I would rate this place a 7 out of 10. Nice ambiance. Very attentive service, but the dish wasn't memorable.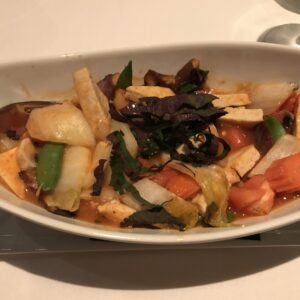 ---
Ever had a panini for breakfast? Me neither. L.A. Cafe is a small shop in downtown Los Angeles that's open 24 hours a day. Unfortunately they didn't offer any vegan breakfast entrees, so I went with the panini loaded with grilled fresh herb & olive oil marinated zucchini, eggplant, carrot, red bell peppers and yellow squash, with tomatoes, avocado, spring mix tossed in lemon oil dressing, w/ hummus spread and a side of seasoned fries. I couldn't resist the vegan doughnut, so I grabbed one of those as well. The overall taste of the sandwich was good, not the best I've ever had, but certainly not terrible. The worst part of the sandwich was how thick the vegetables were. In my opinion, thinly sliced veggies are a lot easier to consume between two slices of bread. The doughnut on the other hand was simply amazing. I'm actually starting to wonder if it was actually vegan or not! 🙂
I would rate this a 7 out of 10. The fries were great, the doughnut was amazing, but the sandwich needed some work. Thinning out the veggies would be a great start!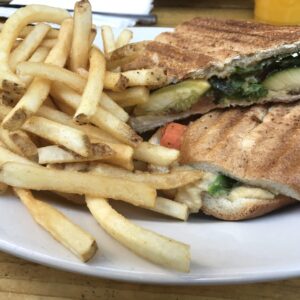 ---
Next Stop:
Nickel Diner
My meal at the Nickel Diner was truly an experience! I've never had a breakfast of this sort, so I was a little skeptical at first, but willing to try something new. I'm traditionally more of a pancakes and french toast kind of person, but since becoming vegan I've learned to be more open to different things. I ordered the Vegan Ranchero: fried tofu on a bed of beans, soy cheese, avocado, salsa with corn tortillas. Overall, I thought this meal was pretty good. I'm not the biggest fan of tofu, and would have preferred the tofu in this dish to be a little more firm, but as long as it's not terribly soft I can deal with it.
I would rate this an 8 out of 10. I loved that they offered a vegan meal, but I wish there were other options.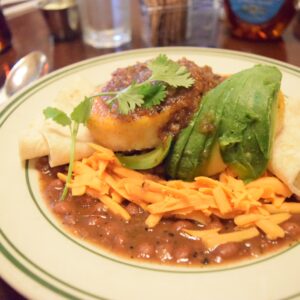 ---
The Yard House is a restaurant that we have at home, but I had to make mention of them in this post because they dedicate a whole portion of their menu to vegans and the food is GOOD! I'm so thankful for them because on this particular day, we hadn't eaten in what felt like forever, so needless to say I was starving! I was so hungry, I didn't even take a good picture to share on the blog, so I snagged the one that I took from my Instagram story. I ordered the Gardein Grilled Chicken and Avocado Sandwich, topped with pepper jack, cheddar, cabbage, crushed avocado, chipotle mayo, and cumin crema. It did NOT disappoint! The grilled "chicken" was so believable and had a really nice grilled taste to it as well. If you haven't been, check them out! You'll feel so welcomed with the abundance of options.
It's probably pretty obvious, but I would rate The Yard House a 10 out of 10. The price points are reasonable, there are an abundance of options and the food is so good!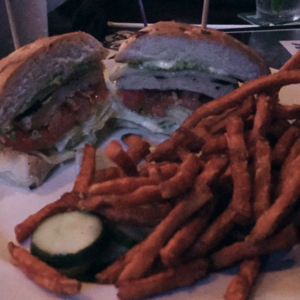 Hungry for more? Follow me on Pinterest, Instagram, Twitter, and Facebook!