I don't know about you, but I'm still about that "pumpkin everyyyything life." Christmas is 3 weeks away and I have yet to even think about anything winter-like (outside of putting up a wreath and tree). After Thanksgiving I still had some pumpkin puree leftover and for whatever reason, pumpkin spice oatmeal seemed like a good idea.
Saturdays are my favorite day to experiment. Especially with breakfast food. To be honest, my weekday mornings are pretty nonexistent. I wake up with just enough time to get dressed, make some quick oatmeal, and head off to work. If I actually wanted to make something the required a bit of effort, I'd have to wake up earlier and that ain't happening.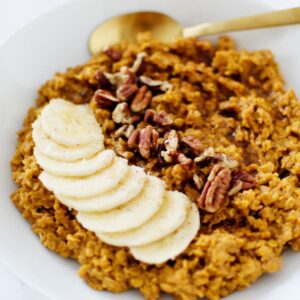 So needless to say, Saturdays are made for experimenting. I can get up whenever I want, mosey on down to the kitchen, and browse through the pantry and fridge to figure out what to make. That's where this pumpkin spice oatmeal comes in.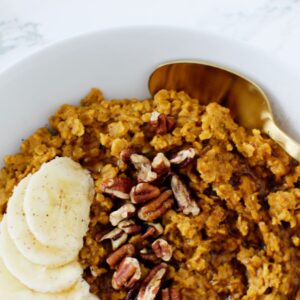 What I love most about this pumpkin spice oatmeal is that it's quick and doesn't take much time at all! I think I could actually make this during the week! If not, it's great for meal prepping. To reheat I just added a little water, popped it in the microwave for 45 seconds-1 min., stir, and voila! It's ready to eat. Top it with your favorites like walnuts or bananas. I think flax seeds would go well here too!
Find out for yourself! Let me know what you think of it in the comments below!
Hungry for more? Follow me on Pinterest, Instagram, Twitter, and Facebook!
Pumpkin Spice Oatmeal
Ingredients
1

cup

unsweetened almond milk

+ more to loosen if desired

1/2

cup

pumpkin puree

1/2

tbsp

pumpkin pie spice

2 1/2

tbsp

brown sugar

1 1/4

cups

oatmeal

vegan butter

to taste for added creaminess
Instructions
In a small pot, bring milk, puree, sugar, and seasonings to a low boil.

Once boiling, reduce heat and stir in oatmeal until well combined.

Once mixed and oatmeal is done, serve and top with your favorite toppings. Enjoy!