If you follow me on social media, you might already know about an exiting adventure that my husband and I have recently embarked on! If not, catch up by checking out this post on how I managed to take two months off to travel and keep my job! In preparation for this trip, I had a lot to consider. Of course packing was one of them (only traveling with a carry-on and personal item), but I was also concerned with what I would be eating on the way to my destination! I needed to make sure my travel snacks were in order to keep my stomach from eating itself.
I'm a pretty frugal person, so please believe I'm not about to pay $9 for a cup of fruit at the airport. I just can't do it! Instead, I decided to pack some travel friendly vegan snacks to take along with me on my bus ride and flight(s). Here's what I've come up with!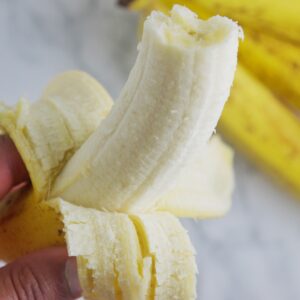 Bananas
Every time I type the word banana, I think of Gwen Stefani's song, "Holla Back Girl". That song came out years ago. I'm scarred for life, y'all.
Anywho, I once read that bananas were nature's original fast food. Whoever said this was on to something… They come pre-wrapped, don't need to be cleaned or cut, and you can toss them into your bag on the way out the door! Thanks Mother Nature 🙂 Bananas are great for traveling because if you purchase them at the right time, you don't have to be in a rush to eat them and they'll last you a few days. Depending on how much room you have in your bag, I'd definitely toss in at least two or three. Delicious and nutritious!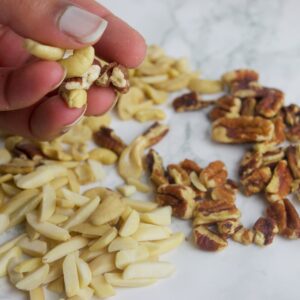 Nuts
Pick a kind, any kind! Nuts make for great travel food! They leave little to no mess behind and can easily be tucked away in your bag. If kept in a sealed container or zip lock, they could last for weeks! I typically purchase mine from Trader Joe's, but you can find nuts in a variety of places (including the airport if you didn't make it to the store the night before). So if you're in a pinch and need a snack, nuts are where it's at!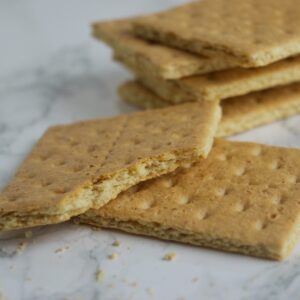 Graham Crackers
Prior to making this chocolate chip + peanut butter hummus, I hadn't purchased graham crackers in AGES. I needed something that was appropriate to dip the hummus with and they seemed to be a good fit, so I went with it. After all of the hummus was gone, there were still crackers left so they automatically became snack foods. They're pretty satisfying too! Perfect for fighting a hunger attack (take that growling stomach)! Avoiding honey? Be sure to check the ingredients! A lot of graham crackers have honey in them so be on the lookout! I found mine at Target, but I've forgotten the brand. Forgive me!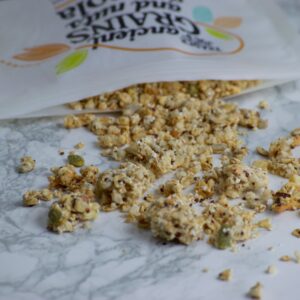 Granola
Who doesn't love granola?! I don't know about you, but whenever I'm making a smoothie bowl, I add in EXTRA granola (after taking a pretty photo of course). Then after I'm finished eating the smoothie bowl, I proceed to continue eating pieces of granola one handful at a time (I can't be the only one…). For this reason alone, it seemed appropriate to add granola to this list. My favorite granola as of late is the Ancient Grains and Nuts mix from Trader Joe's. It's got a good amount of natural sweetness and isn't too hard. Wearing Invisalign for the past year has made my teeth a little more sensitive to hard foods than they used to be, so this is a definite plus for me! No Trader Joe's around? No problem! Whole Foods and local grocery stores typically have granola in stock. Just be sure to read the ingredients for things like milk and honey.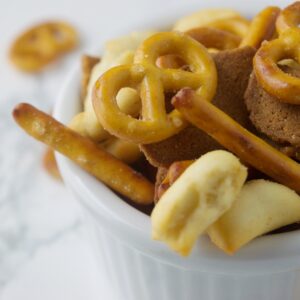 Savory Snack Mix
I haven't had these in forever! To be honest, I had completely forgotten how good they are. For this trip, we took a bus ride up to D.C. (from N.C.) and this snack mix and I became the best of friends as the song "reunited (and it feels so gooood)" played in my head. My favorites are the little round brown pieces. I looked forward to them with every bite!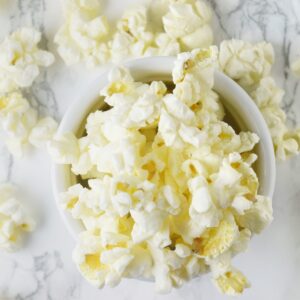 Popcorn
Don't sleep on popcorn! Sometimes I, myself forget what a great snack it is. Popcorn involves little to no mess, so it's easy to pack some in a baggie and toss it in your bag. I don't know about you, but I could eat an entire bag of it by myself in one sitting. It's also one of those things that are acceptable at room temperature, so no need to be in a rush to eat it, but be sure to do so before it goes stale!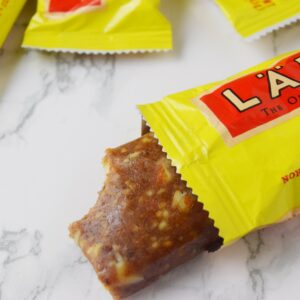 Snack Bars
Until I started thinking of food to pack for this trip, I hadn't bought snack bars in what felt like forever! Have you ever tried Lara Bars? They're pretty good! They certainly don't taste like your average snack bar, but I love the variation of flavors they offer. I chose lemon for this trip and they are delicious! They also carry a wide variety of other flavors if lemon isn't your thing. Lara Bars are neat because they have such short ingredient lists. This one only had SIX ingredients! That's rare! I'll be honest though, they're a little pricy in my opinion, coming in at $5.99 per box (I think 6 come in a box). If you're not in the mood for a little splurge, any vegan granola bar will do! There are lots of options out there!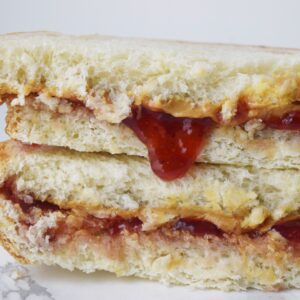 Peanut Butter & Jelly
I know, I know… PB&J sandwiches are a little juvenile, but I don't care! I love them still and they're my go-to when my options are limited! Therefore, they make great travel snacks. They're effortless to put together and you don't have to worry about starving because the peanut butter offers a good amount of protein and the bread will help to keep you full. So sit back, relax, and enjoy this childhood throwback.
What are some of your favorite last minute travel snacks? I'd love to know!
Hungry for more? Follow me on Pinterest, Instagram, Twitter, and Facebook!