One of my favorite and go-to dinners to make is roasted veggies over rice or quinoa. It's so easy to make and filling! It's hard for me to get bored with it because I often enjoy trying out different variations. In this particular meal, I decided to go with carrots, broccoli, and red onions.
Some of my other favorites include using potatoes (sweet or white). I'm pretty much down for potato anything. Also, if I have peppers leftover from meals earlier in the week, I like to add those in too. Roasted veggie dinners are a great way to clean out the fridge!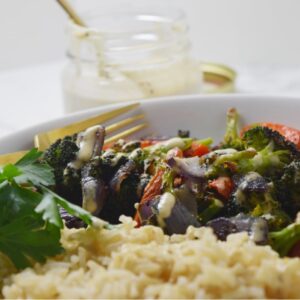 If you're like me, you keep a rotation going of your favorite veggies. Though it's hard, every now and then I get a little antsy and wanna jazz things up a bit. That's where this garlic tahini sauce comes in. It's so simple to make and comes together in just a few short minutes. To add icing to the cake, you probably already have the ingredients in your kitchen!
Tahini sauce is great because you can add it to a variety of things. Burgers, salads, veggie bowls… the list goes on. I won't lie, I haven't always been a fan of tahini. Have you ever tried it by itself? Wuck! It's got a pretty distinct taste that NEEDS some spices and such to give it LIFE!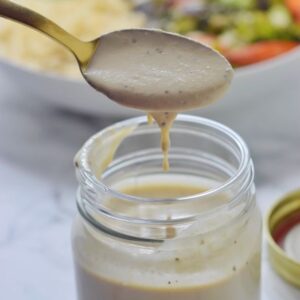 This garlic tahini sauce also came in handy for my first try making falafels. I ate these almost daily while in Greece and I'd love to make them a staple in my home. The falafels still need some work, but the tahini sauce definitely added to them!
What's your favorite way to use tahini sauce? Let me know in the comments below!
Hungry for more? Follow me on Pinterest, Instagram, Twitter, and Facebook!
Garlic Tahini Sauce
Ingredients
1/2

cup

tahini

1/4

tsp

salt

1

tsp

garlic powder

1/2

tsp

black pepper

1/2

cup

warm water

1/2

tsp

lemon juice
Instructions
Add all ingredients to a small bowl (except the water)and stir.

Slowly add in the warm water and continue to stir. Increase or decrease water amount for desired consistency.

Top over your favorite dish and enjoy!