One of my favorite parts about my vegan journey has been trying new foods! There's a local spot that I like on Duke's campus in Durham called Tandoor and they have the most delicious Indian food! I always get a few different items (kinda like a sampler plate) but I've always loved their Chana Masala! I knew I had to figure out a way to share this with family and friends so I was super excited to learn that this recipe could be made in a crock pot! WIN! I really enjoyed this dish and definitely plan to make it again soon! If you enjoy spicy foods, I'd recommend adding in some thai peppers 🙂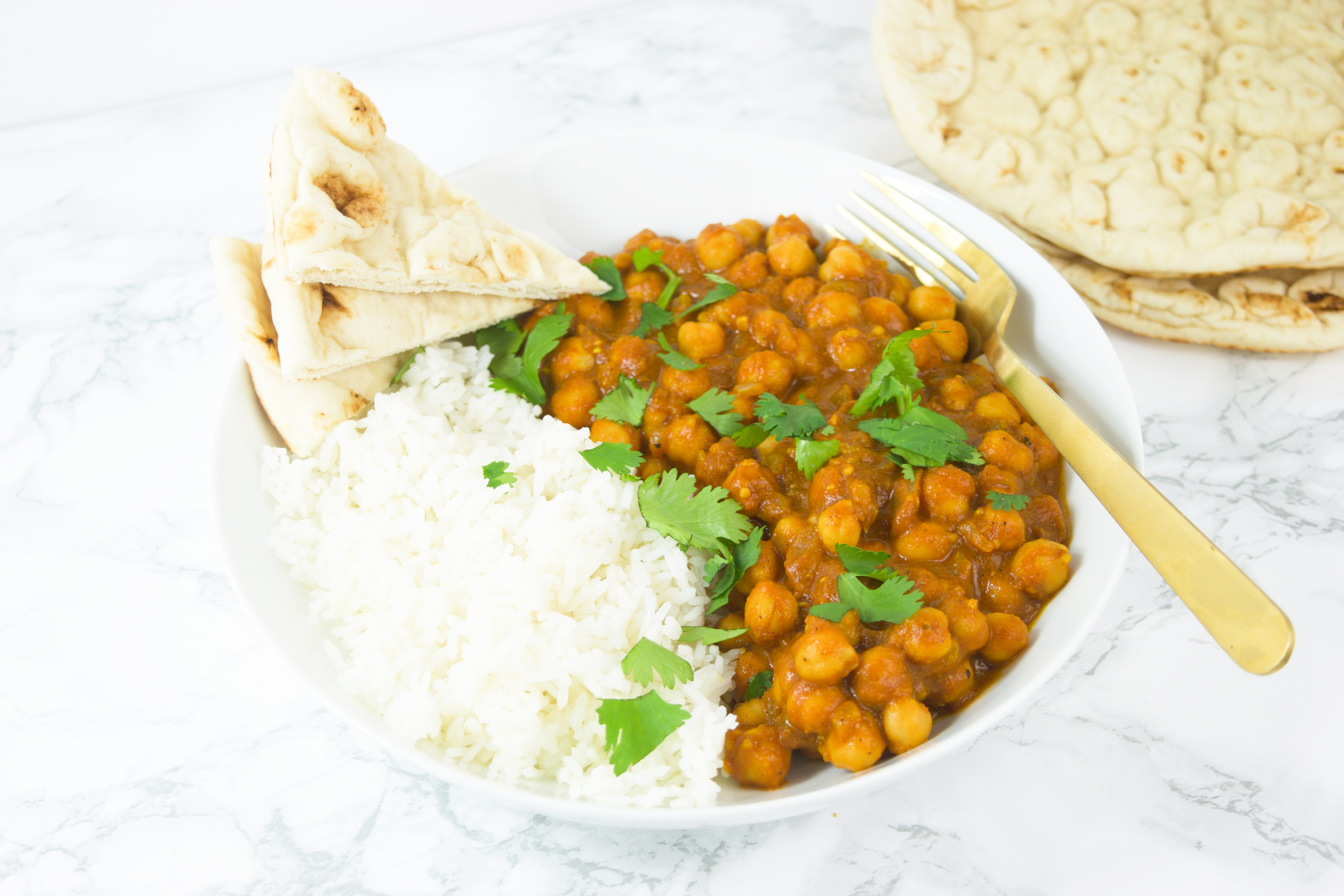 Update:
Since making initially making this recipe, I've now updated this post to include a version that can be made on the stove if you're short on time or don't have a crockpot. It's still super tasty and comes out great! I usually pair this Chana Masala with a few pieces of naan (lightly warmed in the oven with vegan butter) and white rice. It's so savory and delish. I literally ate this dish for an entire week and didn't get tired of it at all! If you have friends or family who have yet to dive into the delicious Indian food scene, this Chana Masala is a great introduction. It's easy to make, tastes great, and it's perfectly savory.
I'm super excited to try creating more Indian inspired dishes. It's definitely one of my favorite cuisines! I can't get enough of the bold flavors and spices. Hungry yet? Give this recipe a try and let me know what you think in the comments below!
Hungry for more? Follow me on Pinterest, Instagram, Twitter, and Facebook!
Chana Masala
Ingredients
1

tbsp

olive oil

½

tbsp

ground ginger

½

large white onion

very finely chopped

2

tsp

minced garlic

½

tsp

salt

¼

tsp

freshly ground pepper

½

tsp

turmeric

2

tbsp

chana masala seasining

or garam masala

3

oz.

tomato paste

roughly half a 6oz. can

2

cans

chickpeas

rinsed and drained

2

cups

vegetable broth

chopped cilantro

for garnish

Basmati rice

for serving

Naan

for serving
Instructions
In a medium sized sauce pan, add the olive oil and adjust heat to medium. Once the pan is heated, add in the minced garlic and onions. Cook until fragrant.

Stir in the salt, pepper, ginger, turmeric, and chana masala seasoning.

Add the mixture from the saucepan into the slow cooker along with tomato paste, chickpeas and veggie broth. Cook on low for 4-6 hours.

Serve with naan and basmati rice. Garnish with Cilantro. Enjoy!
Notes
Stove top directions:
If cooking on the stove, you'll want to follow the same directions until it says to add the mixture to the slow cooker. Keep ingredients in the saucepan and add in remaining ingredients. Bring to a boil, then let simmer for about 20 minutes on low heat, stirring frequently. Once mixture has thickened, remove from heat and garnish with cilantro. Serve with rice and naan (optional). Enjoy!