Who doesn't love candied yams? I know I do! This recipe was one that I learned prior to becoming vegan, but like most dishes I figured this could be easily "veganized". Honestly, there really wasn't much that I had to swap out to make these Candied Yams, just the butter. Of course, I decided to use Earth Balance instead. I also didn't have any clove, so I did without. The marshmallows are completely optional, but I ate them this way growing up so it just felt like the right thing to do. Where'd I find vegan-friendly marshmallows? Trader Joe's of course 🙂 This recipe is so simple! Go ahead and give it a try!
Hungry for more? Follow me on Pinterest, Instagram, Twitter, and Facebook!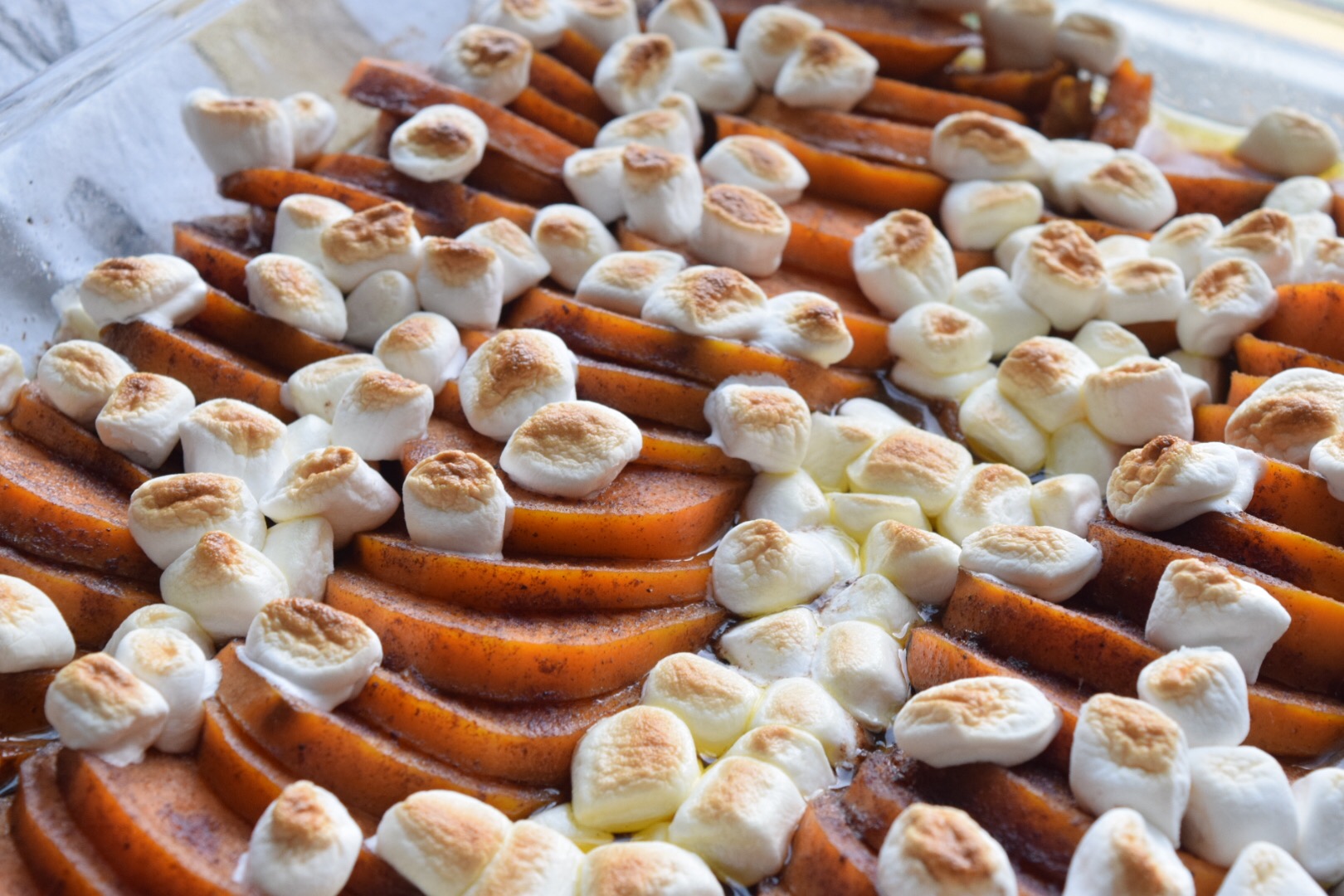 Candied Yams
Ingredients
5

Medium sized yams

8

tbsp

vegan butter

1

tsp

Ground cinnamon

1/2

tsp

Ground nutmeg

1/4

tsp

Ground clove

1/4

tsp

Ground ginger

1

cup

Organic cane sugar

1/4

cup

Organic brown sugar

1

tbsp

Pure vanilla extract

vegan marshmallows

to taste, optional
Instructions
Preheat oven to 350.

Peel, then chop the yams (about 1/2 inch thick).

Place the yams into a 9x13 bake dish.

Place the butter into a medium sized pot, then melt it over medium heat.

Once the butter is melted, sprinkle in the white & brown sugar, ground cinnamon,ground nutmeg, ground ginger, and ground clove.

Turn the stove off, mix the ingredients, then add in the vanilla extract.

Pour the candied mixture over the yams, and try to coat all the yams with the mixture.


Next, cover the bake dish with foil, then bake the yams in the oven for 30 minutes.

Remove the yams from the oven, and baste them with the candied mixture.

Cover the yams, and bake them for another 15-20 minutes.

**During the last 3-4 minutes, add the marshmallows until browned (optional)

Remove the yams from the oven, and let them sit for about 10 minutes before serving.

ENJOY!